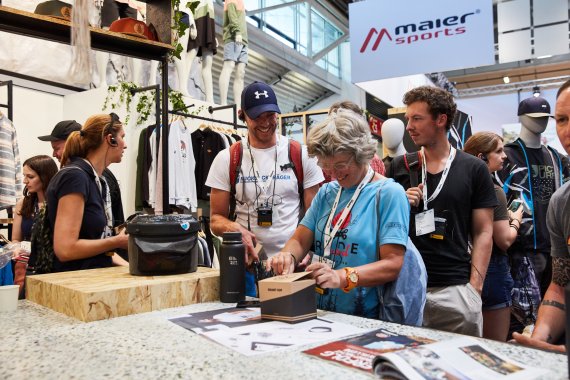 On the final day of the first OutDoor by ISPO, the focus will be on digitalization. Many exhibitors will certainly stop by the ICM at the start of the second ISPO Digitize Summit.
The two-day meeting offers a whole series of exciting lectures and networking opportunities on one of the most important topics for the future of the outdoor industry.
Those who want to test the most powerful e-bike engine, can do so on Wednesday at 11 a.m. and 3 p.m. at the Bike Check in Hall C5 during test rides.
Just like Urban Outdoor, e-biking is one of the trending topics. At 9.30 a.m. there will be a discussion on how everyone can transform their city into a large gymnasium thanks to innovations from the industry at the Adventure Tourism & Travel Hub.
The last day of the fair is also another perfect opportunity to test various exciting outdoor products in the HangOut Area on the open-air grounds.
For those who prefer relaxation, SUP-Yoga (River Lake Camp, Hall C6) or Blackroll-Yoga (Shoe & Trailrunning Village, A5) are available throughout the day for the rest of the week.
At 6 p.m., the gates of the first OutDoor by ISPO, which started under the motto "Ever New Horizons", close.
Afterwards, the brands and retailers will again work on sustainable growth and the development of new target groups for the outdoor industry, until the second OutDoor by ISPO takes place in Munich from June 28th to July 1st, 2020.
If you want to extend the fun even further, you can still take part in the OutDays in the Munich metropolitan region, which are intended to bring the topic of outdoor activities closer to consumers, until Saturday. Numerous events and outdoor activities invite you to participate and experience.
Until Thursday, the ISPO Digitize Summit will take place at the ICC. That's the ideal way to keep your finger on the pulse of the times when it comes to the important issue of digitalization.
From Friday to Sunday, Messe München will finally be giving eSports a completely new dimension. ES_COM is the new platform for the eSports and Gaming Community in Munich.
In various eSports games, everyone can show what they've got and find out about all the innovations in the industry. In our five different areas and our livestream, we bring the whole spectrum of eSports closer to everyone. And the best: eSports professionals are part of the action!