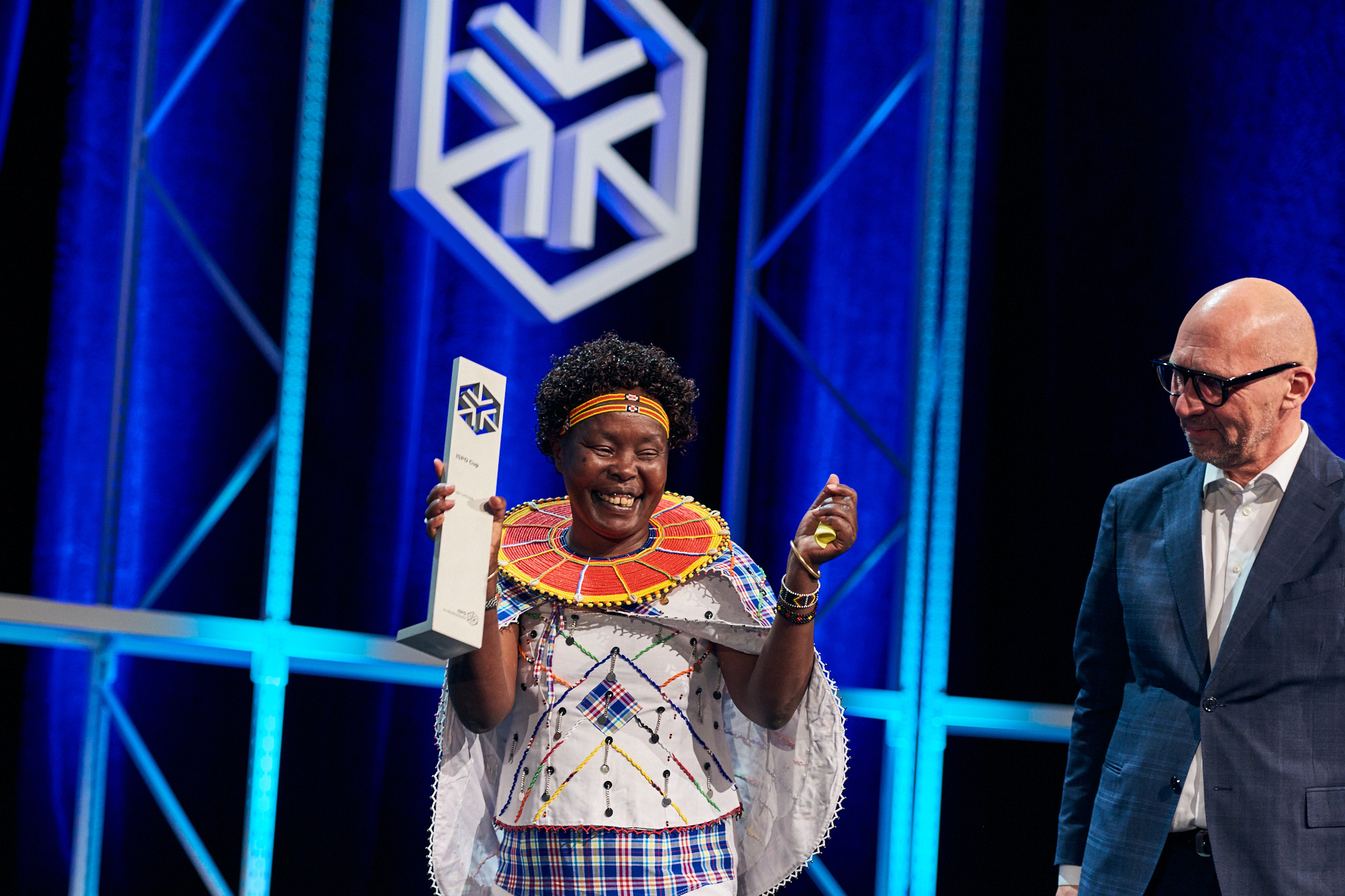 Tegla Loroupe was one of the best marathon runners in the world for years. Due to her Kenyan background, she didn't always have it easy - but she never gave up. At the age of 7, she was already running the 10-kilometer school run. Later she stood up for herself and won her first marathon competition in 1994 in New York. Through her social commitment, she shows that sport transcends borders and can bring people together - regardless of their beliefs.
The Kenyan can not only inspire her fans when it comes to long-distance running, her social commitment also makes her a true hero. When she is not running, she is committed to a fairer world. Among other things, she founded the Tegla Loroupe Peace Foundation in 2003 and has served as president of the organization ever since. In 2006, she was named an official ambassador for the International Association of Athletics Federations (IAAF). In the same year, she became an official UNICEF ambassador. She is also a member of the Kenya NOK and since 2007 has been an ambassador for the development aid organization Oxfam. Her willpower, strength and social empathy make her a true heroine.
Tegla Loroupe was not only the world's best marathon runner for years. Even after her career, the little woman from the Kenyan highlands does remarkable things: for orphans and refugees. For us, it's clear that she is not only a woman who has left her mark on sport, but also a heroine of social commitment!
More info
Tegla Loroupe was born on May 9, 1973 in Kapsait, Kenya. Through her father's 5 wives, she had 24 siblings around her to grow up with. She had her first encounter with running at a young age: At the age of 7, she ran 10 kilometers to school and back every morning. From many sides she was not treated very affectionately: Especially as the child of a farmer who helped out on the farm, there wasn't much of a warm welcome in the running community. But this did not stop Tegla from fighting for her dreams.
Already in her school days she took part in different running competitions and her talent was quickly noticed. She was particularly successful running the 800 and 1500 meters. As a woman, promoting her career initially proved to be not so easy. In 1994, she became the first African woman to win the New York City Marathon. The prize: $30,000 and a luxury sedan. That day was a milestone in the running history of African women: Tegla was and still is considered a great role model for women in her homeland to stand up for themselves and pursue their dreams. And as a result, several top female long-distance runners from Kenya are now among the elite.
"I don't want to be anything special. I want to stay the same person I've always been."
Tegla Loroupe
| | |
| --- | --- |
| Date of birth | 03.05.1973 |
| Place of birth | West Pokot, Rift Valley |
| Nationality | Kenya |
| Height | 156 cm |
| Weight | 40 kg |
| Sport | long-distance running |
| Distances | 3000 meters, 5000 meters, 10.000 meters, marathon |
| Career highlight | Berlin Marathon 1999, then world record time 2:20:43 h |
| Social commitment | Tegla Loroupe Peace Foundation, UNICEF ambassador, etc. |
The Tegla Loroupe Peace Foundation, which has been in existence since 2003, is a non-profit organization that focuses primarily on spreading peace and promoting disadvantaged athletes. Marathon legend Tegla Loroupe is both founder and president of the foundation. Since ending her athletic career, Loroupe has dedicated herself to restoring peace, livelihood and resilience to poor people affected by violence and vulnerable to conflict and unrest.
The peace organization's vision is to create a peaceful, prosperous and just world in which sport is a unifying and essential factor.
Time and again, the foundation organizes so-called Peace Races, in which thousands of athletes participate and run together for peace. These races take place mainly in conflict areas such as Kenya and Uganda. They gather a large community and are primarily intended to raise awareness of girls' rights, promote education and propagate peace and cooperation as the future for all tribes.
In addition, since 2015, the Tegla Loroupe Foundation has made it its mission to support and train refugee athletes from South Sudan, Congo, Ethiopia, Somalia and other countries at the International Olympic Refugee Training Camp in Kenya. Five of these athletes competed in the 2016 Olympic Games.
With a vision of a peaceful, prosperous, and just world where sport is a unifying factor, the Foundation's ongoing activities are restoring peace between warring pastoralists through sport and creating a foundation to improve the lives of the less privileged.
The founder describes the foundation as follows: The Tegla Loroupe Peace Foundation is an organization dedicated to athletes fighting for themselves, for their families, for their societies, and for peace, honesty and justice among all peoples.
"In a country where only men are encouraged, you have to be your own inspiration."
Tegla Loroupe
| | | | | |
| --- | --- | --- | --- | --- |
| Venue | Year | Sport | Discipline | Result |
| Sydney | 2000 | Athletics | 10.000 m | 5th place |
| Sydney | 2000 | Athletics | Marathon | 13th place |
| Atlanta | 1996 | Athletics | 10.000 m | 6th place |
| Barcelona | 1992 | Athletics | 10.000 m | 17th place |