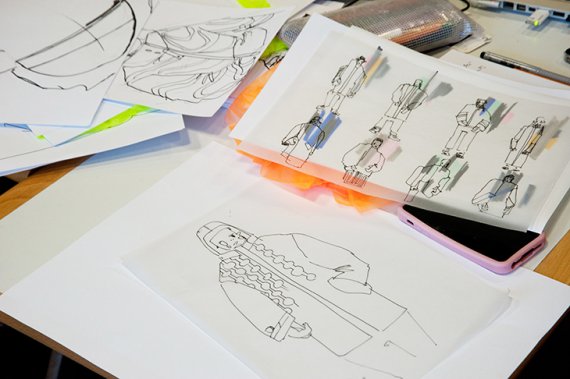 Date: January 25.-29, 2018
Location: Trade fair center Riem
The ISPO Academy masterclass aims at the encouragement of young creative talents from all fields of design with a major focus on thinking outside the traditional frameworks. The distinctive feature of this masterclass is to convey sports related knowledge for intelligent and innovative product development in the sports industry.
Lectures given by the renowned international designers Nora Kühner and Rolf Günther show the significant differences between sports clothing and traditional fashion. Which trends are most relevant for future oriented developments in sports clothing? What are specific functional and ergonomic requirements?
Sports clothing has changed fundamentally within the last two decades. Developments have been mainly focusing on the optimization of functional and ergonomic properties – driven by technological improvement of materials and new manufacturing technologies. Yet modern urban lifestyles require new approaches and solutions. 
The following nine international schools will participate at the masterclass:
Beijing Institute of Fashion Technology (China)

IFA Paris (France)

University of Art and Design Linz (Austria)

London College of Fashion (UK)

School of Fashion Sigmaringen (Germany)

Shih Chien University (Taiwan)

The Swedish School of Textiles/University of Boras (Sweden)

University of Lapland (Finland)

University of Oregon (USA)
Thursday, January 25, 2018: DESIGN DAY 1
08:45 Welcome Coffee
09:00 Welcome & introduction, official opening of the workshop
09:15 Short introduction of participants
09:45 Presentation of participants´ ideas
11:15 Plenary discussion, decision about the six most promising directions
12:30 Lunch break
13:30 Teams start working together, each team works on one of the 6 directions
16:30 Each team presents the status quo of its work, mentors may intervene
17:00 Closing of the day´s session
Friday, January 26, 2018: DESIGN DAY 2
08:45 Welcome Coffee
09:00 Further elaboration of concepts and sketches
12:30 Lunch break
13:30 Finalizing of the concepts, preparation of the slides for the public presentation on Monday, Jan. 29, 2018
16:30 Internal presentation (rehearsal) of each team´s presentation
17:00 Closing of the day´s session
Sunday, January 28, 2018: GUIDED TOUR
ISPO show starts today!
09:00 – 18:00 Guided Tour from
Meeting point: our workshop room C32
Monday, January 29, 2018: LECTURES and PRESENTATION
09:00 – 16:00 Lectures from
17:00 Public Presentation
Presentation of the teams´ concepts followed by a Get Together with visitors and people from the industry
20:00 Bavarian Dinner