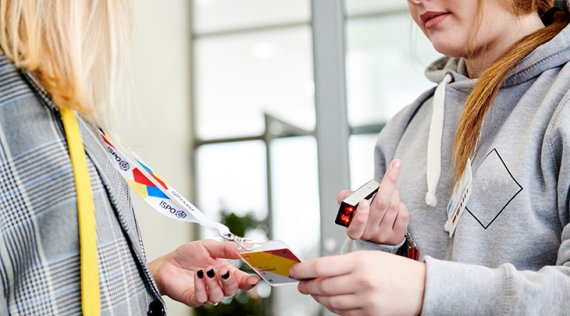 We offer all exhibitors at ISPO Munich a wide range of services. The services range from marketing and PR to technology, logistics and catering. Of course, we also provide you with conference rooms on the grounds of Messe München for meetings. You can also make use of interpreters and service personnel. Other services such as waste disposal and stand security are also part of the package.
All services for ISPO Munich 2022 are available in the Exhibitor Shop. If you want to know who has used one of your ticket vouchers to visit ISPO Munich 2022 or if you need an overview of the Print@home tickets actually used, you will also find this information in the Exhibitor Shop.
The Exhibitor Shop will be available again this year from July 2022.
A, B and C halls from November 25 to November 27, 2022.
(A more detailed time will follow shortly).
Hall B0 will have a shortened set-up time.
---
On the last set-up day, November 27, 2022, all delivery and set-up vehicles must be removed from the halls and outdoor area by 6:00 pm. Vehicles still in the halls or outdoor exhibition areas after the aforementioned times will be removed by Messe München GmbH at the risk and expense of the exhibitor concerned. Decorative set-up on the exhibitor's own stand area is possible until 20:00 hrs.
An extension of the set-up time is only permitted in exceptional cases with the prior
written consent of Messe München GmbH, Technical Exhibition Services Division.
A, B and C halls November 30, 2022 after the close of the fair
until December 2, 2022, 6:00 p.m.
---
An extension of the dismantling period is only permissible in exceptional cases with prior
written consent of Messe München GmbH, Technical Exhibition Services Division.
For further information, please refer to Item B6 of the Special Conditions of Participation.
Messe München's traffic guide gets you to the trade show center quickly and safely. To increase efficiency and organization in set-up and dismantling, ISPO Munich, together with Messe München, is now relying on an IT-supported system for logistics handling: FairLog!
The perfect trade fair organization is complex and time-consuming. To make sure you don't miss any deadlines, we recommend you to download our schedule including a checklist, it will be available for download here soon.
Here you will find an overview of all important documents: