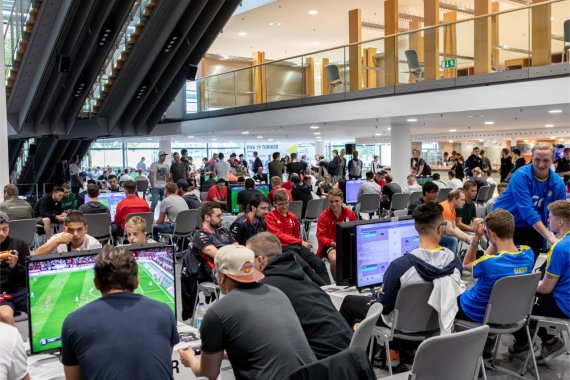 The development of LAN parties began around the 2000s - in Sweden and Norway LAN parties with up to 5000 participants have already been implemented. The biggest LANs in DACH are the "Dreamhack Leipzig" (annually in February) with about 2.000 participants, the "ESF Wien" (annually in March) with 600 participants and the "Switzer LAN" (annually in November) with 1.200 participants.
In the period from October 2019 to end of January 2020 we will discuss the ideas, the timing and your wishes concerning the LAN event in 4 project phases. Together we will present the concept at the ISPO Munich 2020 and realise the new event afterwards.
Everybody who wants to change something in the eSports and Gaming sector is warmly invited. Be part of the development team of a new eSports event in the german-speaking region! We are looking for team-oriented and active eSports enthusiasts, LAN Party fans, eSports clubs, gamers, university eSports clubs, publishers, hardware manufacturers and political representatives who want to get involved. 

After your registration we will invite you to our Discord Channel where you can discuss the project topics with other participants as an ISPO Open Innovation project team member. In 4 project stages we will put the developed concept ideas to the vote by using a query tool and thereby developing the collaborative concept step by step.

The goal is to realise the ES_COM LAN Party 2020 in Munich as a team.

As an active project participant you will receive a Supporter VIP Package as a thank-you when the LAN Party is realised!