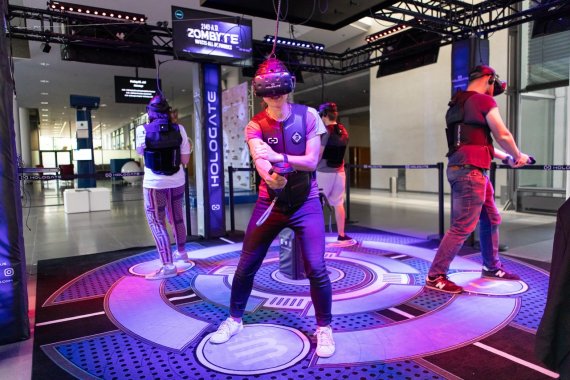 Tim Reichert, Chief Gaming Officer FC Schalke 04:
"FC Schalke 04 is the first Bundesliga team to support young talents in League of Legends. Our goal is to transfer our successful work to eSports. Because in electronic sports, too, we want to stick to the values that our club has been living by for years. Accordingly, it is important for us to also support regional events such as ES_COM in order to give fans the opportunity to follow a match of their favourite team live."
Andreas Schinko, Managing Director BFV Service GmbH:
"We are very pleased to have been able to cooperate successfully with ISPO at this event. The Bavarian Football Association has long been committed to eSports with a regional focus, so we are delighted to have found a joint approach with ISPO for eFootball gamers in Bavaria".
Jonas Schaffrick and Arne Löffler, Team Firewall:
"With ES_COM now behind us, we from Team FireWall would like to thank you once again for the good and professional cooperation. We were very happy about the great location and the positive community feedback regarding the AMD Masters. During the event, we heard a lot of positive things from all sides about the commitment to eSports. So far, it seemed only possible to set up such an event in Berlin, Cologne or Leipzig. We believe that with the necessary consistency and willingness to innovate, Munich too can rise to become one of the top cities for German eSports.
Therefore we should extend the cooperation for the next ES_COM by ISPO Digitize. We believe that ES_COM will soon be able to compete with Dreamhack or EGX. With ISPO behind us, we hope to establish a number of strategic partnerships for the industry in order to further establish eSports and gaming in southern Germany in the near future".
Manuel Wendel, Managing Director getquu GmbH
"We at getquu see ES_COM by ISPO Digitize as a great success. A gaming trade fair in Munich is very interesting for us as a company, as the German and Austrian eSports scene mix wonderfully here. The market is experiencing strong growth and right now it is important for us to be on site with our products, such as our platform for eSports organizations. We have received a lot of positive feedback about ES_COM and getquu and decided on the spot that we will be there again for a new edition. "
André Heitzmann, Managing Director eSports Reputation GmbH:
"We perceived the days in Munich as very positive and the feedback from the scene, which reached us, was consistently good! Absolutely professionally organized event, at the same time very close to the community and also a large part of the professionals & influencers want more of these events. A very successful premiere, which makes you want more!"
Frank Herzog, Head of Operations & Events ALL YOUR BASE:
"The professional cooperation with the Force of Disruption and the team of Messe München as well as ISPO was excellent to show gaming and eSports to eSports fans as well as gaming enthusiasts. Making Competitive Electronic Sports a real experience together was the right step".
Robert Fankhänel, COO Hologate:
"Finally there is an eSports and Gaming Festival in Munich. To present our global product Hologate also regionally, a trade fair like the ES_COM for players and customers is the right direction to present Munich as a gaming location."
Alexander T. Müller, CEO SK Gaming:
"It is important for southern Germany that eSports finds a home. In order to lay the foundation for this, ISPO Digitize's commitment to ES_COM was incredibly important. We look forward to continuing to support the project in the future."