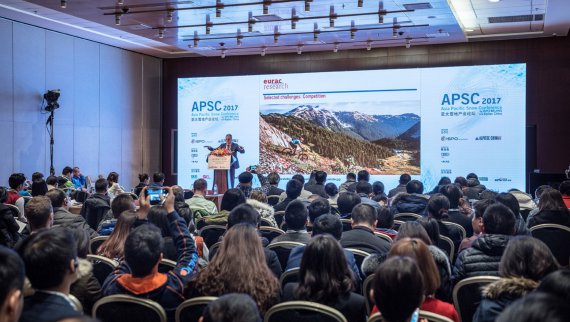 Date: Thursday, 25th January, 2018
Location: Venue CNCC, Convention Area Conference, Room 311b
Price: Free
Services in ski resorts, safety, digital marketing, strategic alliances between resorts, and sports events are some of the main topics that will be discussed at the Asia Pacific Snow Conference 2018 (APSC).
Following on from previous years, the well renowned international conference complemented ISPO Beijing and Alpitec China exhibitions.
Join the 9th edition of APSC for free
Since its first edition in 2009, the APSC has gained a growing number of participants and become increasingly popular. By focusing on the hot topics and latest issues in winter sports, tourism and infrastructure in China, the Asia Pacific Snow Conference has established itself as a professional forum for gaining insights and providing concrete solutions for improvement. The conference is open to any industry players that are interested.
Conference focus and program 2018
The 2018 edition will focus on thematic modules that will address hot industry topics from a national and an international perspective. The conference will start with an overview of the current Chinese ski resort industry, as well as key figures of international ski resorts. The program will than move on to service structures in tourist resorts and how to secure a safe environment. In the afternoon the focus will shift to digital marketing, as well as to merges, acquisition and strategic alliances between resorts. To conclude, insights and best practices on sports events as driving force for destination development – all year round – will be provided. The APSC aims to give an array of inspiring ideas and solutions, by providing national and international examples and input on the topic.
Presentation of the new "White Book" at APSC
An important highlight of the Asia Pacific Snow Conference 2018 is the presentation of the "White Book - 2017 China report on ski resorts industry", that was launched at ISPO Beijing 2018. It underlined the importance of the ISPO Beijing and Alpitec China double trade show as a showcase for the Chinese winter sports industry.
MORNING
Moderator: Mr. Bao Yonglin, CEO of TECNICA Group (China company)
 
09.10 – 09.30
Registration
09.30 – 09.40
Welcome Speech
Mr. Thomas Loeffler, Chief Financial Officer, Messe Muenchen Shanghai Co., Ltd.
Mr. Armin Hilpold, President of Fiera Bolzano Exhibition Center
09.40 – 10.10 
"WHITE BOOK 2017": China report on ski resorts industry
Mr. Wu Bin, CEO of Beijing Carving Ski Sports Development Corp.
10.10 – 10.40
Overview of the key industry figures for International ski resorts in 2017
Mr. Laurent Vanat, Founder of Laurent Vanat Consulting SARL 
10.40 – 11.10
Chongli district (2022 Olympic venue) and winter community -    Establishment reason and development trends
Mr. Wei Qinghua, CEO of Beijing Antaeus Ski Resort Investment & Management
11:10 – 11:40
Planning of safety measures in ski resorts
Mr. Richard Wyne, Polar Solutions
11:40 – 12:10
Winter sport vs. new media promotion case study - CCTV.com new media strategy plan for the 2022 Winter Olympic Games
Mr. Sean Feng, Corporation Operating Director Head of Sports, CNTV Sports Center
12:10 – 13:10 Break  
AFTERNOON
Moderator: Mr. Zhen Junfeng, Anchor of CCTV, Author of "Skiing in China"
 
13:10 – 14:00
Theme topic: Teenager snow sports and ice sports into campus
13:10 – 13:20
Create the snow and ice sports base, accelerate the teenager snow and ice sports into campus
Mr. Qu shengen, Deputy Dean of Heilongjiang Vocational College of Winter Sports
13:20 – 13.30
Characteristic way of teenager snow sports and ice sports into campus
Mr. Liu Yan, Assistant of CEO, Xinjiang Silkroad Resort
13:30- 13:40
Exploration of teenager skiing training – Meisha Education
Mr. Hu Qingtong, Partner of Shenzhen Vanke Firefly Education
13:40 – 13:50
Integrated solution of snow sports and ice sports into campus
Mr. Du Gang, Director of AST (China) Eurojoy Ice and Snow School
13:50 – 14:00
National snow and ice sports into campus union launching ceremony
 
14:00 – 15:00
Theme topic: How digitalization accelerates the development of the Chinese ski industry
14:00 – 14:20
Ms. Da Ming, CEO of Huqxuezoo.com
14:20 – 15:00
Panel discussion: How internet flow accelerates the development of China's ski resorts
Host: Mr. Han Ze - Executive Director of Zuo Yu Capital
Guest: Mr. Lv Gang - COO of Ma Feng Wo, Mr. Zhang Litao - General Manager of Fulong, Mr. Geng Baokun - CEO of Qunar.com Fun Department, Mr. Liu Yanxiang - General Manager of Meituan.com Attraction Business Center
 
15:00 – 15:30
How to structure the offer of a ski resort
Mr. Mat Woods, Cardrona Alpine Resort Head of Sales (New Zealand)
15:30 – 16:00
Sport Events as driving force for destination development: Best practice Hahnenkamm Races
Mr. Christian Egele – Kitzbühel Hahnenkamm Races (Austria)
16:00 – 17:00
Panel Discussion: How to exploit a resort all-year round
Mr. Mat Woods - Cardrona Alpine Resort Head of Sales (New Zealand), Mr. Christian Egele - Kitzbühel Hahnenkamm Races (Austria), Mr. Benoit Robert - Director of Cluster Montagne