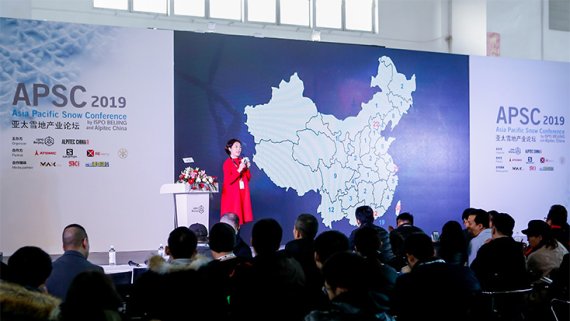 Following on from previous years, the well renowned international conference complemented ISPO Beijing and Alpitec China exhibitions.
Since its first edition in 2009, the APSC has gained a growing number of participants and become increasingly popular. By focusing on the hot topics and latest issues in winter sports, tourism and infrastructure in China, the Asia Pacific Snow Conference has established itself as a professional forum for gaining insights and providing concrete solutions for improvement. The conference is open to any industry players that are interested.
Date: Thursday, January 17, 2019
Time: 09:20–16:45
Location: hall E2 conference area 2
Price: free
Additional information: simultaneous translation will be provided
Agenda Asia Pacific Snow Conference
09:20-9:30
Welcome speech
Mr. Tobias Groeber, Business Unit Leader of Consumer Goods of Messe München GmbH
Mr. Thomas Mur, Director ALPITEC China, Fiera Bolzano
09:30-10:00
"WHITE BOOK 2018"- China report on ski resorts industry
Mr. Bin Wu, CEO of Beijing Carving ski sports development corp.
10:00-10:30
Overview of the key industry figures for international ski resorts in 2018
Mr. Laurent Vanat, Founder of Laurent Vanat consulting SARL
10:30-11:00
International case study: Ski resort alliance—ALC
Mr. Bruno Felicetti, Vice Director of the ski area Madonna di Campiglio Italy
11:00-11:30
World's Top Action Sports & Winter Sports Event IP—"X Games" What will it bring to China's sports market from 2019?
Mr. Li Hao, Brand Founder of REnextop Entertainment
11:30-12:00
Indoor ski resport development
Mr. Yi Li, General Manager of SUNAC Harbin theme entertainment culture tourism management company
12:00-12:30
The independent technologies research and development is promoting the layout of the winder industry in China
Mr. Simon Lee, General Manger/Chief System Designer ES ice & snow (Beijing) Tech Co., Ltd.
13:00–13:30
China ski resort planning, construction and operation
Mr. Wei Qinghua, President of China mountain development
13:30–14:00
Middle and small size ski resort operation and profit modle
Mr. Yan Cheng, Deputy General Manager of Xiling snow mountain
14:00–14:30
Crossover communities–Ski x Fitness & health
Mr. Bian Guangming, Chairmann of Nirvana sports Zhongti Dingxin group
14:30–15:00
Crossover communities—Diving meets skiing
Ms. Yan Lou, President of PADI Greater China
15:00-17:00
Panel: Consumer Ski Rental Experience Forum
Amer Sports Shanghai Trading Ltd.
17:00–17:10
Taking photos and closing
As extension of the Asia Pacific Snow Conference there will be also a technical workshop.
Date: Friday, January 18, 2019
Time: 09:30–16:30
Location: Hall E2 conference area 1
Price: free
Session One Security
09:40–10:10
Introduction
Mr. Yu Pengchao, MAS Limited
10:15–10:45
The safety solutions of the tourist destination and ski resort
Ms. Tian Moyi, MND Group
10:50–11:20
Slope patrolling
Mr. Richard Wyne, Polar Solutions
11:25–12:05
Lift evacuation
Mr. Dana Jordan, Cascada Rescue Co.
11:25–12:05
Illumination systems for night skiing
Ms. Lee Xu, Golden Eagle
Session Two Snow Groomin
14:00–14:30
Introduction
Mr. Florian Profanter, Kässbohrer Pro Academy
14:35–15:05
Fleet management and Snow Depth Measurement Systems in the snow grooming process
Mr. Stefan Lux, Kässbohrer Geländefahrzeug AG
15:10–15:40
Sustainable slope preparation
Mr. John Calverley/Mr. Andreas Muigg, Prinoth AG
15:45–16:15
The right snow groomer for China
Mr. Leifeng Sun, Beijing Slope Tech Development Co. Ltd.
16:15–16:30
Taking photos and closing