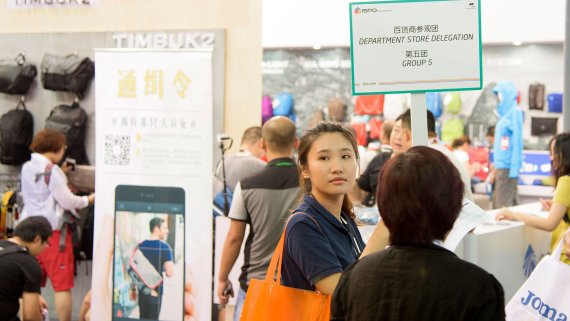 ISPO Shanghai's three new theme worlds—i.e. Nature & Elements, Speed & Strength and Urban & Lifestyle—bundle the latest products and innovations in the Outdoor, Water Sports, Textrends, Running, Fitness and Action Sports sectors. The show focuses on the summer and all-season collections. Visitors not only get a quick and comprehensive industry overview, they also receive insights into the Chinese market's trends and growth segments.
China is the market of the future for the global sports industry, and it has an enormous amount of growth potential. According to forecasts, the Chinese sports market will be the largest in the world by 2020. ISPO's Market Introduction Program was designed to support international brands that want to gain a foothold in China. Sports industry specialists and market experts will give valuable insights into the Chinese economy and provide know-how to support companies entering the market. The seminar program will cover basic legal principles, and networking events will give participants an opportunity to make contacts. There will also be a Retail Tour of select dealers and department stores. For those who are interested in the Market Introduction Program a preview with lectures awaits them in Munich on May 31, 2017.
ISPO Open Demo Day takes place the day before the show begins at the bottom of the river Yangtze. It will give visitors a chance to test the latest products for the summer outdoor and exchange ideas and information with dealers, distributors and representatives of several brands. One of the main events on the last day of the show is the ISPO Lightning Run in Shanghai's Century Park. The program of events also features a number of other highlights such as the presentation of ISPO Award Winner and for the first time the ISPO Textrends for spring/summer 2019.
For the first time ever, Sport Tech Asia is being held at the same time as ISPO Shanghai. The joint venture with the platform for innovative technologies in the sports industry will create valuable synergy effects for visitors. Besides the latest product developments, you can also gather information about future-oriented trends and new developments in manufacturing. Among other things, the exhibits on display will include machines for outdoor products and the latest developments in the dyeing process.