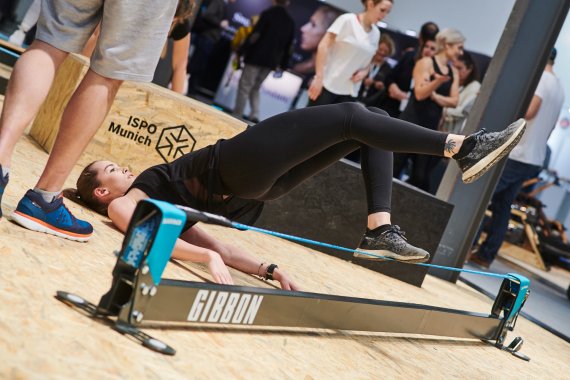 Innovative developments in the sports business offer solutions

Numerous

events

will provide inspiration and fresh momentum
According to general information published by the World Health Organization (WHO), almost one in three adults does not do enough physical activity. According to a recent WHO study, almost 20 percent of adolescents aged between 11 and 17 are not sufficiently physically active either. Sport is an important way of counteracting pressure to perform well at school or at work, media overload and stress as well as the global issue of inactive lifestyles which is one of the main challenges facing modern society.
ISPO Munich 2020 will be highlighting just how important it is to see practicing sport as an all-round, holistic approach to a new lifestyle, and in line with the motto "Be active" will be broadening the sports agenda by also covering topics such as health, nutrition and mental strength. Innovative developments in the sports business provide brand-new opportunities and ways of addressing social problems such as health-related issues, environmental issues and sustainability issues and offer real solutions.
ISPO Munich will really bring the main topics to life in special focus areas. Partly curated by industry experts, innovative sports, fashion and lifestyle concepts will be showcased, potential will be identified and burning questions on sports developments relating to society as a whole will be answered here.
The focus areas at a glance:
Body & Mind

(Hall B3): Here visitor can expect anything and everything to do with health and fitness as well as an all-encompassing, holistic approach to humans and their environment. In their presentations (held daily between 10:30 a.m. and 6 p.m.), experts will cover various different areas, including "Biohacking & Neuroathletics" and "Yoga & Wellbeing".


 

ALPIN Snow & Safety Summit

(Halls A3 & A4): Safety and sustainability both on and off the slopes will be the main topics here. The panel discussions will feature high-profile experts such as sporting goods manufacturers, retailers and representatives of associations and from the world of politics and will cover various topics, including sustainability seals as well as the opportunities and risks involved in ski tours. As part of live demonstrations, visitors will be able to learn more about hard shell jackets made from recycled materials, pin bindings, ski tour bindings and airbags.


 

ES_COM Electronic Sports Competition & UNILEAGUE eFootball

(East Entrance): esports have developed into an important part of the sports industry boasting a large global fan base and incredible growth figures. In addition to show matches, experts will be explaining what esports are all about and highlighting the opportunities involved for the sports industry in workshops and presentations.
Many other topics and events relating to the motto "Be active", including the ISPO Munich Sports Week and the Mobile Health & Fitness focus area (Hall A6), will be worth checking out. All times, dates and info for the events, panel discussions, workshops and live demonstrations of the focus areas as well as of ISPO Munich 2020 can be found in the ISPO Munich 2020 events database.