ISPO Munich: the program
Events and highlights of the sports fair
Every year, ISPO Munich sets itself the goal of inspiring and inspiring sports business professionals with its program. The leading trade show of the sports business is trend-setting, impulse-giving and deals with topics that move the sports industry. This year, the entire program will take place in the heart of ISPO Munich: the Future Lab in Hall B2!
The Future Lab is divided into the following topics:
Sustainability Hub
Retail & Digitize Hub
ISPO Brandnew Hub
ISPO Award Exhibition
Main Stage
Catering & Socializing Area
Textrends Louisa Smith
Press Brunch
Bluesign Certification: Eva Karlsson (Houdini), Antje von Dewitz (VAUDE)
Diversity Session with Christian Schenk and guests
Red Bull Podcast "BIO Hacking" with Anton Palzer and Andreas Breitfeld
Press guided tours at 13:00 and 14:00h on the topics Sustainabilty and Innovation (Future Lab + exhibition halls)
ISPO Cup award ceremony in the evening, athlete talks and after-party
Close
Retail-Breakfast with Margit Gosau (Sport2000) starting at 07:30h
ISPO Conference Panel Talk Bergzeit/ Soex on Circular Retail
Presentation of the ISPO Consumer Insight Study and Sports Study by Deloitte
World Sports Forum Paris
WRLDS - Gamification of Sports
Runners' World Symposium
Final Live Pitch Brandnew during the day & Brandnew Networking Night
Close
Sports activities with BlackRoll
Global Sports Week - Social & Ecological footprint of Mega events
Female Empowerment Key Notes "Stories to be told" presented by Women Connecting with Vibeke Sefland and other guests
Close
The Future Lab is the perfect arena for innovations, megatrends, digital transformation and connectivity. With its curated areas, it offers an overview of innovative products, new market players, sustainability concepts and solution providers for the sports business of the future. The Future Lab is the perfect experiential space for anyone looking for inspiration, developing solutions or bringing consulting expertise to accelerate the development potential of the sports industry. And in the evening, the place where the community celebrates together.
Discover the Future Lab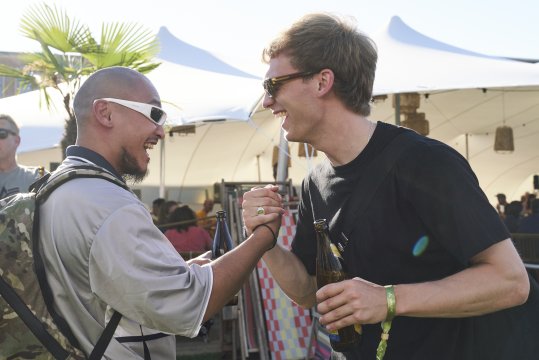 Have we mentioned networking yet? There are plenty of opportunities for that at ISPO Munich 2022. Whether at the ISPO Parties, in the Lounge & Catering Areas, in the Future Lab, at the Conference, the RUNNER'S WORLD LAUFSYMPOSIUM or other exciting program highlights - ISPO Munich 2022 offers numerous opportunities to network with the community and meet athletes.
In our directory you will find all topics and subpages of ISPO Munich clearly arranged. If you have any questions or if you are missing specific information on our website, we look forward to receiving your e-mail.
To the overview page