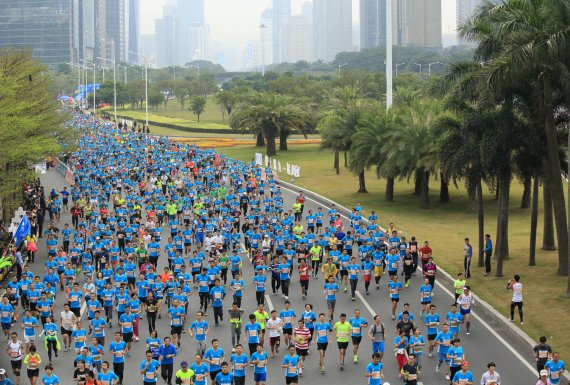 Marathons gibt es von der Arktis bis zur chinesischen Mauer, in den Innenstädten der Mega-Metropolen ebenso wie in entlegenen ländlichen Winkeln. Die Zahl der Läufer, die sich der extremen Herausforderung stellen wollen, wächst ebenso wie die Zahl der Strecken in aller Welt. Die fünf größten Marathons entführen in aufregende Metropolen – vielleicht die Chance für einen ganz speziellen Aktiv-Urlaub, oder dafür, Zaungast bei einem spannenden Sportevent vor faszinierender Kulisse zu sein.
Platz 5: Berlin-Marathon – 36.817 Finisher (2015)

Schon vor der offiziellen deutschen Wiedervereinigung am 3. Oktober 1990 führte der Berlin-Marathon am 30. September zum ersten Mal durch das Brandenburger Tor. Die Anfänge liegen im Berliner Crosslauf am Teufelsberg (ab 1964) und später dem Berliner Volksmarathon, der 1974 seine Geburtsstunde hatte.

Am Vortag des eigentlichen Laufens steigen ein Inlineskater-Marathon über die normale Distanz und ein Mini-Marathon für Schüler über ein Zehntel der Strecke. Die 40.000 Startplätze für den eigentlichen Marathon sind sehr begehrt, jeder Läufer muss mindestens 18 Jahre alt sein. Neben Chicago und London gehört die auch architektonisch reizvolle Berliner Strecke zu den schnellsten: 2014 blieb der Kenianer Dennis Kimetto hier als erster Mensch auf dieser Distanz unter zwei Stunden und drei Minuten (2:02:57 h).

Termin 2017: 24. September

Platz 4: London-Marathon – 39.462 Finisher (2017)

Chris Brasher, Sportjournalist und Olympiasieger im Hindernislauf, hat den London-Marathon 1981 ins Leben gerufen, angeblich inspiriert von New York. Wer an der Themse mitlaufen möchte, muss großes Glück haben. Anmeldungen gibt es viele, Zulassungen zum Lauf dagegen vergleichsweise wenige. Besonders Ausländer haben es offenbar schwer. Schätzungen gehen davon aus, dass weniger als zehn Prozent Nicht-Englänger am Start sind. Das Running beginnt im Greenwich Park und verläuft über die Tower Bridge, durch die Docklands zum Eastend. Auch die Parlamentsgebäude und der Buckingham Palace liegen an der Route, die in der historischen Prachtstraße The Mall endet.

Wichtig in London: Der Marathon funktioniert auch als Benefiz-Happening, bei dem große Summen für wohltätige Organisationen gesammelt werden. Namhafte Sportler treten in teils skurrilen Kostümen an, die signalisieren sollen: Für uns geht es zuerst um Charity, nicht um Höchstleistungen.

Termin 2018: 22. April

Platz 3: Chicago Marathon – 40.608 Finisher (2016)
Eine ausgesprochen flache und damit schnelle Rennstrecke vorbei an gleißenden Hochhausfassaden: Die "windy city" Chicago lädt seit 1977 alljährlich im Herbst zum Marathon. Ab 16 Jahren ist die Teilnahme mit elterlicher Erlaubnis und ohne eine Qualifizierungszeit möglich. Anmeldeschluss ist in der Metropole am Michigansee erst, wenn sich 45.000 Athleten eingeschrieben haben. Start und Ziel des für seine blendende Organisation bekannten Laufs liegen im Grant Park. Wenn sich der Wind zurückhält, sind dank der ebenen Tour persönliche und Weltrekorde möglich.

Termin 2017: 8. Oktober
Platz 2: Paris Marathon – 41.736 Finisher (2017) 
Frühlingsgefühle a là française: Traditionell wird Anfang April auf dem Champs-Elysées gestartet. Die reizvolle Laufstrecke führt über die Place de la Concorde, vorbei an der neuen Oper und durch die Tuilerien, am rechten Seine-Ufer entlang und durch den Bois de Boulogne. Das Ziel liegt in Sichtweite des Triumphbogens – vielleicht die Belohnung für eine triumphale Leistung?

Für jeden, der in Paris starten möchte, ist ein ärztliches Attest verpflichtend. Die Nationalität spielt keine Rolle; wer sich zuerst meldet, bekommt einen der begehrten Teilnehmerplätze.

Termin 2018: 8. April
Platz 1: New York City Marathon – 51.388 Finisher (2016)

The "Big Apple" einmal mehr als Nonplusultra? In jedem Fall kommt das schweißtreibende Running einer Sightseeing-Tour gleich. Seit 1976 führt der Marathon durch alle fünf Stadtteile New Yorks, über insgesamt fünf Brücken und endet schließlich im Central Park. Hier hatte 1970 alles mit 130 Läufern begonnen. Nur 55 erreichten das Ziel. Zur Feier der 200jährigen Unabhängigkeit der USA wurde der Lauf 1976 verlegt. Start ist seitdem auf Staten Island, und es geht durch Brooklyn, Queens, die Bronx und Manhattan zum Ziel.
Wer einen der gefragten Startplätze ergattert – es existiert ein strenger Vergabeschlüssel für New Yorker, Amerikaner und Ausländer –, reiht sich in einen illustren Promi-Reigen ein. Nicht nur der damalige Grünenpolitiker Joschka Fischer, auch die Baywatch-Nixe Pamela Anderson oder Elton, Sidekick von Ex-TV-Moderator Stefan Raab, trabten hier durch die Straßen.

Termin 2017: 5. November

Sind Sie schon einmal bei einem Marathon mitgelaufen – vielleicht sogar in Berlin, London, Paris, Chicago oder New York?