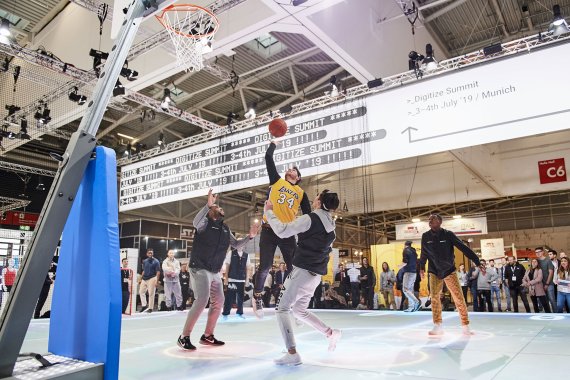 Becoming better together, encouraging each other to deliver a peak performance, having fun as a team, pulling together after defeats, and celebrating wins in style as a group – this is what team sports are all about. And there is no other type of sport on the same level. Whether their sport of choice is football, hockey, floorball, basketball, tennis, table tennis, badminton, volleyball, or ice hockey, for many active players, there is nothing better than that sense of community and shared passion for the sport within the team. 
This attitude is captured perfectly by the Teamsports segment at ISPO Munich in hall C6, where the sports industry will be showcasing the latest products from the team sports sector. There is something for everyone, with the traditional team sports such as football, hockey, and basketball being covered along with the likes of floorball and darts, which has recently seen a revival and is now back on trend. Boasting everything from small bats and balls for table tennis to proper full-sized tennis rackets and from team kit manufacturers to the footballs themselves, this area really should be the first port of call for all retailers looking for anything at all to do with the most popular of the team sports.
A quick look back at the past and ahead to the future reveals the incredibly quick pace at which trends in team sports evolve. In the past, darts has been widely regarded as the archetypal social sport, but now, inspired by extensive television coverage, thousands of people are trying their hand at throwing darts at a dartboard. As demand for equipment has increased, the range on offer has broadened too.
Racket sports are currently seeing a boost in popularity as well. Hockey and floorball – as the fast-paced, trick-based indoor sport – are undergoing rapid growth. This is no surprise given that it is easy to get started with the sport and the basics can be picked up in no time. Known in some countries as "unihockey," this sport is deemed to be an exciting offering on school sports programs in particular thanks to its lightweight bats and balls that are considered to be less dangerous than the equipment used in other sports. 
Hall C6: Digital Sports Experience—tournament
On an event court in the center of this hall we will have several activations within the Future of Sports. Our highlight will be a small field soccer tournament by Uniliga.de.
The Teamsports segment at ISPO Munich is aimed primarily at sports retailers given that this sector is a source of steady sales and repeat customers for them. After all, it is team sport season all year round and many sports also have indoor versions, including hockey and football. Demand for new equipment – balls, bats, kits, and more – shows no sign of declining.
In the Teamsports segment at the world's largest sports trade fair, retailers and wholesalers can get an all-important overview that will guarantee them success in trading in equipment for team sports.
Close
Retailers selling equipment, clothing, and accessories for all team sports, including football, handball, and basketball 
Representatives of chain and independent department stores with sports departments 
Sports trainers and coaches 
Close