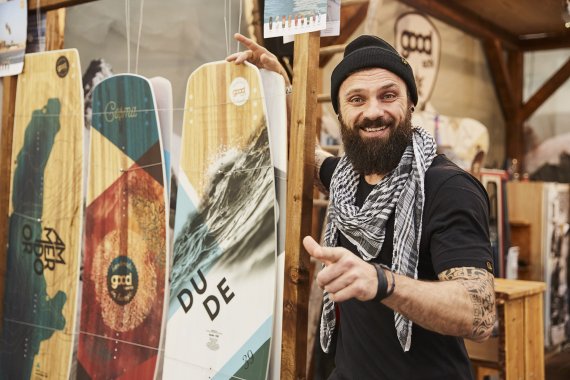 2,801 exhibitors and over 84,000 trade visitors make the ISPO Munich 2018 again a great success.
"Of course, trade fairs today serve a different purpose than they used to, when you could derive the financial value of a fair directly from the orders. Today it's about seeing and discussing our customers."
Close
"ISPO has created a platform to come together and further develop the opportunities of the digital transformation for retailers and brands. We're back as market leaders to openly and transparently demonstrate our engagement with retailers who see this as a clear opportunity."
Close
"We're chalking the trade fair up as a very successful one. For us, it's a crucial platform for optimally representing the ABS brand with all of its new elements. We had an expert audience and a high number of visitors at our booth. We were able to greet all of our major retailers at our booth and have already gotten several commitments. We're especially happy about the feedback on our new product: The s.LIGHT is getting enthusiastic reception from the retail trade. We're of the opinion that ISPO has managed to become an important medium that we'll continue to use beyond the season by covering all channels."
Close
"We've been able to experience a high-traffic trade fair with good meetings this year, as well. With highly positive feedback from the retail and brand side on our focus topic Primaloft Black Insulation ThermoPlume, we as an ingredient brand also conducted excellent meetings with several partner brands from the fashion and lifestyle industries. This year's good winter in terms of sales figures compared to last year definitely played into that. In general ISPO Munich is an important industry event for us and, as a communication platform, an efficient tool in terms of sales.  The fair simply gives retail a complete overview of the market, an ever more important indicator for the buyer decision making process. With the subjects of digitization and automation in the industry, as well as great lectures and symposia, the trade fair will continue to give attractive reasons to visit in the future."
Close
"We need a trade fair like ISPO Munich to continue growing in Europe. This is the first year we weren't at the Outdoor Retailer Show in the US. Why: The US is our biggest sales market by far – to keep growing there, it makes more sense to invest more in end consumer marketing. It's different here."
Close
"We had a fantastic season and a great ISPO Munich. Last year people said skiing was dead – but the exact opposite is actually the case! The early snow has inspired everybody. It's fun being here. ISPO is extremely important, especially for our international customers. We were able to get nearly every good international customer through the trade fair."
Close
"We believe in trade fairs! ISPO Munich is the biggest and best sports trade fair in the world, by far. As long as we can meet our customers here, for me there's no alternative. Why shouldn't a good retailer come when they can see 50 brands in four days? Even if they make 85 percent of their revenue with the big sports brands, they can set themselves apart from the pack with the remaining 15 percent. And they'll see that here."
Close
"The new concept with the broad center aisle has created an open atmosphere. As a result we've also reached retailers who aren't as strongly anchored in the snowboard sector. Products aren't just presented here, they're staged and trends are displayed. The goal needs to be motivating and inspiring retailers more. The concept is being well received and is headed in the right direction. We're glad to be further developing together with ISPO Munich."
Close
2017, the world's largest sports trade fair broke the 87,000 visitor mark for the first time.
"Thanks to our participation at ISPO Munich 2017 we were able to successfully expand and further establish our brand, Aztech Mountain, in the wider European market. A highlight for us was being able to introduce our proprietor and business partner Bode Miller to the ISPO Community. We are very pleased with how the trade fair has gone and are very impressed with the quality and size of the event. We will definitely be coming again to ISPO Munich 2018."
Close
"The highlight of this year's ISPO Munich for us has to be the 'Idea of Sustainability Kiosk'. We are very pleased with the way the trade fair is going, even if there were a few less visitors about. The trade fair is absolutely an industry platform with a lot of significance when it comes to Marketing-Mix. We definitely want to come again in 2018!"
Close
"We are very pleased! ISPO Munich was once again a good opportunity to tend to our existing network, strengthen business connections, and to make new contacts as well. We were especially excited for the opportunity to meet new Chinese customers and were able to make many valuable contacts in the end. ISPO Munich brings the whole industry together for a few days—both literally and metaphorically speaking."
Close
"ISPO Munich is THE European showcase for the world of sports. The trade fair was, as usual, a positive experience for us, which is what we expected. Sustainability and alternatives for down feathers continue to be the hot topics. We look forward to many years to come at ISPO Munich!"
Close
"There was a lovely international audience there and we made a lot of contacts with potential customers. It seemed like about every other visitor to our stand was, or was becoming, one of our customers and we are of course very happy about that. Overall we can say that exhibiting at the trade fair has been a resounding success."
Close
With over 60 more exhibitors making their way to Munich in 2016, a total of 2,645 presented the latest trends, innovations, and products to more than 80,000 trade visitors from 120 countries.
"The ISPO Munich 2016 offers the optimal platform on which we can position Fjällräven as a brand in a global environment. I have been a big fan of ISPO Munich for many years and every year look forward to in-depth and successful work at the exhibition. We are pleased with the large number of international visitors to the event. The 365-day-concept promises us a lot of potential – we want to use the services even more in the coming year. The special highlight for this year was winning two ISPO Awards."
Close
"Despite the new exhibit hall distribution ISPO Munich 2016 was a great success for us. Particularly the high amount of visitors to our booth on Sunday and Monday made us very happy. This year the focus of our exhibit booth concept was on virtual reality and this received great feedback from the visitors. ISPO is a very important exhibition for us, and we will certainly return in 2017."
Close
"The trade show was very successful for us. We not only gained new contacts and potential customers, we also met a lot of existing customers. As a get-together for the industry ISPO offers us the chance to get to know a variety of brands and their products. We are already looking forward to ISPO Munich 2017."
Close
"Even though we have exhibited at ISPO Munich for the last three years and are among the biggest fans of Messe München, ISPO Munich 2016 is a milestone for the Blackyak brand in many respects. It is not just the launch platform for our global collection 2016, which we have developed over the last two years, and thus the starting shot for our operational activity in Europe, but also the foundation. Therefore we are even more pleased that we did not just receive grandiose feedback from the retail side, but also impressed the ISPO AWARDs jury at our debut. Thank you, and we look forward to ISPO Munich 2017!"
Close
"ISPO Munich is and remains the get-together for the industry. ISPO offers the ideal platform to start a dialog with the right customers. During the first two days we welcomed a number of national and international visitors. We are very pleased with the way the trade show worked out for us, and will definitely be back in 2017."
Close
"ISPO Munich 2016 was extremely successful for us and is the most important exhibition for winter sports contacts for us. In addition to a number of new products our success was dominated by the ISPO AWARD GOLD WINNERs UVEX Variotronic and P.8000 Tour. The award is a special highlight for our 90th company anniversary. We are looking forward to 2017."
Close
"We are very positively surprised by the frequency of visitors. ISPO simply is the industry get-together, and very important to revive old and gain new contacts. The exhibition is very interesting, compact, and you get the perfect overview of brands and innovations."
Close
"We received very positive feedback from retailers and customers this year. The high number of visitors is a great success and validates the concept of this year's open, unrestricted and communicative exhibit booth. Skiing is still a topic that spawns great emotions. We are looking forward to the next Come Together in 2017!"
Close
"The ISPO's reach has changed tremendously in the last few years. We live in a globally networked world that focuses completely on Munich on four exhibition days. On the other 360 days we reach our target group with the help of the digital services provided by ISPO. At the trade show itself we meet our key stakeholders and maintain a dialog with the industry and players such as Greenpeace. This is important so we can satisfy the wishes and demands of our customers. Only if we understand the challenges of the future we can work together and change the world to the better for the long term."
Close
"We can look back on an ISPO Munich 2016 with a very high frequency of visitors and exhibitors. This year, the topics of sustainability, social and ecological products as well as production have become much more relevant to the target audience. It makes us happy to see that due to our involvement VAUDE has taken on a pioneering role, also at ISPO Munich 2016. We were very pleased by the direct and positive feedback from customers and journalists."
Close
At ISPO Munich 2015 more than 2,585 exhibitors welcomed over 83,000 visiting industry professionals on 104,940 square meters net exhibit space.
"Overall, ISPO was very successful for us. We were able to meet with our entire portfolio of customers and promote a segment expansion. ISPO is the channel to work on diversification. We are especially proud of receiving an ISPO AWARD for our new, extremely light all-mountain ski series. We are certainly planning to come back to Munich in 2016."
Close
"For us, ISPO Munich is the most important winter sports contact event. Particularly in regards to the marketing mix the show provides us with the reactions to our new collection and we consider it a barometer. Despite the lack of snow at the beginning of this winter we can be positive about the future in terms of orders. The level of interest in our new products was very high! We will return to ISPO Munich as an exhibitor in 2016, and we are glad it will once again run from Wednesday to Sunday"
Close
"The first two days of ISPO Munich 2015 were super. We welcomed many national and international visitors to our booth, had great dialogs, and closed quite a few orders. Overall, a positive atmosphere permeated the show. Hall C1 is exactly the environment where we feel comfortable. Retail and industry get together at ISPO. We will come back to ISPO as an exhibitor in 2016."
Close