ISPO Brandnew | Special Recognition by Globetrotter | BAJAO
In the past, BAJAO has conducted many SUP tours. Both extended day trips, as well as multi-day adventure tours. In the process, they have always noticed that you have to use products from other sports that are poorly suited for Stand Up Paddling.
Especially with tents, there were many problems that previous trekking products could not solve:
Why do I need to carry a sleeping pad or air mattress when I can use my SUP board as a pad? My space on the board for luggage is limited, so any savings on luggage is welcome.
How can I secure my board at night to prevent damage or theft?
Camping is not allowed everywhere. Anchoring, on the other hand, is almost always allowed. So why not camp on the water?
One advantage of an inflatable board is that I can transport it in even the smallest car. Why not build the most flexible roof tent out of it?
All these questions have always led to the same problem: There are no suitable accessories for this sport. Since there is no brand that exclusively serves this secondary market, the BAJAO brand was founded and BAJAO Cabin was developed as the first product.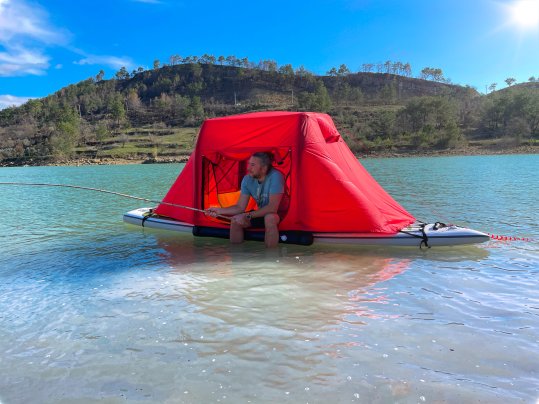 It fits any SUP board from 11.6 length and uses the board as a base. The specially designed inflatable frame makes the board a permanent part of the tent. The sidepipes stabilize the board against tipping over on the water. At the same time, they compensate for the difference in height between the board and the ground. Thus, the iSUP not only becomes an insulating mat, but also perfectly compensates for uneven ground. If it's too uncomfortable when inflated, you simply deflate the board a bit. The sidepipes can be removed, so you can use the tent without SUP as a base directly on the ground like a normal trekking tent. The pack size is small so it can be easily transported on a SUP.
Founded: 2021