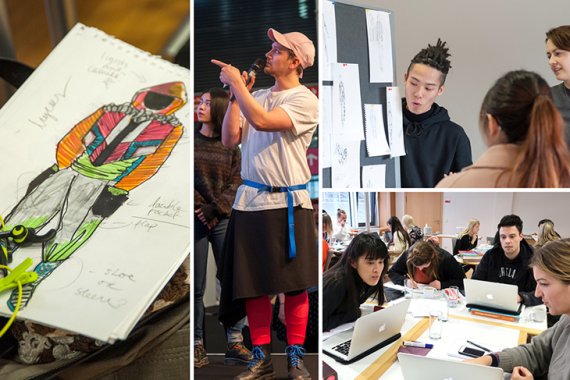 Date: January 31–February 4, 2019
Venue: Exhibition Grounds Messe München
ISPO Academy Masterclass is a unique intermediate project for the "Designers of Tomorrow" in the sports sector, striving at the core to inject a fresh breeze into the sports industry. The Masterclass is no competition. Instead, it fosters multi-disciplinary thinking, open exchange and collaboration.
In a transforming global environment with oversaturated markets and most homogenous product offers ISPO Academy Masterclass wants to break conformity with pioneering approaches. The distinctive feature of the Masterclass is to convey sports related knowledge and to explore the creative and functional potential of performance wear in the 21st century.
The following ten international schools will participate:​​​​​​​
Beijing Institute of Fashion Technology (China)

Falmouth University (UK)

Hochschule der Künste Bremen (Germany)

IFA Paris (France)

London College of Fashion (UK)

Modefachschule Sigmaringen (Germany)

Shih Chien University (Taiwan)

The Swedish School of Textiles / University of Boras (Sweden)

University of Lapland (Finland)

University of Oregon (USA)
Each school has nominated 2-4 participants. Altogether, 29 students will gather in Munich by end of January 2019 for 4 days full of vibrant exchange and creative thinking, taking advantage of the inspiration and opportunity only ISPO Academy Masterclass can offer!
Staying in the game is not enough today –a fundamental shift is taking place, a radical breakaway is announcing. Today's active lifestyle asks for new products and a multi-tasking wardrobe. High time to take design for sports and its role at the interface of human needs and technology to a new level.
'Leave the familiar, reconsider previous paradigms and explore new paths!'
This will be the leitmotif for the two Design Days of the Masterclass workshop, guided by the renowned design experts Nora Kühner and Rolf Günther.
On Sunday, February 3, 2019 the participants will explore the ISPO Munich and visit several hot spots and selected exhibitors. Monday, February 4, 2019, is dedicated to presentations of international experts and industry insiders. The highlight of the day will be the Public Presentation of the workshop results at the stage in the ISPO Brandnew Village. The students will present the concepts they elaborated during the two Design Days.
Masterclass public presentation
Date: Monday, February 4, 2019
Time: 15:30
Venue: ISPO Brandnew Village

Further information on agenda and topics: