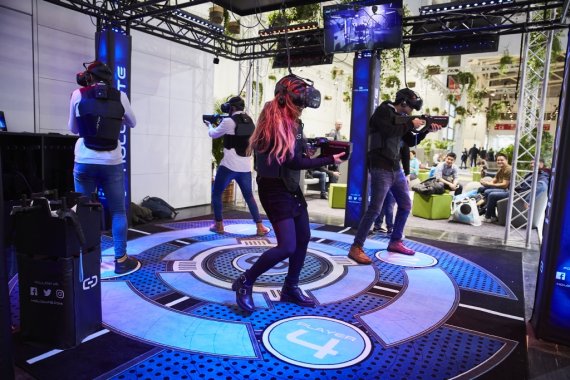 eSports is booming worldwide. The eSports Arena at ISPO Munich 2019 also proved this. There is great interest in gaming and many companies and soccer clubs are already involved in digital sports.
ES_COM is another annual event highlight at the ICM in Munich. The eSports and Gaming Festival will take place for the first time from the 3rd to the 7th of July 2019. Over five days, ES_COM offers numerous events and eSports tournaments in five different areas covering 15,000 square meters.
Competitions will among other things take place in the games "League of Legends", "Rocket League", "just dance" or "Mario Kart". With Hologate, a virtual multiplayer venue is also planned in which up to four players can compete against each other simultaneously in a three-dimensional world.
In addition to hobby, amateur and semi-professional teams, professional gamers are also invited to participate and watch. One of the highlights will certainly be the world's largest offline FIFA tournament with 1000 participants on Sunday, July 7th, 2019.
In addition, visitors to the ISPO Digitize Summit (3rd to 4th of July 2019) will have the opportunity to make their first contacts with the scene.
"With the Electronics Sports Competition we are offering the eSports community a new home. Furthermore, the event is the ideal opportunity for participants of the summit to experience the world of eSports live and to make first contacts to important influencers", says Christoph Rapp, project manager of the ISPO Digitize Summit.
Various workshops and panel discussions are also offered. In cooperation with the Verband für Sportökonomie und Sportmanagement e.V. (Association for Sports Economics and Sports Management) a workshop on "Copycat or Innovation?! - The sponsoring and marketing of eSport" is planned. Agents of the industry, such as representatives of the streaming platform Twitch, the market research company Nielsen and the German TV stations ProsiebenSat1 and Sport1 will share their experiences from the eSports market.
In a master class of the Sportbusiness Campus educational institute, interested participants are taught the basics, the history of eSports is explained and illuminated using scientific approaches.
Available are day tickets as well as various ticket packages for the LAN party and the offline FIFA tournament. The complete program and tickets for the ES_COM are available here: