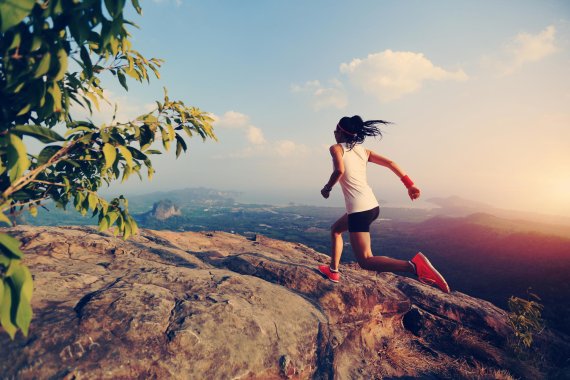 Von fünf auf mehr als 500 Trailrunning-Rennen wuchs der Markt in China. Es sind Wachstumszahlen im Trailrunning erkennbar, die im Zusammenhang mit dem Land niemanden wirklich überraschen, doch der Teufel steckt wie so oft im Detail. Denn bloßes Wachstum ist auch in der Trailrunning-Szene kein Garant für Qualität. 
Welcher Sport ist in China populär? Hier geht es zu den beliebtesten Sportarten
Vielmehr scheint es so, dass momentan Quantität vor Qualität geht und viele Veranstalter nur auf den schnellen Profit aus sind. "Oftmals werden die Rennen nicht aus der Liebe zum Sport, sondern aus Liebe zum Geld ins Leben gerufen", erklärt Pierre-Arnaud Le Magnan, Asien-Distributeur für BV Sport: "Und meistens sind es dann genau diese Events, die nach einem oder zwei Jahren wieder von der Bildfläche verschwinden."
Le Magnan hat die Entwicklung des Trailrunning-Sports mit mehr als 20 Jahren China-Erfahrung aus nächster Nähe miterlebt und vertreibt für BV Sport Kompressionsbekleidung im asiatisch-pazifischen Raum.
Landflucht lässt Outdoor Sport boomen
"Trailrunning-Events sind in China einfach ein weiteres Geschäftsfeld, vergleichbar mit dem Marathon-Boom ein paar Jahre vorher. Und mit der fortschreitenden Landflucht der Leute wird das Thema Outdoor-Sport noch mehr an Bedeutung gewinnen."
Ein Faktor, der den Trailrunning-Boom verstärkt, ist Segen und Fluch zugleich. Wie bereits in vielen anderen Sport-Disziplinen zuvor versteht die Regierung, dass eine Förderung von staatlicher Seite viele positive Auswirkungen auf die Bevölkerung hat. Im Trailrunning bedeutet dies unter anderem, dass die Hürden und Voraussetzungen, ein Rennen zu organisieren, extrem herabgesetzt wurden. 
Trailrunning: So tickt die Community, das erwarten Bergläufer von der Ausrüstung
"Es sollte zumindest so etwas wie eine verpflichtende Checkliste geben, an die sich Rennorganisatoren halten müssen", so Le Magnan: "Vielleicht wird das mit der Gründung des nationalen Trailrunning-Verbands etwas besser."
Selbstverständlich gibt es auch Ausnahmen wie das "Ultra Gobi" Rennen oder das "Hong Kong 100", bei denen westliche Standards längst eingehalten und in manchen Punkten sogar übertroffen werden.
Warnung auf der ISPO Shanghai
Janet Ng, Präsidiumsmitglied und Schatzmeisterin der International Trail Running Association (ITRA), ist sich dennoch sicher, dass bereits einige negative Erlebnisse nachhaltig Schaden anrichten können.
"Die Gefahr ist sehr akut. Es braucht bloß ein paar schlecht organisierte Rennen oder schlimmer noch Unfälle, und das Interesse der Athleten verschiebt sich zum nächsten "Big Thing", so Ng, die auf der ISPO Shanghai die Arbeit der Non Profit Vereinigung vorgestellt hat.
Abschlussbericht: So lief die ISPO Shanghai 2019. Erfahren Sie mehr.
Der ITRA können weltweit Läufer, Rennorganisatoren sowie nationale Verbände beitreten, wobei die Hauptaufgabe der ITRA darin besteht, die Qualität und die Sicherheitsstandards der betreuten Rennen zu verbessern. Mitte 2017 verzeichnete die ITRA noch rund 850 Rennorganisatoren, 2.900 zahlende Läufer und ca. 30.000 kostenlose Mitglieder. Im Jahr 2019 sind es bereits mehr als 2200 Rennen.
Trailrunning für Frauen immer interessanter 
Bei allen Warnungen verweist Ng aber auch auf eine sehr positive Entwicklung. Das renommierte "Ultra Trail du Mont Blanc" Rennen, kurz UTMB, expandiert mit der eingetragenen Marke UTMB weltweit und hat in China für 2018 das Gaoligong by UTMB ins Leben gerufen. "Durch die Expansion können im Land gewisse Qualitätsstandards implementiert werden. Ich halte diesen Schritt für sehr wichtig", so Ng. 
Neben dem neuen UTMB-Rennen im kommenden Jahr begrüßt Ng vor allem auch die Ehrung Mira Raes zum Adventurer of the Year 2017 durch National Geographic. Die Auszeichnung für die nepalesische Trailrunnerin "wird noch mehr Frauen dazu ermutigen, diesen Sport auszuprobieren".
Warum Trail Running der perfekte Sport für Frauen ist. Lesen Sie hier.
"Wenn man sich verdeutlicht, dass Frauen vor noch nicht so langer Zeit nicht an Marathon-Rennen teilnehmen durften, ist die Auszeichnung Miras ein Meilenstein für Frauen im Bereich der Langdistanz-Disziplinen", setzt Ng die Entwicklung in einen historischen Kontext.
China braucht noch mehr Zeit
Mittlerweile ist der Markt weibliche Trailrunner bereits soweit erschlossen, dass es eigne Rennen nur für Frauen gibt. Ob es das am Ende wirklich braucht, zweifelt Ng stark an.
Was hingegen von deutlich größerem Nutzen wäre: "Wenn die Firmen mit ihren Produkten noch spezieller auf die Bedürfnisse der Frauen eingehen würden. Hier gibt es noch einiges an Potenzial, gerade bei Rucksäcken oder auch Schuhen." In Europa sind Firmen wie Salomon hier die Vorreiter bei Trailrunning Schuhen.
Bei allen Problemen der Trailrunning-Szene sind sich Ng und Le Magnan letztlich aber einig, dass der Sport in China auf dem richtigen Weg ist und lediglich etwas mehr Zeit braucht. "Trailrunning existiert in Europa seit mehr als 15 Jahren, hier in China vielleicht seit drei bis vier Jahren. Der Wissensvorsprung lässt sich nicht so schnell aufheben", so Le Magnan.