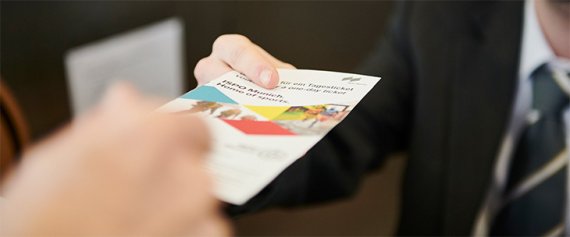 Check which brands and products your company sells most successfully (A and B brands). Also ask your staff members: What brands do clients prefer? Which additional labels would compliment your selection? Focus on the manufacturers of these brands. An overview of the exhibitors can be found in our list of exhibitors.
Schedule meetings with your A and B brands as well as potential new brands in advance. Our tip: Set up meetings nearby to avoid time-consuming "hall hopping". We recommend a maximum of twelve meetings per day.
Make sure to schedule some free time between meetings to gain some inspiration from the new trends exhibited at ISPO Munich. This will allow you to discover new brands and visit interesting exhibit booths.
Order your event ticket or ISPO Card online prior to the exhibition. You will benefit from comprehensive discounts and offers such as complimentary use of Munich's public transportation system.
What interests you about Munich and its surrounding areas: sports, culture or sightseeing? Take advantage of your visit to the City of Munich to do some shopping in the many exciting shops the metropolis offers. Or enjoy a daytrip to the Alps.
Prepare important information, e.g. on planned events and new store openings. Plan your meetings in advance: what topic to discuss with each company. Take advantage of your time at ISPO Munich for targeted questions on products, pricing and shop support.
Are there more people you want to meet at ISPO Munich: colleagues from other shops or representatives from your agencies? Plan time to maintain these business contacts. Plan a lunch or dinner with partners and friends.
Check the ISPO website again shortly before ISPO Munich and use our app. Find out about the latest news and program updates, and include them in your pre-event planning. Our directory with all topics may help.