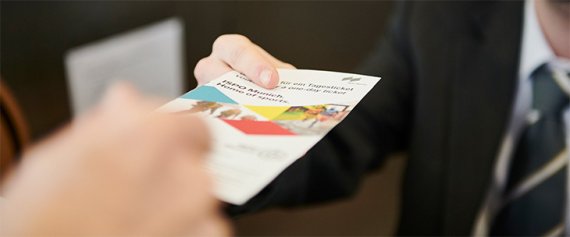 Attention: The contents on this page do not refer to the upcoming ISPO Munich 2021!

Information on the online convention from 1-5 February, 2021 can be found on the ISPO Munich homepage.
Order your admission ticket or your ISPO Card online in advance. It offers you extensive discounts such as free use of public transportation in Munich. This saves you time and money.
In order to book a suitable accommodation, we have provided some Tips on our service page to find the appropriate accommodations in Munich.
Also plan your air, car or railroad travel in advance.You can also use the ISPO Munich App to book accommodation directly and easily and get information on how to get there. Once you arrive in Munich, you can use public transport free of charge with the ISPO Card. You can find out the current departure times of the underground, suburban train or bus from the West and East Trade Fair Centre via the Munich public transport company, MVG online or over its App.
Find out all about our events and programme items in the Eventcalendar
Do not miss our side events at ISPO Munich 2021:
The Sportsweek will take place in the centre of Munich and offers you as a visitor an additional opportunity to get to know the city.
After the trade fair, spoil your body with masses of fresh air and a trail run in a class of its own. With the Night Run  you will see one of the most important sights of Munich in a special atmosphere - the Olympic Park.
You can get a good overview with our current tradeshow visit planner. For quick orientation at the trade fair, we also recommend downloading the ISPO Munich App in advance. Here you will also receive the latest program updates.
The colour-coded speedways within the halls will also guide you quickly and helpfully to your destination.
Which seminars, training sessions and parties and programs are you interested in? It is best to make your own list in advance, which conference and which lecture will take place when. 
About the side events, such as parties and other program items, we keep you informed with our ISPO Newsletter
In the specialised exhibition and networking areas, the so-called Focus Areas you can find out more about selected top themes relating to sport, fashion and lifestyle with a daily programme of events, curated for and by industry experts.
Visitors from non-European countries must take the visa requirement into account. To apply for a visa in due time, we have a service page on which you will find all further information. Here you can find out which countries require a visa and which are visa-free, as well as the information provided by the Federal Foreign Office.
What are you interested in Munich and its surroundings: sports, parties, culture or sightseeing? We have compiled a few links for you here:
All the most important news of the global sports industry with editorials, reports, interviews and expert contributions can be found all year round at ISPO.com. We provide comprehensive information, are close to the industry and yet report neutrally. We provide orientation on trends and products, stay tuned.