Sustainability Achievement | Knister Grill | Reusable Grill
The Knister grill tackles the environmental problem of the excessive use of single-use barbecue grills in the summertime, especially in cities. Its pristine design, the quality of the materials, the smart and easy way of attaching the grill to your bike or your scooter, together with the service and free reorders for the components make this behavioral change an easy one.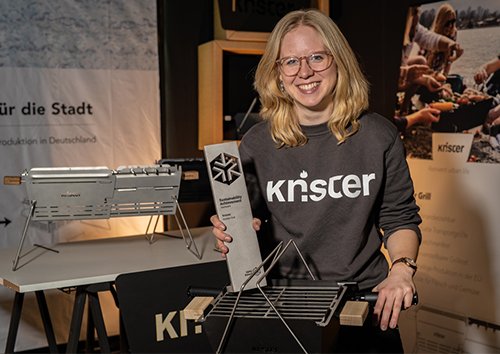 "The Sustainability Achievement of ISPO shows that we have done a lot of things right. Of course we are very pleased about this. What makes a take-away grill sustainable? The Knister is practically produced in the neighbourhood of Munich; you could visit our suppliers from Munich by bike. This not only saves CO2, it also makes economic sense - short delivery routes, personal contact with the producers and constant exchange make production lean and fast. What's more, the Knister is 100 percent recyclable, if it should ever be necessary. Until then, we can replace or repair every part of the grill - this is sustainable, also for our customer".
Carolin Kunert, Managing Director and founder Knister