Pasang Lhamu Sherpa
National heroine and myth
She is a national hero, a myth, a fighter for equal rights and the first Nepalese woman to reach the 8850 meter high roof of the world. On April 22, 1993, Pasang Lhamu Sherpa fulfilled her dream and conquered her home mountain, Mount Everest. But the dream turned into a tragedy, because she never reached the foot of the mountain again. We look at a life of a true heroine full of mountain love, passion and fighting spirit.
On December 10, 1961, Pasang Lhamu was born in Surke was born in Surke, in the Solukhumbu district of Nepal. She was one of six children in a family of Sherpas. The northeast Nepali community of Sherpas is known for their mountaineering skills, and Pasang's love for the tradition of guiding and climbing grew early. As a child and teenager, she trekked in the mountains with her father. Her passion for the mountains was met with resistance in her family, where traditionally she was destined for an arranged marriage and a life as a wife.
Instead, at 17, she found true love and fled to Kathmandu with her future husband, Lhakpa Sonam, to pursue her dream. Together they founded the trekking agency Thamserku Expedition, which is considered the most successful expedition agency in Nepal and is still run by Lhakpa Sonam.
Pasang Lhamu herself was able to make her love for the mountain a reality, she climbed numerous mountains such as Cho Oyu, Yala Peak, Pisang and Mount Blanc. Finally, on April 22, 1993, she fulfilled her long-held dream and stood on the summit of Mount Everest. On the descent, the 31-year-old mother of three children died on the south summit.
Chomolungma, the goddess mother. This is what the Sherpas call Mount Everest and Pasang was particularly addicted to it. After she climbed the highest peak in Europe, Mount Blanc, in 1983, and also the Cho Oyu, the sixth highest mountain in the world on the border of Nepal and China, was not high enough for her, she set her sights on her home mountain and did not let go until she fulfilled her dream.
She made her first attempt in 1990 as the leader of an expedition started by the French climber Marc Batard. However, the latter sent her back at 8000 meters. In her second attempt, she reached an altitude of 8500 meters. In 1992, together with her husband, she organized a tour, but again without reaching the summit.
On April 22, 1993, her dream finally came true. But dream turned into tragedy. On the way back, a member of her team fell ill with altitude sickness. Pasang Lhamu did not leave the sick Sonam Chhiring Sherpa behind while the rest of the team went to get oxygen tanks. However, a sudden change in weather made it impossible for them to return to Pasang and Sonam, and so both lost their lives on the south summit.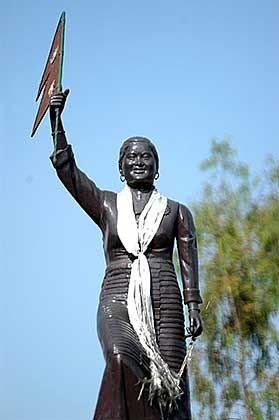 Her struggle up Everest and her heroic demise drew a wave of popularity and she was revered as a hero in her homeland. Today, every child in Nepal knows Pasang Lhamu Sherpa.
Her face adorns a postage stamp, schools bear her name and the King of Nepal honored the with the "Nepali Star". One type of grain, the 117 km long Pasanglhamu Highway and the the 7350 meter high mountain, Pasang Lhamu Chuli were named after her and in Kathmandu her life-size monument watches over the city.
The Nepalese government even abolished the summit fee for locals, which Pasang Lhamu still had to pay at $10,000.
Her husband also established the Pasang Lhamu Mountaineering Foundation. Its goal is to make mountaineering easier for Nepalese women.
"Men are considered heroic [for climbing] while women are called irresponsible."
Pasang Lhamu Sherpa grew up in a patriarchal culture and inspired young women in Nepal and around the world with her dream. Although mountaineering and mountain guiding were reserved for her as a woman, as she should have been pursuing domestic duties and marriage, she was determined to stand up to the pressure and discrimination.
In one of her last conversations, she revealed to her brother, Dorjee Sherpa "If I can climb Everest - if I can complete my dream - young women can do it too."