Gold Winner // Mountain & Hiking Pants
A good pair of hiking trousers is an all-rounder. They protect against sun, insects, skin abrasions in rocky terrain, are breathable, comfortable and light. The Abisko Midsummer meets all these requirements. Its secret sauce to achieving this is called G-1000 Air Stretch. Fjällräven has redeveloped the material with special emphasis on reliable, durable and, above all, comfortable leg protection with plenty of freedom of movement. The material is combined with a light polyester fabric. Side effect: the trousers dry surprisingly quickly. Fjällräven is ideal for long hikes in warm temperatures.
Available from: March 2020
Retail price: 169.00 EUR
"Fjällräven has developed a new material called G1000 Air Stretch which combines cotton and recycled polyester. I was impressed by the high breathability and elasticity as well as the practical design of the trousers."
Guillaume Nahry, Journalist, Trek Magazine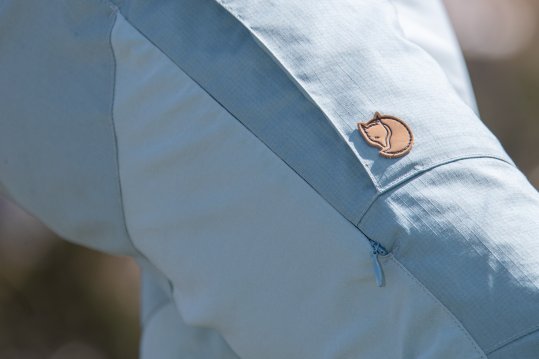 Cut range: Specific Female and Male
Size range: Women 34-48, Men 44-58 – Available in two lengths.
Colors: Shark Grey/Super Grey, Savanna/Light Olive, Dark Navy, Mineral Blue/Clay Blue, Ochre/Golden Yellow