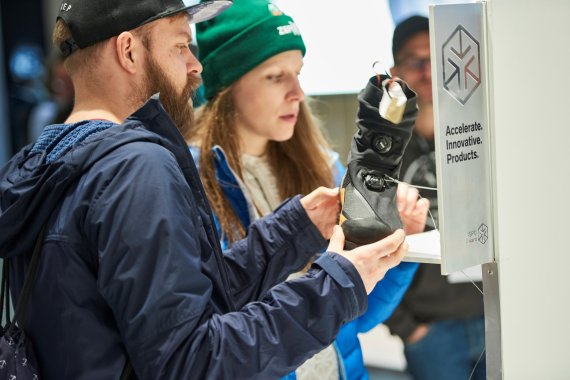 New internal team will work for the ISPO award and innovation platforms

Start is set for the second competition for Outstanding Outdoor
From recognition of exceptional material and design innovations to the springboard for startups and the award for the best products in the sporting goods and outdoor industry: The product platforms ISPO Textrends, ISPO Brandnew and ISPO Award with their related honors have been relevant seals of quality and trend indicators for the sporting goods business for years now. All three platforms are playing an increasingly important role within the ISPO portfolio. The award portfolio was expanded last year with the addition of Outstanding Outdoor. To address the growing strategic significance, ISPO is expanding the related internal product management team.
On January 1, Franziska Zindl became Head of Awards & Innovation and replaced David Badalec who left the company. Previously, Zindl had served as ISPO Community Manager in the area of Digitize—Retail & Industry Services since October 2018. Before moving to Munich, she was a project manager at Messe Berlin, including for tools Berlin and Retailtech Solutions at Panorama Berlin
The newly created positions of (Senior) Product Manager for Awards & Innovation were assumed by three well-known ISPO colleagues:
Jacqueline Eskandar

worked for two years at bikesale.de in the area of sales & marketing before she joined the ISPO team in 2016. In addition to her work as project manager for ISPO Munich and OutDoor by ISPO, she has been working with the ISPO Award and, occasionally, with ISPO Brandnew since 2018.


 

Susanne Reinthaler

has been a project manager for ISPO Munich and OutDoor by ISPO in the areas of outdoor and snowsports since 2018. The 28-year-old sports economist also worked for more than three years as marketing manager at Marmot Mountain Europe GmbH.


 

Stephan Barth

followed his athletic passion after completing a banker training program and earning a business administration degree. After completing an internship at ISPO Open Innovation, he assumed a full-time position as a project manager for ISPO Digitize and for the segments snowsports and shoes at ISPO Munich and OutDoor by ISPO.
The partnership with the creative agency Pascher+Heinz was ended following the restructuring of the team and the conclusion of the past ISPO Munich. "For more than 20 years Pascher+Heinz served as the agency for our award and innovation platforms. We would like to thank them for our long, trusting partnership," said Dr. Jeanette Loos, Global ISPO Group Director.
The new team got down to work right away: In the lead-up to the next OutDoor by ISPO (June 28 – July 1, 2020, in Munich), the second competition for the product award Outstanding Outdoor that is presented to exceptional outdoor and sporting goods products is about to take place. The nomination period will run from April 1 to May 8. Special early-bird conditions apply until April 17.
All information will soon be available on the website.