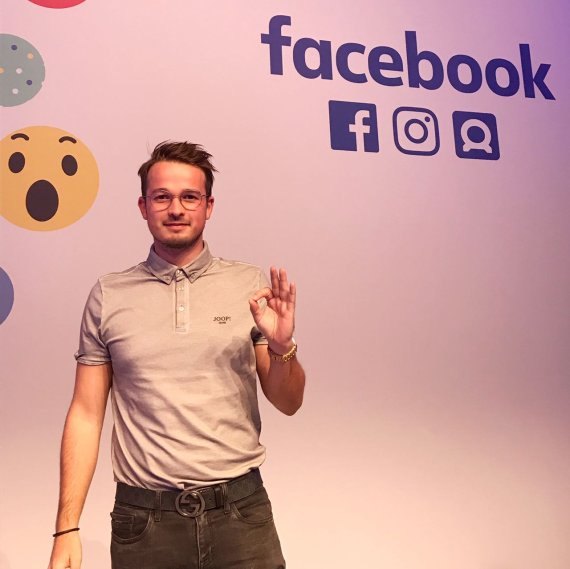 Daniel Kramer ist 29, er hat schon 2008 bei der Europameisterschaft für die Uefa gearbeitet, war bei verschiedenen Consulting-Agenturen und auch freiberuflich tätig. Seit 2015 arbeitet er nun für Facebook Germany GmbH, Client Solutions Manager, 17000, im Job seit November 2015.
"Mein Sport-Job", Teil 3: Fünf kurze Fragen an Daniel Kramer.
Suchen Sie auch einen spannenden Job im Sport Business: Klicken Sie sich durchs Angebot der Sport-Jobbörse >>>
Was machen Sie im Sport-Business?
Als Mitarbeiter bei Facebook in Deutschland betreue ich Kunden in der eCommerce & Sportbranche. Hierzu zählen vor allem Profivereine aus der Fußball-Bundesliga.
Wie sind Sie dorthin gekommen?
Es war immer mein Ziel in der Sportbranche tätig zu sein. Um dies zu erreichen habe ich mir bereits am Anfang meiner Karriere ein gutes Netzwerk (vor allem im Fußballbereich) aufgebaut. Dadurch hatte ich nach und nach die Chance dieses Netzwerk in mein Tagesgeschäft einzubauen.
Wie man zum FC Bayern kommt? Mein Sport-Job, Teil 1: Felix Loesner ist dort Teamleiter Social Media. Zum Interview >>>
Was sind die wichtigsten Skills, die Sie für den Job mitbringen?
1. Verständnis von Online/Digital/Social-Media-Marketing
2. Branchenkenntnis aktuell & Ausblick in die Zukunft
3. Großes Vertrauensverhältnis mit Kunden/Vereinen/Sportler/Ausrüster

3 Dinge, die Sie Einsteigern im Sport-Business unbedingt empfehlen.
1. Be Bold. Wenn es dein Wunsch oder Traum ist, im Sport-Business aktiv zu sein, suche nach Möglichkeiten.
2. Netzwerk. Bau dir ein Netzwerk auf und knüpfe erste Kontakte zu Leuten in der Sportbranche.
3. Be outstanding. Jeder, der sich für etwas engagiert, will erfolgreich sein. Dein Ziel muss es sein positiv herauszustechen. Die Leute sollen sich an dich erinnern!
Welche Skills sind bei adidas gefragt? "Mein Sport-Job": Oliver Brüggen ist PR-Chef von adidas. Hier lesen. >>>
Welche Entwicklungs-Chancen sehen Sie im Sport-Business generell und welche für Sie persönlich in den kommenden Jahren?
Im Sportbereich dominieren heutzutage immer noch die klassischen Vermarktungskanäle (z.B. Merchandising und Ticketverkauf) und Möglichkeiten der digitalen Vermarktung werden in vielen Fällen noch nicht in vollem Umfang genutzt. Hier sehe ich jedoch für die Zukunft sehr viel Potenziale für Vereine und Ausrüster, die Marketingziele vollumfänglich zu erreichen.