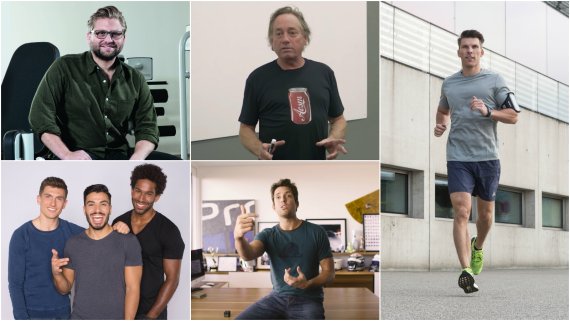 Doch wie gründet man selbst erfolgreiche Startups im Sport Business? Wenn jemand eine glaubwürdige Antwort hat, dann am ehesten jene, die bereits eine steile Startup-Karriere vorzuweisen haben. Ob Runtastic, Freeletics, GoPro, CrossFit oder eGym – hinter all diesen Namen stecken kluge Köpfe, die sich mit Ideenreichtum, Ehrgeiz und Kreativität an die Spitze der Startup-Szene gesetzt haben.
Beispiele für erfolgreiche Startup-Strategien
Und der Sport- und Fitness-Markt ist noch lange nicht gesättigt. Für alle, die ebenfalls mit dem Gedanken spielen, ihr eigenes Startup zu gründen: ISPO.COM erzählt die Geschichte von fünf besonders interessanten Gründern und ihren Strategien.
1. Runtastic-Gründer Florian Gschwandtner
2. Freeletics-Gründer Matijczak, Yilmaz und Cornelius
3. GoPro-Gründer Nick Woodman
4. CrossFit-Gründer Greg und Lauren Glassman
5. eGym-Gründer Sauter und Schlanderer

1. Runtastic-Gründer Florian Gschwandtner 
"Florian is responsible for most of the ideas and concepts behind the ever-growing suite of exciting Runtastic products and services", heißt es auf der Webseite des österreichischen Erfolgs-Startups Runtastic, das durch die gleichnamige App berühmt geworden ist. Runtastic-Mitgründer Florian Gschwandtner, der hier als kreativer Kopf der Firma gelobt wird, ist heute CEO und zugleich Aushängeschild seines Unternehmens.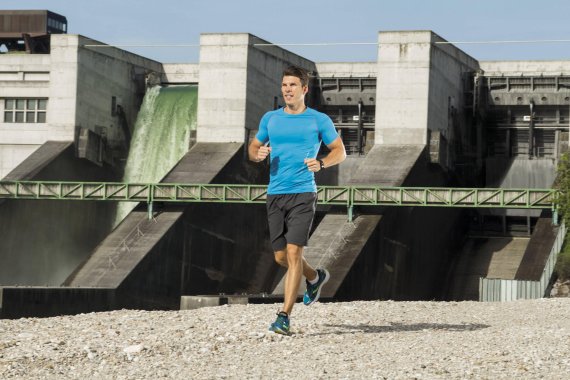 Zur Person Florian Gschwandtner
Gschwandtner, selbst passionierter Läufer, hat das Startup Runtastic im Oktober 2009 gemeinsam mit drei Mitstudenten (Alfred Luger, René Giretzlehner und Christian Kaar) aus der Taufe gehoben.

Das Knowhow dafür eignet sich Gschwandtner unter anderem beim Mobil Computing Studium in Oberösterreich an (2003 bis 2008) an, absolviert aber auch eine Ausbildung im Supply Chain Management (2007 bis 2009) – beste Voraussetzungen für seine Karriere als Entrepreneur.
Runtastic – die Startup-Idee
Die Runtastic-App aus Pasching in Österreich stellt seit Oktober 2009 Statistiken zum Lauf-Verhalten und Energieverbrauch von Sportlern bereit, die auf dem zugehörigen Fitnessportal ausgewertet werden können. Der Ursprung dieses Startup-Konzepts liegt in einem Projekt der FH Oberösterreich, bei dem es um zunächst das Tracking von Booten und Autos ging.
Aus dieser Nische geht Gründer Gschwandtner mit Runtastic heraus und konzentriert sich fortan bei der App-Entwicklung auf publikumsstarke Sportarten wie das Laufen und Radfahren.
Runtastic – die Umsetzung
Als Schlüssel für den Erfolg seines Startups nennt Gschwandtner selbst – neben dem perfekten Personal-Mix aus Technikern und Wirtschaftswissenschaftlern im Gründungsteam – vor allem die Tatsache, dass man sich bei Runtastic nie auf den Lorbeeren ausruht.
"Bereits nach einem Jahr hatten wir die ersten Angebote, unsere Firma zu kaufen, aber wir haben diese Verträge einfach beiseitegeschoben", verrät Selfmade-Millionär Gschwandtner. "Wir haben uns nur darauf fokussiert, profitabel zu werden." Runtastic hätte zu Beginn "keinerlei finanzielle Starthilfe" von außen gehabt.. 
Frisches Kapital bringt 2013 der Einstieg der Axel Springer AG, die 50,1 Prozent des jungen Startup-Unternehmens übernimmt. Rund 22 Millionen Euro soll der Anteil gekostet haben – ein Schnäppchen, wie sich später herausstellt.
Der Erfolg von Runtastic und Gschwandtner
Runtastic findet 2015 seinen jetzigen Alleingesellschafter: die Adidas Group. Adidas kostete der Einstieg rund 220 Millionen Euro. Gschwandtner bleibt dennoch als Chef.
Bereits 18 Monate nach Gründung schreibt Runtastic laut CEO Gschwandtner schwarze Zahlen. Genaue Daten zu Umsatz und Gewinn werden nicht veröffentlicht. Heute zählt das Startup mehr als 65 Millionen Nutzer weltweit, 175 Millionen Mal sei die App in den vergangenen sechs Jahren heruntergeladen worden, sagte Gschwandtner im Sommer 2016.
Mittlerweile hat Runtastic 170 Mitarbeiter in 32 Ländern. 
Mit der Power von Adidas, Deutschlands Sportartikelhersteller Nummer eins, stellt das einstige Fitness-Startup neben der Software zunehmend auch Hardware zur Verfügung: Fitness- und Schlaf-Tracker, Aktivitätstracker, Bike Sets und vieles mehr.