ISPO Munich is incredibly easy to get to by car if you have a sat nav. However, in some cases, you will need to have an emissions sticker displayed on your vehicle. 
ISPO Munich is held at the Messe München trade fair center, which is right next to the A94 freeway, just like the Internationales Congress Center München (ICM). You can get to both of these venues by taking either the exit for Feldkirchen-West (Exit 6) or for München-Riem (Exit 5). There is a traffic guidance system in place at the trade fair center, which regulates the flow of traffic and will direct you to the nearest available parking space.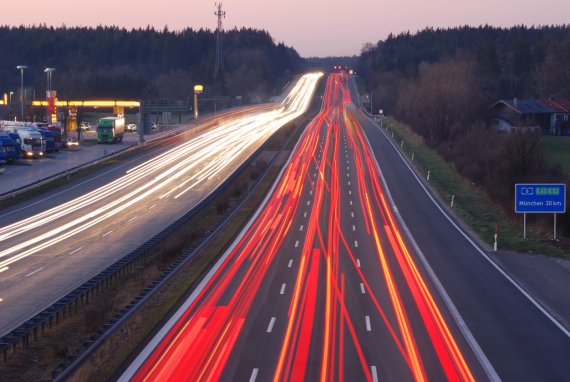 If you are using a sat nav for your journey, on some devices you will find the Messe München trade fair center and the ICM under the "Exhibition center" or "Trade fair center" categories, or by typing in the phrase "Trade fair." Some sat navs will even let you select the exact entrance you need (choose between East, West, and North Entrances). You will be able to access ISPO Munich via any of these three entrances.
Here are the full addresses you will need to program into your sat nav:
Trade fair center/ICM

---

An der Point
81829 München

West Entrance

---

Am Messesee  
81829 München

North Entrance

---

Paul-Henri-Spaak-Str. 12  
81829 München

East Entrance

---

Am Messeturm 4  
81829 München

Parking Lot West

---

Paul-Henri-Spaak-Str. 6
81829 München

Admin Office (Gate 1)

---

Willy-Brandt-Allee
81829 München
Here are the GPS coordinates for the Messe München trade fair center/ICM:
Longitude: 11.695547
Latitude: 48.134962 
If you are traveling to us by car, please don't forget that Munich city center is a low emission zone. This applies to the entire area within the "Mittlerer Ring," which is a ring road around the city center. The "Mittlerer Ring" itself is deemed to be outside of the low emission zone. You may only enter the zone if you have a green emissions sticker, but you will know when you are approaching the area in question as it is signposted. You will not need to enter the low emission zone in order to attend ISPO Munich at the Messe München trade fair center.
If you are keen to explore the city before or after your visit to the trade fair or if you are planning to stay at a hotel in the center, you will need to display an emissions sticker. This is a requirement for all cars, buses, RVs, and trucks registered inside and outside of Germany that will be entering the low emission zone. Anyone who does not comply with this regulation will be charged a fine of EUR 80 and will have one penalty point recorded on the Flensburg database of traffic violators.
Depending on where you purchase your sticker, it will cost between EUR 5 and 10 for cars registered in Germany. Your sticker must be stuck to the inside of your windshield so it is clearly visible.
You can purchase emissions stickers from vehicle registration offices, technical inspection agencies (such as TÜV and Dekra), or authorized emissions testing workshops. Alternatively, you can order the stickers online.
Take the opportunity and travel to the fair via car2go. Register here for free by entering the promotion code J19_FK_MUC/ispo. Additionally you will receive a 5 € starting credit.
The parking lot for car2go is located at De Gasperi Bogen / Gate 9 and is open from February 2–6 from 07:00–22:00.

Anybody with an EU driving licence and those who reside in a country with a car2go company (e.g. USA, Canada) can register. The app can also be used with foreign numbers. If you have any further questions about this service, please call +49 30 233 40 110 or send an e-mail to kundenservice@car2go.com.
If you meet certain criteria, you may be exempt from the requirement to display an emissions sticker. For instance, people who live or run a business within the low emission zone fall under this category. For further information, available in various languages, on the low emission zone, click here.