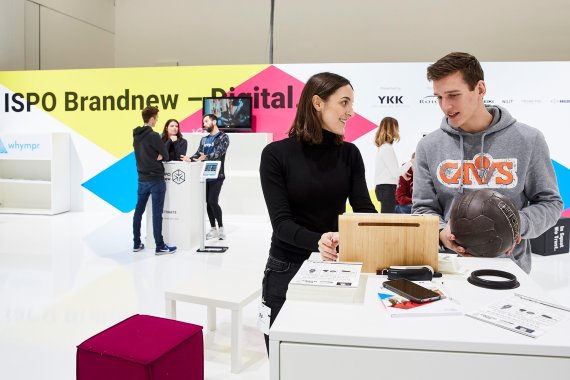 The world's largest and oldest international start-up competition in the sports business marks its 20th anniversary

Nominations for ISPO Brandnew 2020 are being accepted now

Start-ups with a chance to obtain one of 50 ISPO support packages worth up to € 25,000
From useful apps to new sports equipment: Young entrepreneurs from the sports business can nominate both physical products and digital services that facilitate access to sports, support the sports experience or simplify it—for individuals or groups—for ISPO Brandnew. An independent jury of professionals will select the winners from the nominations. It will be composed of successful entrepreneurs and former participants in ISPO Brandnew. Up to 50 companies will win the extensive support package that will be worth up to € 25,000 each.
The support package awarded by ISPO Brandnew will include booth space in the Brandnew Village of ISPO Munich 2020 and exclusive access to the global ISPO Network with all of its services—from access to the open innovation community for crowdsourcing and market-research projects to preparation programs for entering the Chinese market and coverage in ISPO's own media channels.
Another new addition is the Networking Night. During this event, start-ups will have an opportunity to personally talk with investors, partners and former winners. "These discussions and the opportunity to make global contacts will open many doors for the award winners," said David Badalec, the head of ISPO Brandnew.
The jury will select the winners at the end of October 2019. Unlike past years, there will be no categories for nominations this time. During their meeting, the jurors will develop a range of categories based on the nominations themselves as a way of highlighting industry trends and topics.
Nominees will be informed about the results at the beginning of November. The winners will then be directly incorporated into planning for ISPO Munich 2020 with the ISPO Brandnew team. During the public pitch at the trade fair, all winners will make a live presentation to the jury and battle for the title of overall winner.
You will find all information about the competition, the nomination process and registration online.
ISPO Brandnew has been an important competitive event for founders in the sports industry since 2000 and offers promising newcomers the chance to successfully enter the business. "ISPO Brandnew played a leading role in the first chapter of the Maloja success story in addition to passion. Young companies profit from the attention, the application disciplines and motivates. Everything is geared towards being among the best," reports Peter Räuber of Maloja, ISPO Brandnew Winner 2005. ISPO Brandnew has also been an important accelerator for other internationally renowned brands such as GoPro, NaishKites and ON Running.