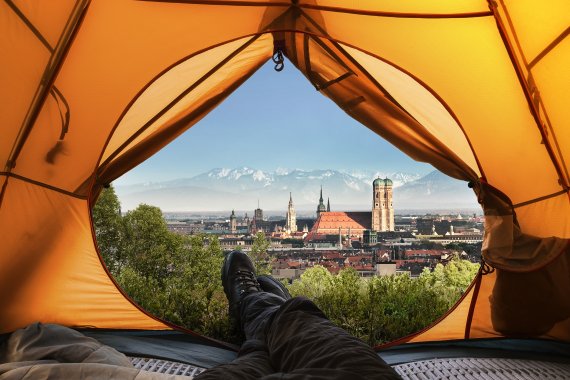 With OutDays, the OutDoor by ISPO team is bringing the lifestyle and dynamics of OutDoor by ISPO to Munich and the surrounding area for one week. The "Priceless Moments" stand out above all. One of them is the Campervan Challenge (28 June - 1July). In four teams, you drive through the mountains in Hymercar motorhomes for three days and collect as many outdoor experiences as possible on your road trip while camping, hiking, climbing, SUP or biking. Some bloggers are also on it.
Another highlight event is the glacier bivouac "Icecold Midsummer Night". With professional guides you will spend the night from 5.July to 6.July at about 3000 meters on the Hintertuxer Glacier.
Inclusion is the main theme of the "Nighthike" of the non-profit organisation Outdoor against Cancer (OaC) on 30 June. During the first event of this series, which will be held in German and Austrian cities all year round from autumn onwards, people in large cities will be brought into the urban natural areas in the evenings. The approximately 100 participants can expect a guided hike with many highlights, test products from the partners and lots of interesting facts about Munich and the "Englischer Garten".
Further events are
for all mountain bike fans the

After Work Ride at Samerberg

,

Meet & Greet with personalities from the outdoor scene (e.g. Tim Leatherman, the inventor of the multitool of the same name, at Globetrotter on 29 June),

Film screenings (the Reel Rock Film Tour on 1.July and the Bavarian Outdoor Film Festival on 2.July both as Open Air at the Olympic Lake)

Meet & Greet with Mammut athlete Tom Belz who climbed Kilimanjaro with only one leg

Further workshops and micro-adventures are still in the planning stage.