Gold Winner | Snowsports Helmets
The RADAR combines the benefits of wearing a goggle with those of having a visor helmet. As it is an entirely new approach in regard to construction and design, it is also for people who usually don't do visors. It provides an unrestricted field of vision and perfectly protects against wind and water. Its double-lens visor can be exchanged within seconds. The patent-pending Sphere Fit system assures a perfect fit.
Available from: September 2019
Retail Price: 200.00 EUR
"The Radar is a certified and instantly comfortable helmet. The visor looks great and sits at the correct position when lowered, which is not usual."
Saskia Müller, Ingenieurin/ Become a Jury member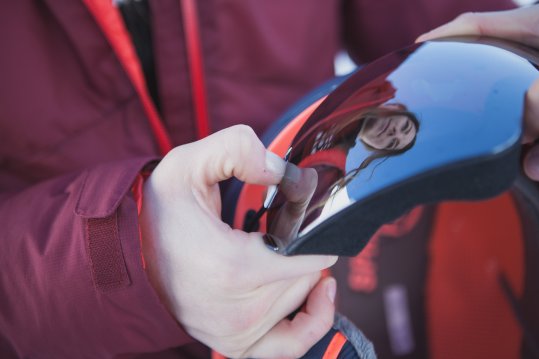 Innovative visor construction meets modern design: Seamless integration of the visor seals the system off against wind and water. Lenses available in multiple tones and mirror coatings, all featuring a double lens, are exchanged within seconds. The perfect fit, highlighted in the inner helmet and adjustable ventilation round off the Radar.