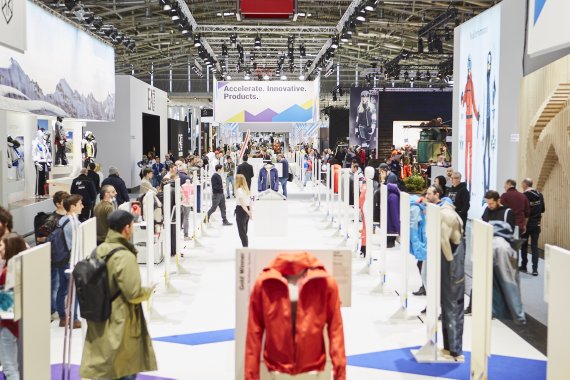 Seal of quality for the sporting goods industry with a strong external impact
Registration deadline December 6, 2019
ISPO, the leading international sports business network, presents the ISPO Award every year in recognition of the top products in the sports industry. In doing so, an international and neutral jury of experts made up of media representatives, retailers, athletes, consumers and material experts review several hundred submissions according to certain criteria, such as design, function, sustainability and innovation. David Badalec, responsible for the ISPO Award, explains: "It is the trendsetting, innovative products in particular that carry the sporting goods market forward – and they often find a special way to make sports more enjoyable. This is one aspect we pay special attention to." Companies from the entire sports industry can submit products – regardless whether they are exhibiting at the ISPO trade fairs.
For many years, the ISPO Award has been the seal of quality for innovation, quality and functionality with a high external impact in various segments - from health & fitness to outdoor and snow sports. Winners benefit from the award in several ways: Specialized retailers focus on products that have been distinguished and add them to their upcoming product ranges. For consumers, the award serves as a reason for buying the product, and journalists use it as a source of information when covering the next season's highlights.
The winners also receive a comprehensive communications and benefits package. This includes the ISPO Award label, hangtags and stickers for the product award at the point of sale (POS) along with product features and extensive media presence on the ispo.com news platform, all of which generate additional marketing opportunities with greater external impact at sporting goods retailers and with consumers.
Companies can benefit from special early-bird rates when submitting their products by November 6, 2019. Exhibitors at ISPO Munich and ISPO Beijing pay only an additional 125 Euro (instead of 325 Euro) per product submission with the early bird rate, and 200 Euro (instead of 450 Euro) with the regular rate.
The ISPO Awards are presented at ISPO Munich from January 26 through 29, 2020. All "Products of the Year" and the "Gold Winner" from official ISPO Munich exhibitors will also be presented during ISPO Munich and ISPO Beijing (February 12 through 15, 2020).
More information on the ISPO Award is available online.