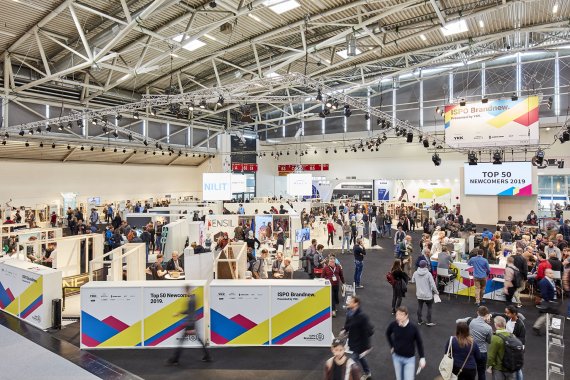 Here at ISPO, we have so much more to offer than our three sports trade fairs. And we go above and beyond our mission of keeping you up-to-date with all the products, brands, and future trends within the sports industry. ISPO Business Solutions help create connections across the global sports business, enabling the international sports industry to forge ahead with developments and growth. You can find out more about our services at ISPO Munich.
ISPO is here for you all year round. Pay us a visit at our ISPO Showroom as part of the Digitize Area in hall C6 at ISPO Munich 2019 and prepare to be wowed by the extensive range of services we have on offer for you. ISPO Business Solutions aim to support the sports industry, all the way along the value-added chain.
Each year, the world's largest platform for sports start-ups awards prizes for the most innovative products and services. You can find profiles of all the prizewinners on our website.  
The area for the start-up competition at ISPO Munich is in Hall B4.
Thanks to the ISPO Academy in hall C6, you can enjoy a fascinating conference program along with free talks, discussions, and presentations all year round. We highly recommend a visit to gain knowledge about technological innovations.
The presentation by the ISPO Academy Masterclass will give you fresh inspiration: Creative design talents will present the brand-new sportswear designs they have come up with during a four-day workshop (closed event).
The ISPO Award recognizes exceptional products from the sporting goods industry and has come to be a well-known mark of quality. An international judging panel selects the very best products from the past year and the "Product of the Year" and "Gold Winner" in the various categories are showcased as part of a permanent display down the center aisle in Hall B1.
Head over to ISPO.com once ISPO Munich has opened its doors to check out an overview of all of the winning products. You can experience the ISPO Award ceremony live at the fair
ISPO Textrends and its forum in hall C4 and C5 is the leading marketplace for innovative performance textiles, where you can compare the latest fabrics and fibers together with manufacturers, designers, and product managers.  All ISPO Textrends winners will be exhibied, too.

You can also exchange knowledge with the experts at the ISPO Textrends Conference. The daily talks in hall C4 offer insights into interesting trends in sports and outdoor textiles.
The ISPO Job Market online careers portal connects employers and talent in the sports business. Our interactive recruitment platform functions as a notice board for open job vacancies at prestigious companies. Potential candidates can also visit the ISPO Job Wall between hall A3 and A4 for a one-to-one discussion.
We will be showcasing further ISPO Business Solutions in the ISPO Showroom. Why not come along to find out all about our ISPO.com news portal, our ISPO Open Innovation crowdsourcing platform, and so much more.  
You will also be able to take a first-hand look at our products in many other areas of ISPO Munich.