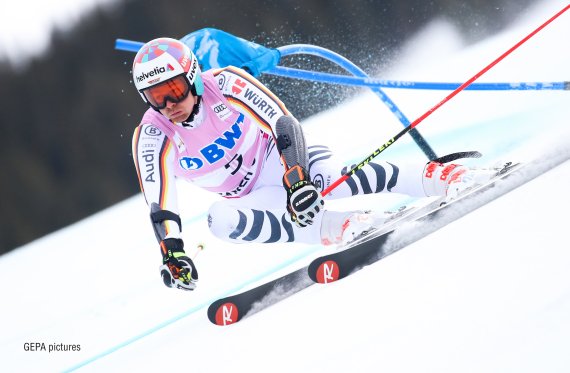 Moritz Hans (Last Man Standing at Ninja Warrior Germany 2017)
Sunday, January 28, 2018
11.00–11.30 
14.00–14.30 
Health & Fitness Forum, hall A6
Pascal Rösler (environmentalists and SUP Enthusiast)
Sunday, January 28, 2018
12.00–12.30 
Outdoor & Watersports Village, hall A4
Bode Miller (World Cup alpine ski racer)
Sunday, January 28, 2018
12.00–16.00
Aztech Mountain booth 305, hall B1
Jérémie Heitz (Pro-Freerider)
Sunday, January 28, 2018
15.00–16.00
Reusch booth 410, hall B3
Thomas Dreßen 
Sunday, January 28, 2018
17.15
Rossignol booth 210, hall B6
Stefan Luitz (World Cup alpine ski racer)
Monday, January 29, 2018
10.00
Ziener booth 202, Hall B3
Nicola Thost  (First Olympic Gold Medal winner in ladies Halfpipe (Snowboard) in Nagano 1998) 
Monday, January 29, 2018
Lounge Welcome to Snowsports, hall B4
Pierre André Ammann (Shotokan Karate expert)
Monday, January 29, 2018
10.00–10.30 P.I.I.T. 
11.30–12.00 Kick Power
13.30–14.00 Mental Centering
Health & Fitness Forum, hall A6
Tuesday, January 30, 2018
09.30–10.00 Kick Power 
13.00–13.30 Mental Centering 
16.30–17.00 P.I.I.T.
Health & Fitness Forum, hall A6
Markus Wasmeier (former German alpine ski racer, two time olympic champion 1994) 
Monday, January 29, 2018
11.30–12.30 
uvex booth 310, hall B6
Nicole "Niki" Hosp (former Austrian alpine ski racer, winner of the overall world cup 2006/07, world champion in giant slalom 2007) 
Monday, January 29, 2018
11.30–12.30 
uvex booth 310, hall B6
Philip Köster (four time windsurfing worldchampion)
Monday, January 29, 2018
12.00–12.45 
Outdoor & Watersports Village, hall A4
14.00–15.00
Health & Fitness Forum, hall A6
Henry Maske (former professional German boxer) 
Monday, January 29, 2018
12.00–13.00 
Body & Mind area, hall A5
Anja Beranek and Nils Frommhold (professional German triathletes)
Monday, January 29, 2018
13.15
15.30
Body & Mind area, hall A5
Monday, January 29, 2018
14.00–15.00
Skechers Performance booth 101, hall A5
Christina Hering (German national champion 800m) 
Monday, January 29, 2018
14.00–16.00
Live analysis on treadmill (after registration)
evalu area @ Kettler booth 224, hall A6

Tuesday, January 30, 2018
14.00–16.00
Live analysis on treadmill (after registration)
evalu area @ Kettler booth 224, hall A6
Max Hopp (German darts champion) 
Monday, January 29, 2018
14.00–16.00
Shot booth 427, hall C4
Tuesday, January 30, 2018
14.00–16.00
Shot booth 427, hall C4
David Langer (professional Tow-in Surfer)
Monday, January 29, 2018
15.00 
Booth BN44, hall B4
Sonni Hoenscheid (Stand-up-Paddling world champion)
Monday, January 29, 2018
15.30–16.00 
Outdoor & Watersports Village, hall A4
Willy Bogner, Andreas Baumgärtner (CEO), Bene Mayr (freestyle-skier) and Harold Faltermeyer (composer and DJ) 
Monday, January 29, 2018
17.00
BOGNER Fire-Evening
booth 202, hall B1
Enak Gavaggio (former freerider) alias Rancho 
Monday, January 29, 2018
17.00–19.00 
Julbo booth 121, hall B6
Marie Lang (eleven times kickboxing world champion) 
Monday, January 29, 2018
17.00–19.00 
ISPO Brandnew area, hall B4
Franziska van Almsick (multiple swimming world- and European champion)
Tuesday, January 30, 2018
12.30–13.00 Topic: career and fitness plattform Mybod-e
Health & Fitness Forum, hall A6
15.30–16.00 Topic: career and  Schwimmkids foundation
Outdoor & Watersports Village, hall A4
Anna von Boetticher (three times bronze medal winner at world diving championship)
Tuesday, January 30, 2018
12.00–12.30 
Outdoor & Watersports Village, hall A4   
Bene Mayr (freestyle-skier)
Tuesday, January 30, 2018
15.00 
MTS Sport booth 212, hall A6  
James Trundle (adventurer and protagonist in the movie "Doug Out")
Tuesday, January 30, 2018
17.30–18.30
Outdoor & Watersports Village, hall A4
Valeska Schneider (two time adh-open surf champion)
Wednesday, January 31, 2018
12.00–12.30
Outdoor & Watersports Village, hall A4
All information is provided without warranty!
Here is an overview of the VIPs that have made an appearance at the trade fair over the past few years.
The US ski racer revealed at ISPO Munich 2017 that it was highly unlikely he would be making a comeback: "I can say with more than 90 percent certainty that I won't be returning to the ski circuit." Bode Miller went on to add: "I'll be 40 soon. I have been through all there is to go through in my skiing career."
In 2016, the then coach to the Bayern Munich team visited us at ISPO Munich, shortly before making the move to Manchester City. When Pep Guardiola visited the stand of his sponsor Gore-Tex, he explained the reasoning behind his relocation to the United Kingdom: "After three or four years, you've done all you feel you can. You need new challenges if you are to keep pushing yourself to get better. You need new challenges all the time."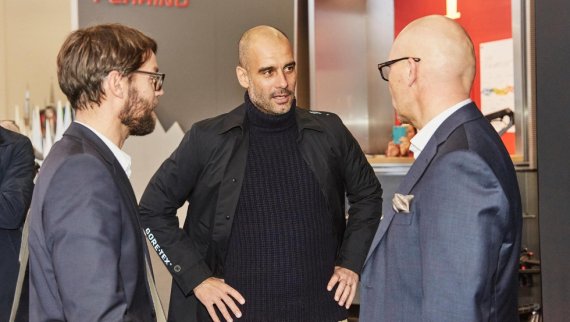 In 2016, the former national team player hinted at his plans following the end of his career. "I've always said that I'd like to stay involved with football and indeed with FC Bayern Munich. We'll just have to wait and see which role it will be in." Back then, speculations were rife that Philipp Lahm could become Sporting Director of FC Bayern Munich, but he turned down the club's offer and is instead enjoying retirement.
The extreme mountaineer was awarded the ISPO Trophy in 2016 and when she appeared at the event Gerlinde Kaltenbrunner spoke about the risks involved in her line of work. The Austrian sports personality and the first woman to climb all 14 eight-thousanders without the use of supplementary oxygen said: "Coming back safe and sound was always my number one priority."
Stefan Glowacz, who is also a businessman, came to ISPO Munich 2016 and spoke about fear: "I have woken up in the middle of the night covered in sweat because I was faced with making a decision that involved a lot of risk and there was a chance of me making the wrong choice. Up mountains and in business, we find ourselves presented with situations that are new to us and that we aren't able to judge. These situations fill us with fear."
The biathlete has taken home twelve gold medals from the Biathlon World Championships as well as winning twice at the Olympics and three times at the Overall World Cup. In 2015, when Magdalena Neuner was 28 years old, she was awarded the ISPO Trophy for her sporting achievements. In an interview with ISPO.com, she suggested that she might be looking to take things a bit more slowly in future. "If I have more than one child later in my life, which I very much hope I will, my family will become an even bigger priority for me." Her first daughter was born back in 2014, her second in 2016.