The Best Football Betting Sites Ranked and Rated for December 2023
Whether it's the Premier League, Champions League, or the good-old English National League – there are plenty of quality football betting sites out there for you to take a punt on your favourite competitions. But where to begin? In this guide to online football betting, we do the scouting to highlight the best football bookmakers, their bonuses, and where you can find great live streams of the beautiful game for your bets.
Secure SSL Encryption,
Gambling Commission,
Responsible Gaming
The UK's Top 10 Football Bookmakers
Before we dive (not that kind!) deeper into your online football betting options, the odds and the bonus offers, we will outline for you what makes the top bookmakers stand out in a crowded market. The bookies featured below have been thoroughly vetted by our editorial team – as such, the football betting sites in our list of recommendations are licensed and probably safe.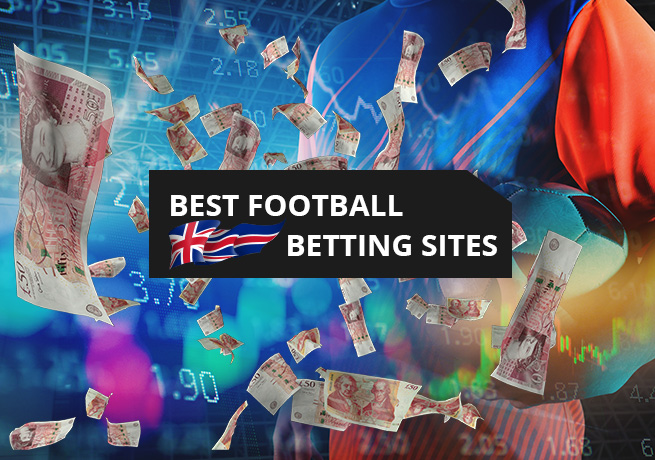 Our editors have decades of combined experience in the sports betting industry meaning we know what to look for when it comes to finding trustworthy football betting sites that offer attractive odds, fair bonuses, and those little extras like great live streams for the top matches worldwide.
Your Football Betting Overview – Leagues & Cups You Can Take a Punt On
To kick off our assessment of the top football betting sites on the UK market, we have to first look at the leagues and cup competitions available to you, the bettor. In order to be an attractive proposition, a good bookie must allow you to place bets on the most sought-after football competitions.
Football Betting in the UK
Football betting in the UK is one of the country's most popular pastimes. Punters of Great Britain and Northern Ireland enjoy a football sportsbook scene that is arguably the envy of the world – putting domestic bookmakers up there with the top sportsbooks around. From thrilling in-play markets to a diverse lineup of competitions that span the Premier League all the way down to the National English League, the best football betting sites in the country offer up pretty much everything.
To put it more concretely (across the various online football betting bookies we have recommended for you on this page), you can place bets on the following leagues and competitions throughout the regular football season in the UK:
Premier League
Championship
League One
League Two
National League
National League North
National League South
Isthmian League
FA Cup
Carabao Cup
Football League Trophy
FA Super League (W)
Scottish Premiership
Championship (Scotland)
League One (Scotland)
League Two (Scotland)
Scottish Cup
League Cup (Scotland)
NIFL Premiership
Cymru Premier
Cymru Championship South
Football Betting on European Leagues
Any online football betting offering wouldn't be complete without markets for the top leagues around Europe. Outside of the domestic leagues, the most popular among punters are the Bundesliga in Germany, Spain's La Liga, the Italian Serie A, and Ligue 1 of France. Of course, you can expect football betting options for many other leagues across Europe – from Portugal to Ukraine, from Norway to Türkiye.
Most Popular Leagues for Football Betting

| League | First Game | Clubs | Top All-Time Goal Scorer | Most League Titles |
| --- | --- | --- | --- | --- |
| Premier League | 1992 | 20 | Alan Shearer (260) | Manchester United |
| Bundesliga | 1963 | 18 | Gerd Müller (365) | Bayern München |
| La Liga | 1929 | 20 | Lionel Messi (474) | Real Madrid |
| Serie A | 1898 | 20 | Silvio Piola (274) | Juventus |
Of course, no football betting site would be complete without a sportsbook offering bets for the top European competitions, i.e. the Champions League, the Europa League and the nascent UEFA Conference League. These cups are arguably even more popular among punters than domestic leagues and national games.
Football Around the World
Football is without doubt a global game, so it's important that online football betting providers are not Eurocentric and also offer markets for leagues and competitions from around the world. As such, the best football betting sites should offer odds and in-play betting options for matches in Africa, South, Central and North America, Asia and Australia.
Football Betting Odds & Payouts: What to Expect
Odds and payouts are integral to online football betting. Before you place your bet, you should identify the best available odds, which may require some competitor research. All the same, it's important to not become obsessed with odds and payout rates – these figures are purely theoretical and do not reveal how successful your bet will ultimately be. Below is a list of the average payout rates at our featured football betting sites:
Odds Comparison of the Top Football Betting Sites

| Football Betting Site | Premier League | Bundesliga | La Liga | Serie A | Champions League |
| --- | --- | --- | --- | --- | --- |
| MrMega | 94.69% | 93.89% | 94.41% | 95.68% | 94.57% |
| bet365 | 95.04% | 94.32% | 94.71% | 94.59% | 94.88% |
| YetiBet | 94.19% | 94.44% | 93.62% | 94.52% | 93.93% |
| Ladbrokes | 94.90% | 94.86% | 94.37% | 94.12% | 94.57% |
| 888sport | 95.38% | 93.88% | 95.25% | 94.08% | 95.12% |
As you may notice, around 94% is the average payout rate at the best football betting sites in the UK. That said, don't be surprised to find rates around 95-97% from time to time – the key is to not shortchange yourself with a bookmaker that offers anything markedly below what you find in the table above.
Odds for Special Bets and In-Play Betting
One way to identify the best football betting sites is to look at whether or not and what kind of special bet options are on the table. Markets such as "both teams to score", "goals over/under", or "X player to score first/last" are always of interest. The top operators offer fair odds for specials – the same rule applies to their football in-play betting options.
Football Betting Markets at the Best Bookies
For the majority of punters, single bets on home, away, or draw outcomes are the most popular type of bet to place at football betting sites. However, such bets are not always easy to predict in advance and do not always offer up the most attractive odds. The best football betting sites offer a vast array of outcomes and actions to bet on that come with appealing odds.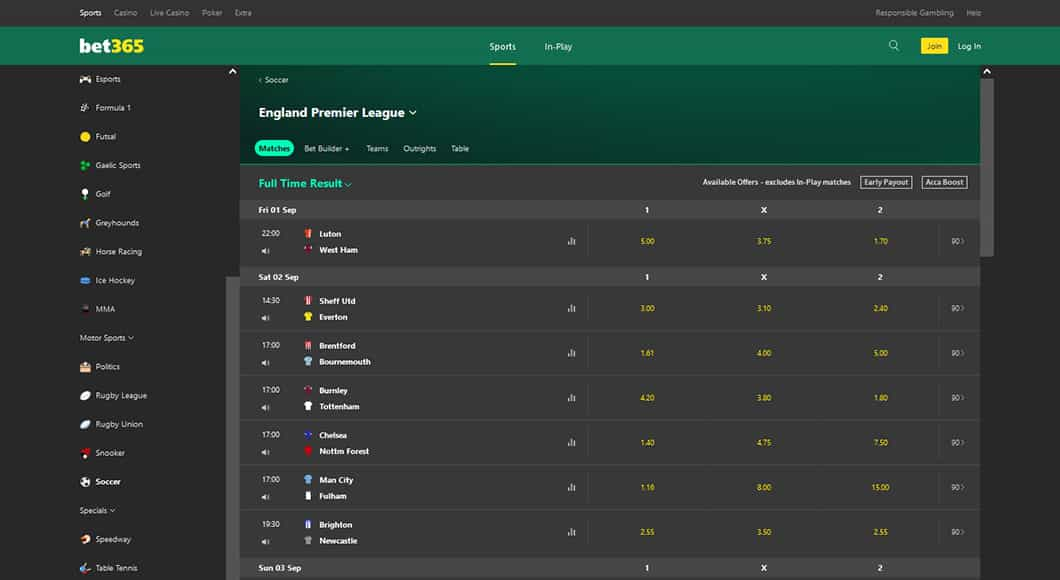 Football betting with bet365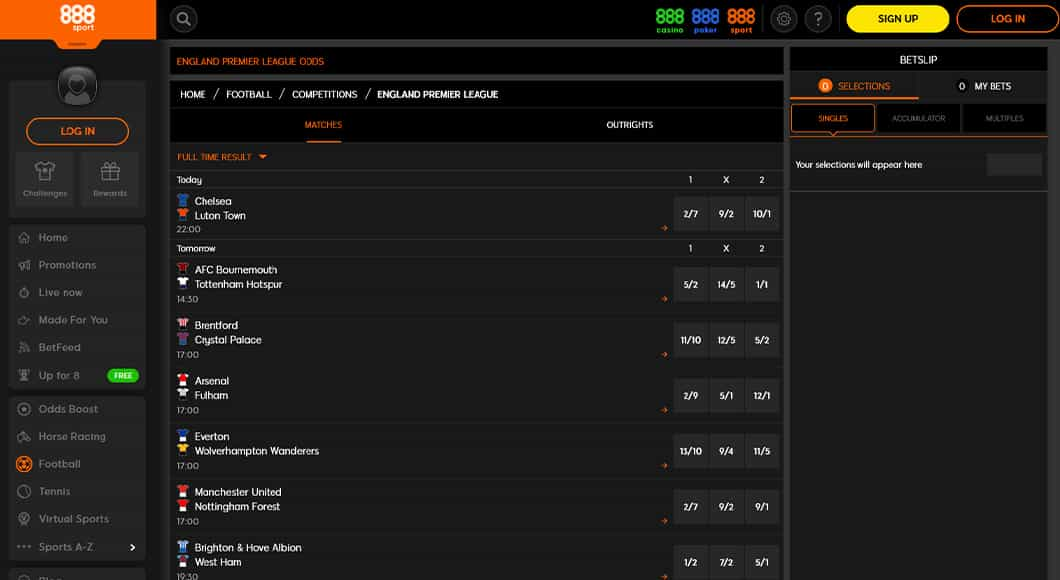 Football betting with 888sport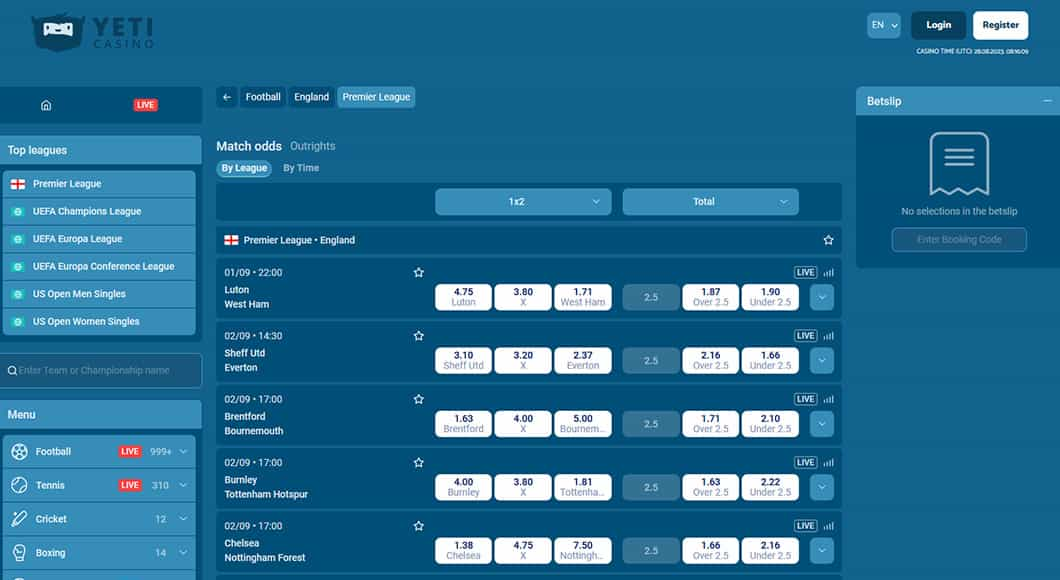 Football betting markets at YetiBet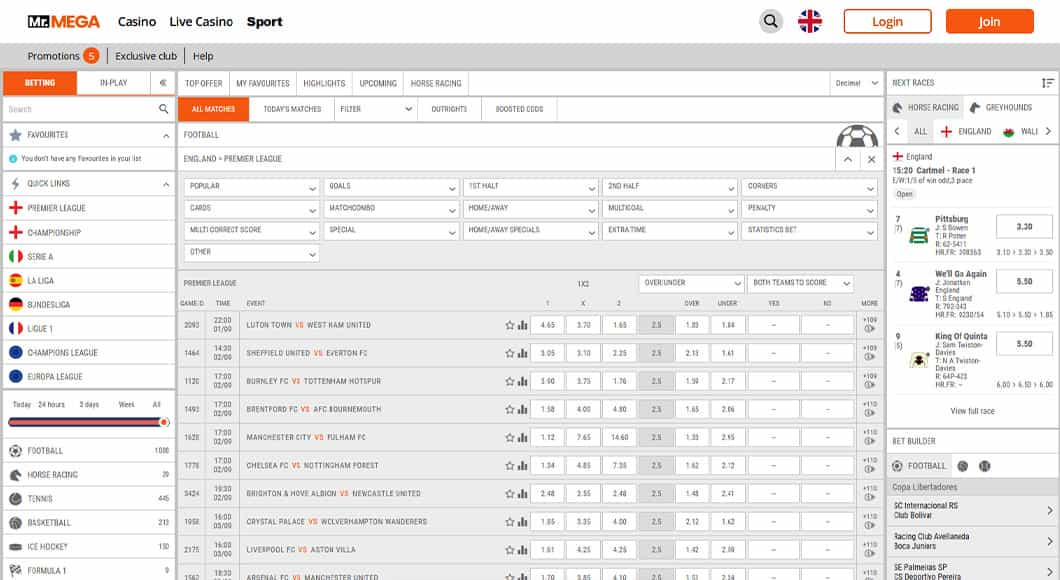 Betting markets for the beautiful game at MrMega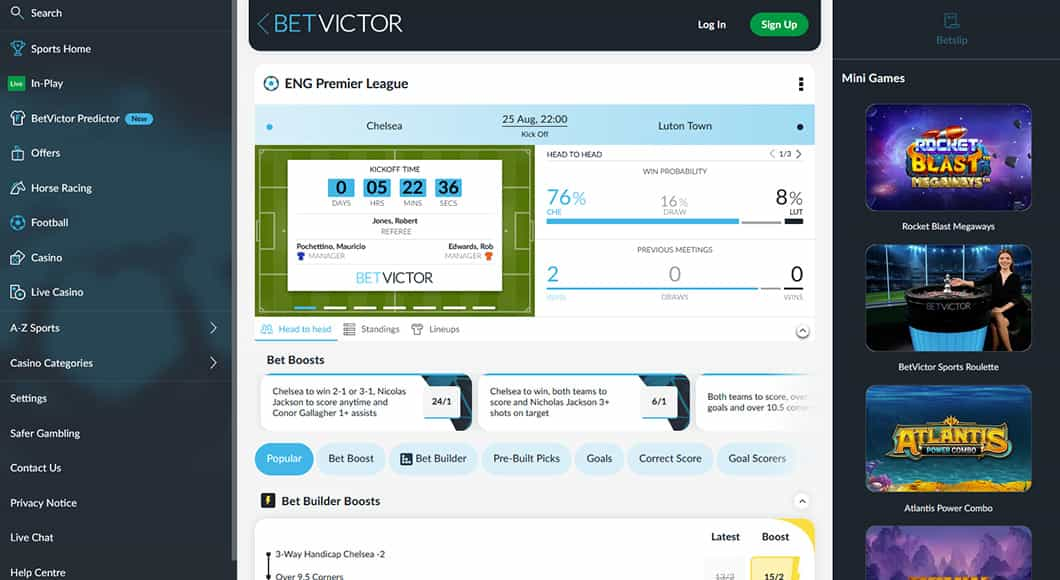 Football betting highlights from BetVictor
When it comes to cliches, the beautiful game is perhaps unrivalled: it is unequivocally a game of two halves where anything can happen. Online football betting at the best bookies reflects this, which is why at our recommended operators you can enjoy a thrilling lineup of betting markets, the most popular of which we have listed for you below:
Double chance: Two outcomes become one market with special odds – for example: the home team to win or draw; the away side to win or draw; or both teams to win.
Draw no bet: If the team you bet on to win ends up drawing, your stake is returned to you.
Goals over/under: Place your stake on the total number of goals scored in 90 minutes
Both teams to score: Decide whether both teams will hit the back of the net or neither will get on the scoreboard.
Half-time/full-time: The bet for those who believe in the mantra, "it's a game of two halves." Place one bet on the outcomes at half-time and the outcome at the final whistle.
Handicap: Football betting sites even out the playing field with handicap betting. Here a team is given a virtual headstart – the market for this match then reflects the difference accordingly. For example, Manchester City face Burnley, who start with two goals on the scoreboard. Manchester City have to win by three clear goals to win in this market, or by two to draw.
Correct score: Bet on the exact end result of a game – a tricky market that comes with suitably larger odds.
Player bets: Individual players receive their own markets, typically to score the first/last goal of the game, or to strike any time. Some football betting sites chuck player specials into the mix: Granit Xhaka to get a red card, for example, has been a popular market.
Corners, throw-ins, yellow and red cards: This over/under bet allows punters to predict the number of specific game actions that will take place in a game.
Bet builder: Not available at all football betting sites, bet builders allow you to create your own bet with bespoke odds.
Of course, the best UK bookies allow bets that combine several of the markets listed above. One of the most popular football betting combinations is X player to score first + correct score outcome. This kind of bet yields particularly attractive odds.
Outright Betting: Go Down to the Final Whistle
Outright football betting typically takes place before the start of the season and refers to outcomes that are decided at the end of the season. The top online football betting operators will not only have outright markets, but they will have suitably attractive odds attached. Here are some of the most popular outright football bets:
League winner outright
League winnner without first place
Top 4
Top 6
To be relegated
To not be relegated
League top scorer
Player of the Year
Football In-Play Betting
Football in-play betting has to be part of any conversation pertaining to the best bookmakers for footy in the UK. That's because it's a thrilling way to have a stake in the game if your pre-match prediction falls flat. You can find our top-rated UK bookie for football live betting in 2023 below:
Bet £10 get
£30
Free Bets
Tonnes of Live Streams
Attractive football in-play betting markets
Excellent Website Security
Full T&C Apply!
Min deposit requirement. Free Bets are paid as Bet Credits and are available for use upon settlement of qualifying bets. Min odds, bet and payment method exclusions apply. Returns exclude Bet Credits stake.
In addition to the plus-points listed in the table above, this online football betting operator passed our test thanks to another essential aspect. For a great football in-play betting experience, bookies must be on the ball and update live markets as and when the action unfolds – just like this brand does.
Pros
Real-time bet evaluation
Extensive in-play statistics
Better predict what happens next
Cons
Short time span for bets
Shorter odds compared to pre-match
Waiting times while placing bets
Of course, football in-play betting is not for everyone. It can detract from the game-watching atmosphere and take your attention away from events taking place on the pitch. If you're unfamiliar with football live betting and are wondering if it is for you, check out our table of pros and cons above or visit our guide to live sports betting in general.
Football Betting Sites With Live Streams
Our research revealed that the best football betting sites provide live streaming services for many of the top matches for which they have markets. Please note: This is only available to people who have an account with the operator, and in some cases you'll need to have a small bet (usually £1 or above) on that specific event to be able to watch the stream – so if you're after a free live stream, you'll have to look elsewhere.
Live streams are ideally suited for punters who partake in football in-play betting, as it allows the viewer to check in real time on the progress of a bet – and to make new bets accordingly. If no live stream service is on hand, then the minimum an online football betting operator should offer is a digital match tracker that displays events in text as they unfold.
Football Betting Bonus Offers
At virtually all football betting sites, your journey will begin with the bonus that is offered to new players after completing the registration process. Thereafter you can receive special promotions that are offered to regular customers. Bonuses come in many shapes and forms, and always with conditions. It's worth getting up to speed with the topic – this guide is here to help.
Welcome Bonuses at the Top Bookmakers
The new customer bonus at an online football betting operator may not necessarily be intended exclusively for football. Indeed, you'll find many are generic and are listed in our guide to UK betting bonuses, which apply to all sports. For the beautiful game, you can find the best new customer bonuses below:
As previously mentioned, you can find all kinds of football betting bonuses on the UK market. So it's worth looking for a bonus that suits you and your betting style. Some operators give free bets, others boost odds – and some include casino bonuses.
The All-Important Bonus Terms & Conditions
Beyond the flashy headline of the offer, the terms and conditions attached to any football betting bonus are the decisive factor when it comes to whether or not you should choose to opt in. As such, we recommend to our readers to always read the small print in advance. sports betting with PayPal, for example, is not always possible with bonuses – a factor worth checking if that is important to your banking style.
There are a few things to look out for to ensure your chosen online football betting site is giving you a fair deal. Always check that the wagering requirements are realistic, that the validity period is achievable for you, and that the minimum odds for a free bet are fair.
Free Bets
Free football bets aren't always necessarily free. However, that doesn't mean they aren't an attractive bonus offer, and you'll find them available at many of the top football betting sites in the UK. For the most part, a free bet may be awarded after you place a real-money bet – like we said: not always free!
Think of it like this: a free bet is a low-risk gamble. This is because you stake a free bet with your own money – if your football betting prediction is spot on, the winnings will be credited to your player account. If your bet loses, the operator returns your original stake to you.
Odds Boosts
Odds boosts are highly sought-after promotions that can be found at the very best football betting sites. They can come as part of a new customer bonus, or you can find them available to regular players. Odds boosts are tied to select matches or outright bets whereby you can enjoy increased, improved odds.
It's important to remember to stick with your original budget when faced with an odds boost offer – just because there is the opportunity to win more money than planned doesn't mean that the outcome is any more likely. The best way to enjoy football betting is always with cash you can afford to play with.
Free-to-Play Football Prize Games
Many top online football betting operators hold weekly or occasional prize games. This usually comes in the form of a prediction-based game for a number of scorelines. Though free to play, it is typically very hard to win. The huge cash prize, however, is often too good to turn down for many participants.
Betting Apps for the Beautiful Game
Whether in the bus, out for dinner, or even watching live in the stadium – you can access your favourite football betting sites at any time, anywhere (providing there is signal, of course). Thanks to sports betting apps, you can also use all the functions of the desktop version on your smartphone or tablet.
Bet £10 get
£30
Free Bets
Responsive
Full betting markets
Easy to use
Full T&C Apply!
Min deposit requirement. Free Bets are paid as Bet Credits and are available for use upon settlement of qualifying bets. Min odds, bet and payment method exclusions apply. Returns exclude Bet Credits stake.
An attractive football betting app must first and foremost offer seamless usability – as good as if you are using the desktop version. On top of that, there should be no limitations in the app version: everything you can bet on via desktop should be available in the palm of your hand. Learn more about the signs of a good app in our guide to betting apps.
Features of the Best Football Bookmakers
For the best football betting sites to truly sit top of the pile, they have to offer something their competitors don't. So, in addition to great odds and fair bonuses, what else is there? One factor that seasoned punters look for is the popular bet builder function, which allows bettors to combine several markets into one bet with tailored odds.
Beyond this, cashouts are another important factor looked at by gambling experts. Top online football betting sites allow customers to cashout a part of their bet in advance and to leave the remaining bet to settle at adjusted odds. Essentially, flexibility that favours the user is always a great selling point.
Criteria for Finding the Top Bookies
So far in this guide we have explored the features shared by top online operators on the UK market. To summarise our findings, and to help simplify your experience, we have created a mini guide to the criteria for finding the best football betting sites for your below:
How to Find a Top Football Betting Site
This mini guide outlines the most important criteria for finding a good online football betting site.
Estimated time: 00:10
Required Devices: Smartphone, PC, Tablet
Required Resources: Money
–
Check the betting overview
Choosing a top football site starts with a look at the league markets. In addition to all the popular leagues, the "smaller" divisions should also be available.
–
Check the odds
The higher the odds, the more you stand to win. Only football betting sites with consistently lucrative odds should be considered.
–
See which markets are on offer
Straightforward wins and over/under 2.5 predictions are part of the standard markets. But what about goal scorer bets and specials? The best football betting sites offer well over 100 betting markets.
–
Look for live betting options
Extensive football in-play betting markets are a sign of an attractive bookie. This includes real-time live statistics, and, optimally, live streams.
–
Assess the payment methods available
When it comes to payment methods, you are often spoiled for choice. Before you sign up, check whether your preferred payment method is also available.
–
Take advantage of a new customer bonus
Is there a generous bonus? Read the bonus conditions carefully. If the new customer bonus includes fair turnover requirements, you can safely opt in for the offer with your first deposit.
What else should you pay attention to when searching for football betting sites? The following list contains four criteria that can help you as you search for a top bookmaker in the UK:
Total sports offering: There's more to life than football! A great bookmaker will also have an attractive offering of markets for a range of other sports.
Customer service: A top bookie takes care of its customers – with English-Speaking support staff that are easily reached by phone, email, or live chat. A comprehensive FAQ section is also a good sign.
Payment methods: Deposits and withdrawals should be free of charge and quick. A good bookmaker offers customers a range of payment methods – including eWallets like PayPal; prepaid cards; and bank transfers.
Licensing: The best football betting sites are safe ones – which means they hold valid licences from the UK Gambling Commission or a similar authorising body such as the MGA.
How Important is Football Betting for Bookmakers?
"Out of all the unimportant things, football is the most important." This quote, attributed to Pope St. John Paul II, captures the essence of football in popular culture. However, it arguably underestimates the importance of football betting to bookmakers. Statistics show that bets on football account for up to 90% of turnover at bookies worldwide.
This, in turn, however, is also good news for punters everywhere when it comes to gambling on the beautiful game and online football betting. Such a strong and fierce market means that bookmakers battle to take bets, resulting in a market packed with promotions and competitive odds all-round.
The Best Football Betting Site Excels in All Areas
We've reached the conclusion of our guide to online football betting, so it's time to take a look at the operator that tops the market in 2023. This bookmaker excels in all areas of gambling on the beautiful game – offering competitive odds, a fair and attractive new customer bonus, and excellent extras such as bet builder functions. Check out our number one football betting site in the UK below:
100% up to
£111
Casino Bonus
100s of Football Markets
Fully Licensed for UK Operation
Trusted Payment Providers
Full T&Cs Apply!
New players only | No restrictions while playing with cash | Min. refund bonus is £10 | Wagering on bonus is 60x | Bonus based on 1st deposit lost | Max bet with bonus is £5 | Skrill and Neteller excluded
The market for football betting sites is changing all the time. Our team of industry experts will endeavour to update this guide regularly as new operators and promotions crop up, so make sure to bookmark this page for more great recommendations for bookies and football in-play betting options in the future.
Football Betting FAQ
Thanks for reading our guide to football betting sites in the UK. We hope the information and recommendations we shared help you to have a safe and fun time gambling on the beautiful game. Our FAQs offer a recap of our guide and can answer any lingering questions you may have about this topic – scroll down to access the FAQ section.
1️⃣ What are the best football betting sites?
The
best football betting sites
in the UK based on our tests are:
YetiBet - best football betting site
bet365 - excellent live streams
MrMega - fast & easy cashouts
888sport - popular bet builder function
Betiton - reliable banking process
2️⃣️ Do online bookmakers offer football betting bonuses?
Take a look at the market for bookmakers and their promotions and you'll quickly see that virtually all offers can be used for betting on the beautiful game. The average new customer bonus include football betting.
3️⃣ How good are the football betting odds at online bookmakers?
Compared to other sports, football betting odds are some of the best on the market. In some cases, the odds can go above 96% - it's always worth shopping around for the best odds before you place your bet.
4️⃣ Which games come with football in-play betting markets?
Typically, football in-play betting markets reflect the pre-match offering you'll find available to you. The best bookmakers offer live odds for the top matches in the top leagues – especially the Premier League and all European competitions, like the Champions League.
5️⃣ What markets are on offer at football betting sites?
There are too many to list here: betting markets for football go into the hundreds – ranging from straightforward singles like a home win to more complex combination bets. Check out our mini-guide to football betting markets to see exactly what's on offer today.
6️⃣ What football betting features are available at online bookmakers?
A top football betting site ideally offers an extensive range of betting features. According to our tests, cashouts and bet builders are the most popular betting features on the market.