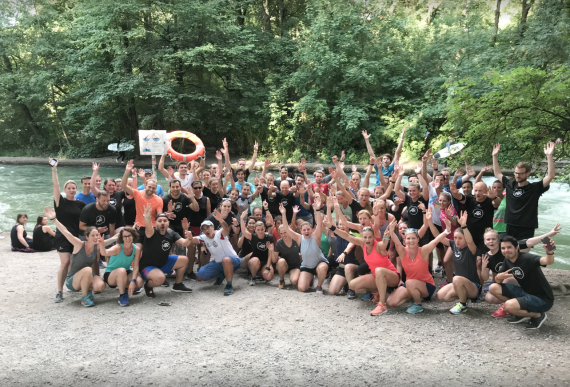 Running in groups is nothing new. All along people have fixed dates for joined endurance sports activities in order to motivate each other, achieve new goals and have fun together. In times of digital networking, running apps and Facebook groups, this has naturally become easier. In recent years hundreds of smaller and larger running communities have emerged.
To the advantage of running brands that support this trend by creating own activities. Still, also to the advantage of local sports retailers? Based on the feedback of Adidas, Brooks Running, Saucony, Salming, Salomon, Icebug and La Sportiva, Ispo.com gives an overview of the many different running communities and opportunities for retail shops.
There are many reasons for working with local running groups. Jan Kratchovil, Head of Marketing at Salming, sees cooperating with running communities as an efficient approach to stay visible as a brand, especially in big cities: "Within those running groups an individual sport like running partly develops into a team sport. Although the structures in such communities are rather non-committal, the internal processes like the exchange of views, identification and sometimes even merchandising are similar to what we know from handball or volleyball teams."
Salming works with various running groups in Berlin. Ideally employees and cooperation partners of the brand themselves are members of those groups. According to Kratchovil, Salming therefore receives plenty of industry news first hand. At the same time, it creates trust and solidarity with the brand among the community of runners.
RunPack is a well-known Berlin running community that cooperates with various running brands, e.g. CEP, Saysky, Adidas and Nike. In Hamburg, runners can join the Tide Runners or Run Fleet and in Cologne, the Cologne Running Crew sets the pace at local running tracks.
One of the biggest running communities in 2018 are probably Adidas Runners. In the past two years, the Boost running groups, that were already established in urban areas have been evolved and multiplied on an international level. Adidas spokesman, Oliver Brüggen: "Running communities give runners the opportunity to share their passion for sport with others and rediscover their home town in a new way. The Adidas Runners are an international network of enthusiastic athletes."
Today, the Adidas Runners are represented in more than 50 cities worldwide. They cooperate with Runtastic, organize their own events (Run City Nights) and meet in their own local hubs, like Run Base in Berlin.
Besides running, healthy nutrition, fitness, yoga and meditation are integrated in the Adidas program of those runners' meet points. 
Trail running is about experiencing nature and solitude – you might think. The well-known manufactures of trail running equipment, Salomon and Icebug disagree. As part of their marketing campaigns, they bring runners together to run in groups through forests, meadows, mountains and valleys. According to their Brand Manager Julia Schehl, Salomon continues the successful "How to Trail Run" workshops in 2018: "In 2017 we counted almost 3,000 participants, so we are expanding the offer in 2018. With 22 hotspots we're represented throughout all of Germany."
Icebug invests 2018 in their own women trail running community, called Forest Femmes. Mathias Basedow, Country Manager Icebug Germany / Austria points out that the main aim is to encourage women to do more outdoor sports. "The Forest Femmes have started in Gothenburg and are now a weekly event in four Swedish cities. The German version of the running meet-up has been held in Munich since the beginning of 2018," says Basedow.
What sports brands implement on an international or nationwide basis is adapted by stationary sports retailers, directly and locally. The "Isar Run by Keller Sports" for example is held by the Munich shop Keller Sports. They meet up with runners for a training two times per week directly at their store, close to the river Isar in Munich.
Sport Scheck has been organizing running events in German cities for many years. In 2018 the corresponding nationwide campaign is called Sport Scheck RUN. The events are hosted in 17 cities and supported by apparel brand Under Armour.
On top, there are plenty of possibilities for urban runners to do compensatory training, for example the weekly workouts at local The North Face (e.g. Never Stop Munich) or Lululemon stores (e.g. Luluemon Munich).
The logical consequence: Sports brands and stationary sports retailers support local communities or events together. The sales area in the shops can be used as the offline meeting point for brand and running group.
According to Jan Kratchovil, Salming already advises interested retailers throughout Germany in supporting local running groups. "In addition to sales goals and brand locality, we should aim to strengthen the basis of the according running group with our events and communication activities. We want to create win-win solutions," says Kratchovil.
Saucony also cooperates with training groups that are already working together with their retailers. Mika Froesch, Country Manager Germany / Austria: "As part of our RUN YOUR WORLD TOUR, Saucony offers a number of activities and test events. Through these events we want to give even more consumers access to our brand. Be it as part of a running analysis at the specialist store, during sales advice at the running area of the local sports retailer, with test runs in the city or when designing your own gym bag."
So does Brooks Running. In 2018 they offer selected retail partners to be "Official Partner" of their Run Happy tour. The urban running event series is taking place for the fourth time in 2018 and is hosted in 14 cities in Germany, Austria and Switzerland.
 
Lara Hasagic, Marketing Manager Germany / Austria / Switzerland at Brooks Running: "The Run Happy tour is based on extraordinary running routes, that are compiled in cooperation with local running crews – be it car parks, empty factories or along the most famous sights of the town, the runners get to know their city in a new way. The Run Happy tour is a community event that is communicated almost exclusively via social networks. Over the last years, we are happy this has developed into a true movement, we want to expand in the future."
On site the runners have the chance to test Brooks Running shoes and purchase them from the cooperating retail partner. According to Lara Hasagic, Brooks adds a "surprise" for all event participants who make a purchase afterwards.
In our series of interviews with the running brands Adidas, Puma, Saucony, Brooks Running, Salomon, Icebug and LaSportiva, running experts explain the most important developments in running in 2018.