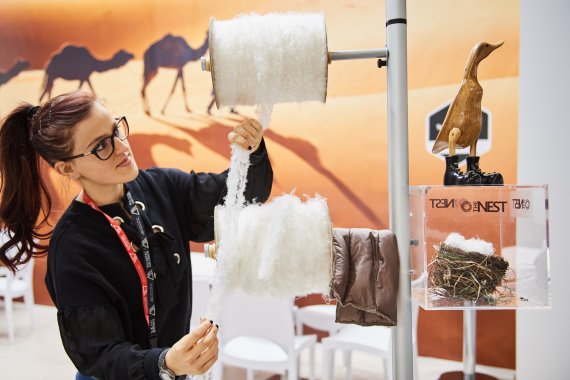 Sustainability and environmentally friendly corporate management are becoming increasingly important. The growing ecological awareness is positive, but also illustrates the seriousness of the situation. The sports industry has recognized the need for action and approaches the issue differently. "The actual message of the fair, however, is rather to be seen in the strategic area," says Anna Rodewald, sustainability expert and ISPO partner of the environmental organisation GreenroomVoice.
For her, collaboration is the key to success. "We are not looking for solutions that are only relevant for the outdoor industry, but also for other industries. The interdisciplinary cooperation between different areas such as materials and logistics as well as between different industries is therefore immensely important." For Rodewald this is the next important step for the future.
At ISPO Munich, however, it became clear how diverse the manufacturers' approaches to sustainability are and how complex the subject is.
Negative headlines, increasing transparency, environmental certificates, legal regulation, cross-industry NGOs and the growing ecological awareness of end consumers give the outdoor industry a clear mandate to act. In the long term, hardly any company can avoid the issue of sustainability and the associated responsibility.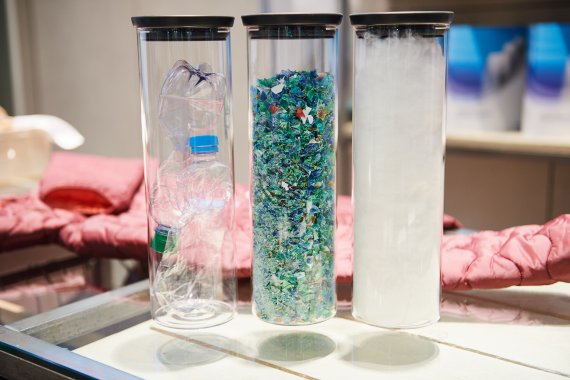 These are the sports industry's current strategies and trends for greater sustainability:
Perfluorinated and polyfluorinated chemicals - short PFCs - are used in many textiles because of their water-, fat- and dirt-repellent properties. They often serve as impregnation for textiles. The manufacturer Vaude has succeeded in eliminating it, many other manufacturers are following suit: since spring 2018, all textile materials in the clothing collection of the German outdoor brand are equipped without PFC.
"For us, the phase-out of PFC in apparel fabrics was an enormous effort. We have mastered this challenge by working long time with our partners from the chemical industry and our material suppliers in a very focused manner on the solutions themselves as well as on process reliability, and by doing countless tests", says Vaude boss Antje von Dewitz. She is proud that Vaude could show "that it is possible to offer PFC-free alternatives without customers having to sacrifice important functionality". The only downside are the waterproof zippers, for which there is currently no supplier. By the summer of 2019, Vaude also wants to have completed its exit from this project. The ambitious goal: by 2020, all products should be completely PFC-free.
When it comes to microplastics, manufacturers are focusing primarily on replacing plastic textiles with natural fibers. Wool is still a big issue. High-quality processing methods have made the raw material acceptable again. The Grüezi Bag was awarded with the ISPO Award. The sleeping bag consists of 70% down and 30% wool and combines the advantages of both materials. These hybrid models are particularly popular with manufacturers and consumers and are characterized by extreme versatility.
The brand Light my Fire manufactures outdoor tableware and after two years of intensive research and development, they announced the complete switch to bio-based and biodegradable bioplastics at ISPO Munich 2019. The Swedish outdoor manufacturer is dedicated to avoiding disposable plastics. One of the materials used is terralene, 96.6% of which consists of sugar cane and wood fibers.
In the field of ingredient brands and insulation specialists, Primaloft presented the first biodegradable synthetic insulation at ISPO Munich. A new technology allows "normal" synthetic fibers to be biologically degraded.
Fixed in the sustainability strategy of many manufacturers such as Vaude, Páramo and Anita is plastic recycling. Because they can be sorted really well and since there is already an infrastructure for processing, outdoor manufacturers mainly recycle PET bottles. These are cleaned, processed and melted in order to melt polyester threads for textiles of all kinds.
The textile recycling of polyester and polyamide, but also of natural materials such as down, wool and cotton, is somewhat more complex and improvable. The reason for this is the lack of homogeneity of the raw material: fabrics, labels, colors and zippers have to be separated. Still, there are no machines that can recognize the individual materials and subsequently separate them. "The conversion process in textile recycling is much more complex and must be controlled more finely. In addition, there is a need for different logistics. Unlike PET recycling, it is not possible to resort to an existing infrastructure," says sustainability expert Rodewald.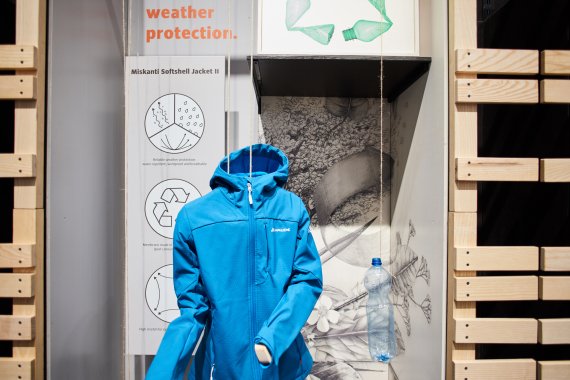 Even if clothing is produced in an environmentally friendly way, it will only be sustainable in the long term if it is used for a long time. The Swedish outdoor manufacturer Fjällräven therefore focuses on durable materials and timeless designs. At Vaude and Patagonia garments are designed so that they can be easily repaired. In some cases manufacturers such as Patagonia and Norröna offer their own repair service. New forms of use such as rent and sharing are becoming increasingly important.
There is still a lot of potential in the prevention of pollutants in manufacturing processes and logistics. "Integrated strategic corporate approaches are in demand here. Careful use of resources, environmentally friendly packaging materials, short transport routes and comprehensive process optimization are the keys to success," says Rodewald.
The German packaging manufacturer Repaq takes a first step in the right direction. At ISPO Munich 2019, it presented a plastic-free printed film packaging which is currently unique in Europe and which is proven to be 100% biologically recyclable. The natural cellulose film packaging consists of residual and waste wood from FSC-certified forestry.
Conclusion: The different sustainability strategies of manufacturers through recycling, use of bio-based and biodegradable materials, longevity and avoidance of pollutants are effective, but need to be complemented by holistic corporate approaches and cross-industry cooperation to unfold their full potential. Despite common solutions for the individual outdoor brands, there is still enough differentiation potential for the individual brands to stand out from each other. Companies that jointly develop strategic approaches and act proactively can bring the issues to bear profitably and communicate transparently. In the end, everyone benefits from more sustainability.