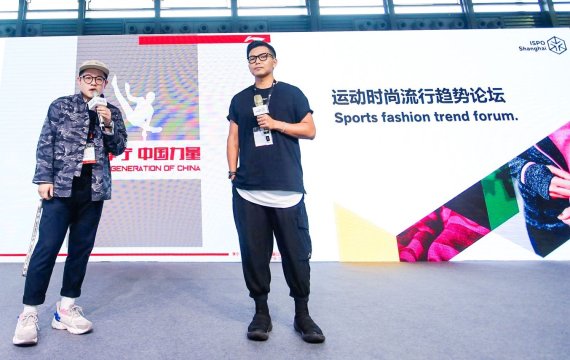 The models at the ISPO and Tmall Fashion Show couldn't complain about spectator interest at ISPO Shanghai. For two days, Chinese and international brands like Fjällräven, Peak Performance, Phenix, and Lafuma showed off their latest collections.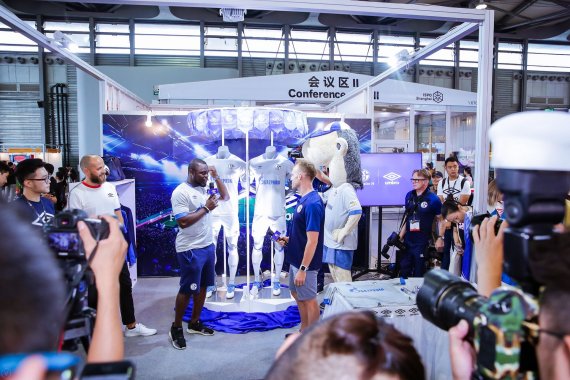 The soccer club combined its ten-day China tour with a visit to ISPO Shanghai, where it presented its new away jersey. Tmall broadcast the show in the Schalke online store, where fans had the first opportunity to buy the new jersey.
E-commerce, and Tmall in particular, were also important topics for many of the 526 exhibitors at the trade fair. The platform of the technology giant Alibaba has a market share of 57% in online sports retail (the largest competitor is JD.com with 27%).
"It was very valuable for us that we were able to talk to Tmall employees at the fair," says Sarah Donnelly, founder of the athleisure brand LNDR.
"We knew that online business in China was very important, of course, but not how fundamental this sales channel would really become for us." The first conversations at ISPO Shanghai showed them this, the LNDR CEO says.
The Managing Director China & Asia Pacific at Intersport and a speaker at ISPO Shanghai, Robin Trebbe, is convinced that "China is about two years ahead of us in the online business." Nobody's talking about Click & Collect any more, for example.
That's a matter of course anyway. Online sales are also central in China for the women's fitness brand Lorna Jane. Lorna Jane's online turnover worldwide is around a quarter. "It's significantly higher in China, however," says Global Sales Director David Brown. How much more exactly, he prefers not to say.
In addition to Tmall, Lorna Jane sells at places in China like the fitness specialist reshape. At ISPO Shanghai, Brown was able to talk with the founder of the online platform about the businesses for the coming year: "I met so many important people here in such a short time," says Brown, "and I was able to speak one-on-one with everybody." This was very important to him, as the head of sales sums up his personal conclusion of the fair.
Good distributors are key for foreign manufacturers' business success in China. That is why the most important goal for many exhibitors like LNDR, Ayris, and Gola active at the trade fair was to find distributors.
The sports shoe brand Gola has been carefully planning its market entry in China for some years now.  "Right now establishing contacts is about quality, not quantity," says Brand Manager Wayne Howarth. Many distributors with a good structure were met at the fair: "We're planning further meetings by video conference with them."
In addition to Chinese and other Asian distributors, the
visitors to the trade fair also included several representatives from international brands like Adidas, Nike, Umbro International, and Schöffel. Among other things, they were looking for product innovations and start-ups with creative ideas.
Many of the brands not yet on the Chinese market also used the matchmaking program: ISPO organized meetings between brands and distributors or retailers.
Six forums on the topics of Women, Kids, Water Sports, Textrends, Digitize, and
Running filled the well-attended. three day-long lecture program. Renowned speakers from companies like Under Armour, Tmall, Ebay, Nike, and Intersport, as well as experiences from exhibitors, made clear:
1. A growing number of Chinese citizens value performance. 
Demand for high-quality products, be they for fitness or running training, is growing. High-quality, European products with a good brand image especially can benefit here.
2. Chinese consumers, and female Chinese consumers in particular, love the crossover of chic and functional sports fashion.
Athleisure products with a high lifestyle factor are seeing stronger and stronger demand. These collections are still largely new for the Chinese market. This includes items like multifunctional clothing that can be worn in the office or when working out. Discerning customers also value the use of highly technical, highly functional fabrics such as 4-way stretch.
3. In the running segment, market shares can still be tapped selectively. This is because the number of runners in China will continue to increase. The market, especially in monobrand stores, provides new technologies such as Footscan or training aids and apps to further develop the spectrum of sales opportunities. Trail running is also becoming more and more popular in China, and appeals to new target groups.
4. The potential of the growing sports market in China is far from exhausted. In particular, the number of women and children practicing sports is increasing. Manufacturers have the opportunity to reach completely new target groups. This was also shown by the success of the Kids Triathlon, which took place within ISPO Shanghai.
ISPO is represented in China with two trade fairs. The next one will take place in Beijing from January 16 to 19, 2019.