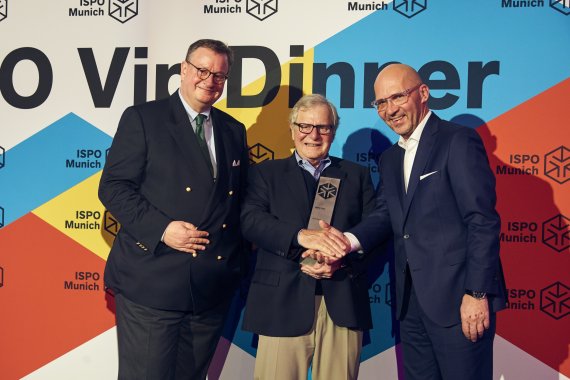 The Chair of the Board for Messe München highlighted Gert Boyle's "unbelievable effort and energy, particularly when faced with difficult challenges". You can read about many of these challenges in her biography "One Tough Mother" – which has made her famous beyond the outdoor industry, as have the humorous adverts in which Gert Boyle lets her son Tim test Columbia products in car washes or cement mixers, for example.
"I am very proud to be bestowed this honor," said Gert Boyle in a video message. "It's a shame that I can't be there myself. But I've sent a good representative." Standing ovation for Gert Boyle on screen and for her son on stage. "I present the award for a tough mother to a tough son," said the trade fair CEO Klaus Dittrich.
"Mum, I hope I don't screw up," Tim Boyle said to his mother, who together with other employees was watching the award ceremony via live stream from the Columbia head office in Portland. "And if I do, she'll kick my ass," Tim Boyle adds laughing.
Vitali Klitschko and Henry Maske, two boxing World Champions have been awarded the ISPO Cup, as has Pele, the Brazilian football legend, and mountaineering icon Gerlinde Kaltenbrunner, with Hermann Maier, the ski "Herminator", receiving the trophy last year.
Gertrude Boyle does not seemingly fit in this line up. Flori Schuster, CEO of Sport Schuster in Munich, started his presentation by saying "this year's winner lacks everything" that made previous ISPO Cup winners stand out: "No world records in well-known sports, no Olympic medals, no medals of any color, no record-breaking times, no hill record, and not even a small first ascent that made it into the Alpine history books."
"And yet, she has given the world's best performance," explained the Sporthaus Schuster CEO, "a performance that has fascinated me for decades and that I believe is as admirable as all the previous ISPO Cup winners." Schuster went off on a tangent and recalled his youth: "I was 19 years old when my 53-year-old father passed away and our company's fate was in my hands..."
A parallel to Gertrude Boyle, known as Gert for short.
Looking back at history: Born in Augsburg; as the daughter of a Jewish shirt manufacturer, she and her family fled Nazi Germany in 1937, and Gert Boyle spoke no English when she arrived in Portland/Oregon. One year later, her father bought a hat factory – and called it Columbia Hat – which Gertrude's husband Neal later turned into an outdoor and sports clothing company.  
Out of the blue, Neal Boyle suffered a heart attack in 1970 and left the family company to his 46-year-old wife and their children who had just turned of legal age.
"I have seen it time and time again that hardly anyone understands what it means to have such a "legacy" landed on you without warning: Not unexpected but alarming... Not valuable but utterly terrifying," said Flori Schuster, "and that is exactly why I have felt so connected to the Boyles since our very first meeting in the 1980s."
At this juncture, a longer excerpt from Flori Schuster's presentation ­– because it tells Gert Boyle's story with great empathy:
 
That is exactly why I have felt so connected to the Boyles since our very first meeting in the 1980s, and why it still rings true today...
Following displacement and escape, the family company appeared to be doomed for a second time when a "well-meaning" business man offered the young widow Gert Boyle a purchase price of 1400 dollars for her father's and husband's life work…
And this is where the actual story starts, where Columbia transformed into a global family company and Gert Boyle became an ISPO Cup winner …
She actually decided not to sell her company for this laughable sum, instead saying:
"I can run the shop into the ground myself for that money!"
"Damn the torpedoes!" is an American expression for unbelievable courage and unwavering confidence with which you, Gert, and your young son Tim, have transformed the 1400-dollar business candidate into a multi-billion-dollar global listed company that is home to over 5000 employees and millions of customers around the world!
 
Flori Schuster raved about the "identity between the family's personality and that of the company, the authority shown by people who do not take themselves too seriously despite their talent, yet can garner sympathy and affection that lasts a lifetime among employees, partners and customers. And she repeatedly 'abused' her son to do so."
The hall watched attentively as a video was played: one of the legendary adverts with "Ma" Boyle, as the Columbia icon is known – she sends her son Tim into a cement mixer so that the CEO can test a pair of Columbia trousers . This is completely in keeping with "Ma" Boyle's humor, who donates a considerable proportion of her wealth for social causes.
"Our industry must be grateful for having a role model like you among our ranks, and I am thankful that we've got you in our sector!" said Flori Schuster.
People attending the ISPO VIP dinner included: Swimming icon Franziska van Almsick and surfing World Champion Philip Köster, John Jansen, the CEO of the European Outdoor Group, as well as General Secretary Mark Held, the President of German sports retail stores, Werner Haizmann, CEOs Oliver Pabst (Mammut), Markus Rech (Sport Scheck), Alex Koska (Vice President of the Fenix Outdoor Group), Hans-Hermann Deters (CEO of Sport 2000), Kim Roether (Intersport Chair) and Clarissa Käfer, (Chair of the Supervisory Board at Käfer AG).