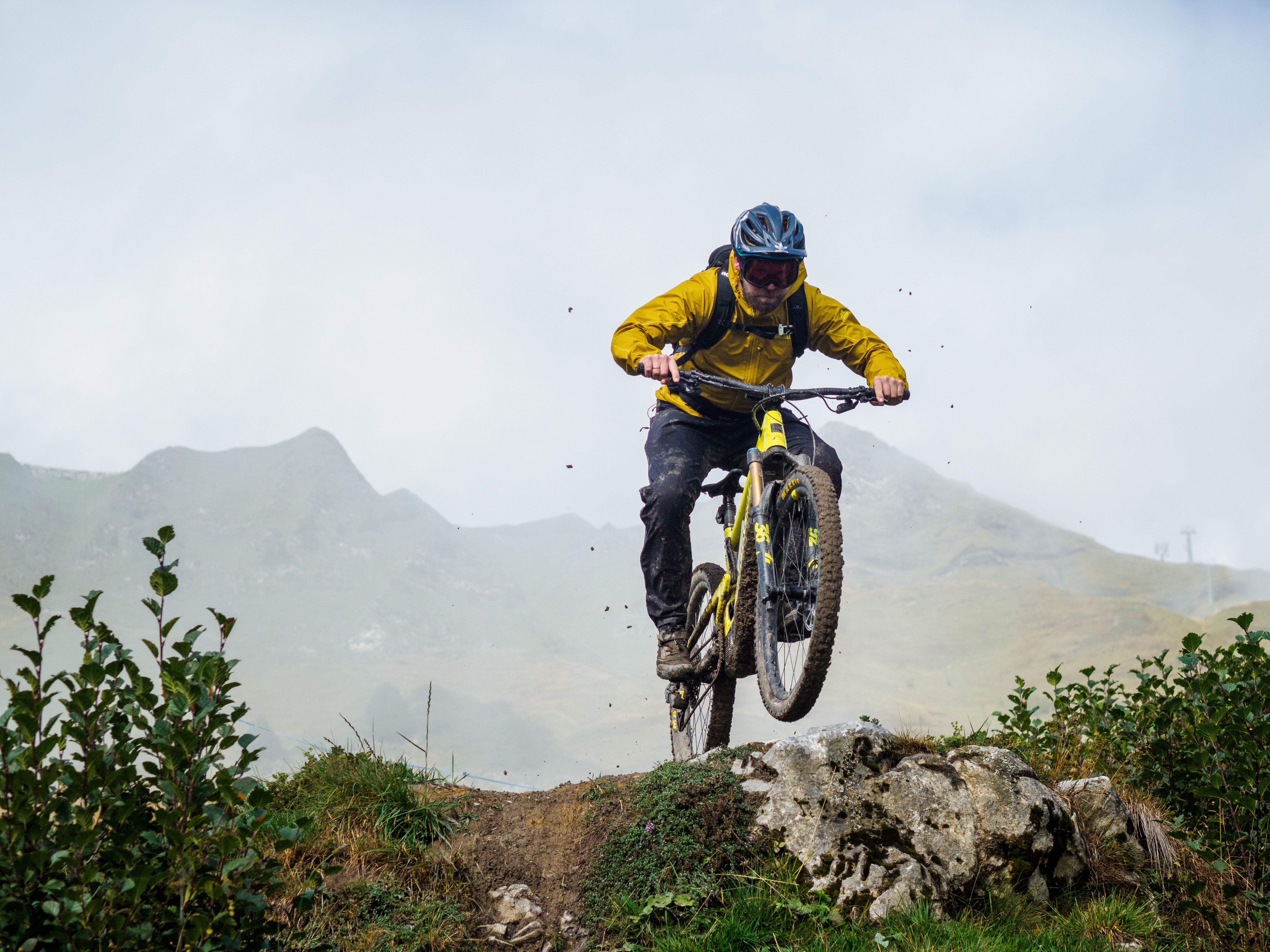 The bicycle is booming during the corona crisis - and with it explicitly e-mountainbikes. We can be curious about the industry figures for 2020. An indication is provided by the inquiries at Google: In April 2020, the term "e-mountain bike" was googled around 74,000 times in Germany, compared to 33,000 in the same month last year.
But what is the next step in the E-MTB business? We give an outlook on the most important e-Mountainbikes trends 2021.
Of the approximately 1.36 million electric bicycles that Germans according to trade associations ZIV and VSF 360,000 e-mountainbikes were bought in 2019. Their share was thus 26.5 percent. There are many indications that the importance of E-MTBs will continue to grow.
Because in these times, where holidays are spent at home or nearby, the e-mountain bike plays its strengths: It is perfectly suited for off-road explorations without regrets, its robustness provides safety even on wet and slippery terrain.
And because the holiday funds often remained untouched, even the high prices do not scare off too much. A development that will also accompany us in 2021.
One can like e-mountainbikes (and their riders) or not - but hardly anyone can escape the economic temptations associated with them. An ecosystem is currently building up around e-mountainbiking:
Tourism: E-MTBs need their own infrastructure, and more and more (mountain) regions are adapting to this and are specifically recruiting the most affluent e-Mountainbikers. There is a lot to advertise: Loading facilities, safe storage facilities, special tours for the whole family. But many regions in Austria and Switzerland - who's surprised? - are less squeamish than in Germany, where e-mountainbikers are often still considered unpleasant guests.
Rent-a-E-MTB: Many local bike dealers are discovering a lucrative side business in the rental of e-mountain bikes. The daily prices range between 40 and 65 Euros, but with the current high demand this can be worthwhile. Not everybody is happy about that: The often inexperienced, poorly equipped E-MTB day tourists are a thorn in the side of many other mountain sportsmen.
Taster trainings: Also the taster trainings and riding technique courses especially designed for e-mountainbikes are in great demand and are often booked out weeks in advance.
Magazines, literature and portals: If you stop at the station kiosk in front of the shelf with the bike magazines, you will find numerous well-done E-MTB publications: "

biking e-mtb

"", "

E-mountain bike

" or "

EMTB

" also offer many great professional articles and E-MTB tests on the Internet with sophisticated point systems (from "very good" to "excellent") for a growing target group.
But the most exciting thing is certainly what will happen to the e-mountainbikes themselves in 2021.
For a few years, E-MTBs were mainly mountain bikes that were clapped onto a motor plus battery. If you wanted to own an electrified mountain bike, you often had to make some compromises regarding frame sizes, looks, comfort and safety. 2021 is completely different.
The choice is getting bigger and bigger because differentiation is increasingly worthwhile for the manufacturers: In addition to the applications (tour to downhill), they are working in all directions: There are E-Mountainbikes for heavy and tall men, for women and even for children (see trend 4). Retailers who offer good purchasing advice can benefit from the complexity of the product range.
The market remains competitive, the competition never sleeps, the speed of innovation is enormous. Even supposedly smaller manufacturers still have a chance to attract a lot of attention with a good idea. In addition, even the most hard-boiled mountain bike manufacturers are following suit and bringing E-MTBs onto the market. Among other things, Santa Cruz celebrated its premiere in 2020, 2021 is it for Niner Bikes so far.
​​​​​​If you want to spice up a relaxed dinner with friends a little, you should try the casual remark "E-mountainbikes for kids are booming". This will bring a good atmosphere into the house.
Since summer 2020 the Children's ETB woom UP in two different sizes, aimed at children between 7 and 14 years of age. Cost: almost 3,000 euros. Nobody's going to buy that, are they? Far from it. The brand from Austria enjoys great popularity and is extremely popular with children and their financially strong parents.
At ben-e-bike starts as early as six years and costs around 1,700 euros. And KTM is also heavily involved in e-children's mountain bikes: in 2021 the chic new Macina Mini Me 251 (24 inches, 2,400 Euros) and Mini Me 261 (26 inches, 2,700 Euros) with integrated battery will be launched.
Those who think E-MTB for kids is crazy will love the idea of Mondraker: The company launched the "Grommy", an e- wheel. The smaller model is intended for children between three and five years old, the bigger one for children between five and eight.
More and more e-mountainbikers are also experiencing the joy of downhill riding, and the E-Enduro (160 to 180 mm suspension travel) is gaining in relevance. Very few E-MTBs come with less than 150 mm.
After all, the higher weight of massive spring elements does not play too big a role with E-support. Accordingly, more and more e-mountainbikers are opting for a replacement battery that will get them through the day and to their destination safely.
One of the earliest findings was that heavy e-mountainbikes need stronger brakes. However, in addition to 200 mm brake discs (sometimes 220 mm), which are now installed almost as standard, more and more components specially developed for e-mountainbikes are coming onto the market. A quick overview:
Suspension forks: The super-robust Fox 38 and Rockshox ZEB promise even more stiffness and therefore safety.
Tires: Tyre manufacturers are reacting to the E-MTB boom and now have numerous special tyres in their product range. Pirelli is now bringing out three E-MTB tyres at once, and the Italian compatriots of Vittoria are now at the start with four e-Barzo models.

Schwalbe has also worked hard on the carcasses

.
Saddle: There are even special products for the e-mountainbiker's bum. "E-mountainbikers sit differently on their bike - and therefore not always comfortable on conventional saddles",

says Ergon

and has therefore developed a special saddle for e-mountainbiking men.
Shimano has the biggest exclamation mark for the drives: The new EP 8 engine weighs just 2.6 kilos, is extremely compact, but with a maximum power of 85 Nm it offers a lot of power. "E-mountain bike" has thoroughly tested the new engine. Bosch is responding with a powerful software update for its Performance CX Gen 4.
In many cities in Southern Germany, Austria and Switzerland it can already be observed: E-mountainbikes are not only used for tours through the mountains, but also on the way to work or for shopping. This development is likely to continue in 2021. There are two main reasons for this:
E-MTBs offer a pleasant robustness throughout the year, which is also appreciated in road traffic ("SUV on two wheels").
With their great looks, e-mountainbikes have also become a status symbol that people like to show off. It seems: the more expensive, the better.
Some manufacturers are already reacting to the trend towards the E-MTB everyday bike. The Liteville 301 CE for example, offers not only a light system and mobile phone holder, but can also be easily supplemented with mudguards.
And then there is one last, small trend: the bell. In fact, it can be observed that more and more (e-)mountain bikers are riding with a small bell. Because it has become fuller, even on remote trails. We find: Anything that serves mutual respect is a good thing.
Do you have any comments? Have we forgotten anything from your point of view? Please leave us a comment. We are looking forward to it!