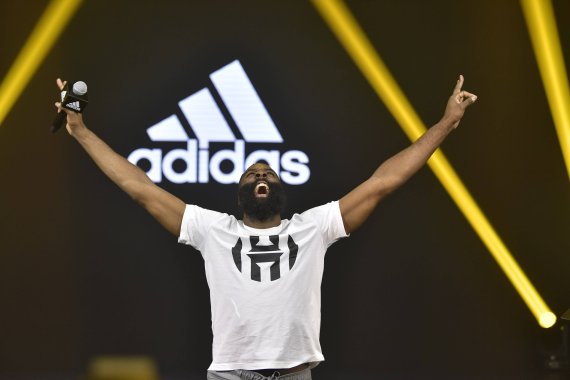 "Creating the New" - that's the name of the five-year strategy Adidas issued in 2015, now Adidas is in "full execution mode," says CEO Kasper Rorsted right at the beginning of the press conference. And so far, that reads very successfully: for the first time, Adidas cracked the 20 billion euro sales mark in fiscal year 2017 and increased its business volume to 21.2 billion euros (an increase of 15 percent).
Profits also rose to 1.43 billion euros in fiscal 2017. But more important to CEO Rorsted at the 2018 annual press conference are the long-term goals: These include "high-quality sales growth with disproportionate profit increases." By 2020, Adidas wants to push the margin to 11.5 percent; in 2017, the company was at 9.8 percent, and between 10.3 and 10.5 percent are expected for 2018.
And these are the key strategic points to achieve this goal:
"We have become a digital company," says Kasper Rorsted. This includes, for example, that 90 percent of the marketing budget is already spent on digital campaigns and social media, according to Rorsted: "We interact so directly with the consumer and are where the customer is." At the same time, he said, it's a very young company. For the employees, there is no "digital transformation" because they already "are digital" and have a high affinity for digital topics.
Further, Adidas now gains many insights from Big Data and via digital analytics, according to Rorsted. Production processes are being digitized as much as possible via 3-D printing and in the Speedfactory.
In terms of sales growth, e-commerce far outpaced all sales channels last year. The e-commerce business grew by 57 percent.
The USA is now better understood, said the Adidas CEO. 27 percent growth for North America proves him right. Alongside e-commerce and business in China, North America is a strategic growth area for Adidas and one of the "main drivers for success," says Rorsted. In the U.S., it is important to serve the core businesses of soccer, baseball and basketball, and not soccer as in Europe. In addition, many global trends naturally come from the USA.
The music stars Kanye West and Pharrell Williams have helped Adidasm enormously in the lifestyle sector. Asked about the positive development compared to competitors Nike and Under Armour, the CEO is cautious: Adidas also started from a weaker base and the expectations in the competitions are much higher due to the positive headlines of the past years.
Adidas focuses on its core brands and Reebok. For example, brands such as Adidas Neo and Originals are strong growth drivers. The golf subsidiary Taylor Made and the ice hockey brand CCM were sold (at a loss). Reebok is expected to return to profitability within a few years.
To this end, the company has set up a "very hip" headquarters in Boston and centralized everything there. "Cool designers like Victoria Beckham," focus and a digital business model are said to be other supports for the turnaround. "The challenge is not growth per se," Rorsted said of Reebok, "the challenge is profitability."
Above all, he said, it is important for the sporting goods manufacturer to have high speed in production and delivery. "We have to make sure that when demand is high, products are not sold out," Rorsted said. He said this also involves the introduction of speed factories in Ansbach (Germany) and Georgia (USA) for products that are produced quickly but at the same time individually.
London, New York, Los Angeles, Tokyo, Shanghai and Paris are the six cities that Adidas sees as having an international signal effect and great marketing influence worldwide. The company has invested disproportionately here - in marketing campaigns, infrastructures and initiatives.
"Open source is something we use so we can make sure we bring cool products to market," Rorsted says. He says this runs complementary to Adidas' own innovations. One example is the collaboration with the conservation organization Parley for the Ocean. Last year, more than one million shoes were produced from plastic waste.
London, New York, Los Angeles, Tokyo, Shanghai, and Paris are the six cities that, from Adidas' perspective, have an international signal effect and a global marketing influence. There was disproportionately high investment here – in marketing campaigns, infrastructures, and initiatives.
"Beyond that, it's no longer a matter of establishing a classic distribution," board director Roland Auschel also says in an ISPO.com interview, "The question today is: How many of these stores will we as a brand really need in the digital future?"