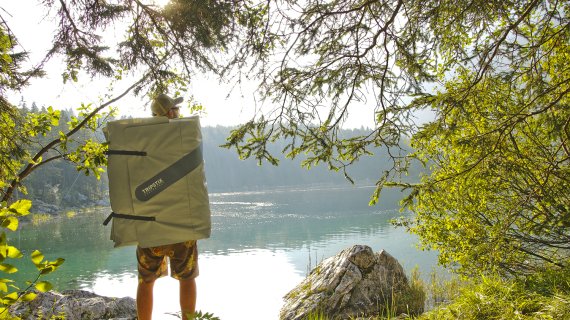 The ISPO Brandnew Award in the "Hardware Summer" category at ISPO Munich 2016 shows what great potential this product idea has. ISPO.com spoke with Tripstix inventor and product designer Joaquin Parodi about the startup.
ISPO.com: Mr. Parodi, inflatable SUP boards are already available. Now you want to build a board that will be a fully equivalent replacement to hardboards. How did this come about?
Joaquin Parodi: The idea came about during a business trip to the Atlantic. I didn't want to pay the expensive excess baggage fee for such a short trip and made an exception by travelling without my board. Then I had to watch longingly at the surfers from my seat in the café in the afternoon. When I saw a vacuum-packed packet of coffee that was as hard as a rock, I was suddenly struck by the idea of developing an inflatable surfboard that could be hardened with a vacuum chamber filled with granules. The idea for VacuuAir Technology was born.
And how exactly do your SUP boards differ from traditional inflatable SUPs?
Traditional inflatable SUPs are all made of a three-dimensional fabric called drop stitch fabric. This comes with a few disadvantages.
Such as?
No thin rails are possible with this kind of construction. But this is essential when surfing the waves. Tripstix boards can be signed like hardboards thanks to the VacuuAir Technology. In addition, inflatable SUPs are not very resistant to bending. But that is more of a disadvantage when paddling on the ocean or whitewater. Our technology combines a pressure chamber with a vacuum chamber. The boards are rigid and can also damper vibrations. The feel of the board and its maneuverability are also improved. Our boards can be inflated in half the time and require much less pressure than other SUPs to reach optimal rigidity. Tripstix boards have two chambers, which makes them safer since one chamber is always providing enough buoyancy in case of emergency.
Is VacuuAir Technology patented?
We registered it for a patent in 2012. The patent has been published but has yet to be issued, so it's still patent pending.
Startup financing: Capital and grants
Although you are passionate surfers, your first step is producing SUP boards instead of surfboards. Why?
Our initial prototype was actually a small shortboard for surfing. We tested it directly on the Eisbachwelle – a river wave in Munich. But during design and development we determined that the SUP market would be more interesting for us to start out with. For one thing, inflatable boards are already an established product for that market and for another, the boards are rather large and cumbersome. In the longer term, however, we absolutely hope to develop and offer boards for surfing.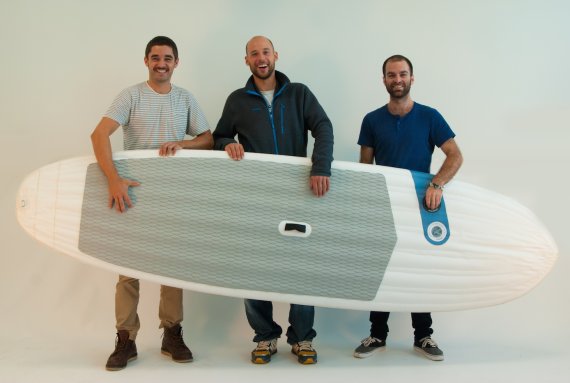 How did you finance the design and development of this new technology?
To start, my partners Stefan Klare and Andreas Trapp and I put money aside for the project. At the time, Stefan was still working on his PhD and Andreas was still an undergrad. Then we received an Exist grant and a Flügge grant.
Were you given support by business coaches in founding your company?
We have received expert help and support from UnternehmerTUM GmbH in Garching. Prof. Senner from the "Sports Equipment and Materials" department at TU Munich also provided us with space to work and advice.
We should be rethinking stand-up paddling
What does being given the ISPO Brandnew Hardware Summer Award mean to you?
We were so pleased to receive the award because it's a big reward for all our hard work. The trade fair also provided us with an excellent opportunity to obtain feedback from potential customers, retailers, distributors and other SUP brands.
Has your day-to-day work changed any since your appearance at ISPO Munich 2016?
We made a lot of great contacts at ISPO and we are currently doing a lot of talking with those we met. The press interest has really raised the level of awareness for our business and we are receiving more and more requests every day from people interested in our boards.
What tips do you have for other young entrepreneurs who want to make their own way in the sports business industry with a unique idea?
We only have great things to say about grant programs like Exist and Flügge because they minimize your own financial risk. And for founders from Bavaria it is a really good idea to seek advice from UnternehmerTUM in Garching, Munich. In my experience, the success of a project is largely dependent on the motivation and perseverance of the team. You always have to be clear about the fact that founding a new company is a really long journey. That's normal and you can't let that discourage you.
How will things progress for Tripstix over the next five years?
We want to establish our own Tripstix brand, revolutionize the current SUP market and bring about a massive rethink among the industry when it comes to inflatable surfboards – particularly that inflatable boards by Tripstix provide a true alternative to traditional surfboards. 
How do you hope to achieve these goals?
We will work with a strong partner and will not compromise on quality. Our expertise and patent protection give us a competitive advantage – an advantage we want to use to our benefit in future.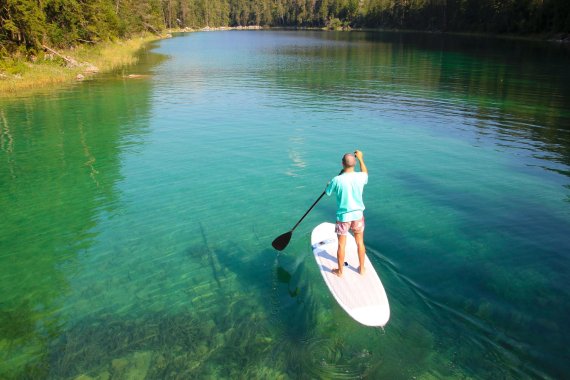 This is Tripstix
Company headquarters: Munich
Number of employees: 3