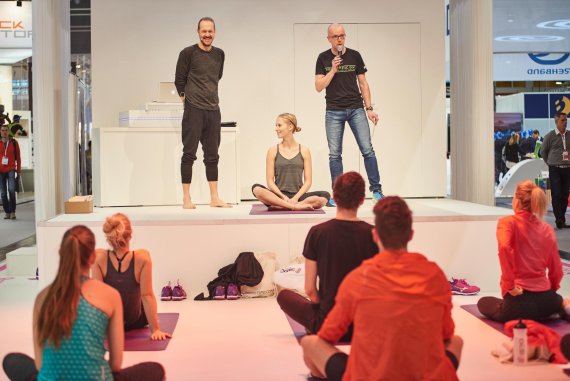 The German yoga scene has Jürgen Klinsmann to thank, as well as Joachim Löw, and Dr. Patrick Broome, too, of course. When Klinsmann first put yoga onto the German national football team's training plan, Broome was working for 'Jogi' as a yoga instructor at the Brazilian 2014 World Cup.

The fact that the German world champions practice yoga for balance, has definitely not harmed the German yoga industry – nor Broome himself.
"Yoga for everyone" – whether world champion or ISPO visitor

At ISPO MUNICH, the German football team's yoga instructor gave a short demonstration of his yoga moves, which he himself describes as "an efficient mixture of different forms." With softly spoken words, he instructed the fitness models on their yoga mats.

Broome repeatedly pointed out that everyone should only bend as far as they are comfortable going. This concept is very important to him. "Yoga for everyone" is the name of Broome's book. It should be completely natural that yoga students perform at different levels. And that should stand whether at ISPO MUNICH or with the German national team.