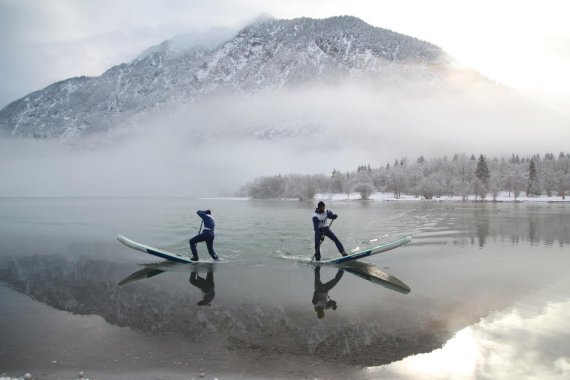 The ice crunches softly under the board, and paddle strokes become more and more arduous. The sun has once again got caught in the dense mist between the mountains. Thick plumes of breath climb in the cold winter air.
The window of time for stand up paddling excursions seemed big enough at first; the weather forecast had announced perfect conditions.
Winter sports in front of a dream backdrop
But in the mountains, the weather rarely abides by smartphone apps - and that can have interesting consequences in the winter.
The snowfall had just stopped by meet-up time at Lake Heiterwang in Austria. Together with Manuel and Mario Stecher, known as the Stecher twins in the SUP community, a dream-like winter landscape is there to greet us. Perfect for a sunny day of winter SUP.
"Anyone can go paddling in the summer; we wanted to bring out the main points and shift the focus onto winter." Mario Stecher, who works full-time with people suffering from addiction in a social therapy facility, thusly explains the principle of winter SUP.
The Allgäu natives want to make stand up paddling in icy environments presentable, and are thereby teaming up with director Igor Campana to film five winter SUP episodes with the title "From Where We Belong."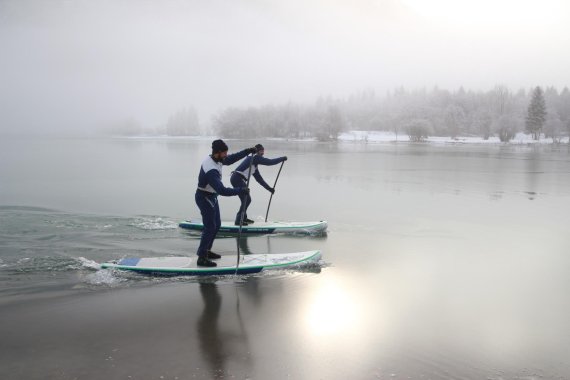 "Paddling in the winter is beautiful"
"When nobody else is on the water, you have a lot of room for yourself and your thoughts. This tranquility, the contrast in the landscape. Paddling in the winter is just beautiful," is how Manuel explains the fascination. 
(Read about everything you need for stand up paddling and which courses you can take here)
Initially planned as a short YouTube clip, the project evolved extremely quickly; ideas for more episodes were developed and eventually, a film project with five parts, drone photography, and a sponsor acquisition emerged. "Ultimately, the project is pretty much something that outgrew us," says Manuel, "but the episodes are something unique. There hasn't been anything like it in this dimension."
Film project commences at Lake Forggensee
In the first episode, Manuel and Mario paddle on the lake of Forggensee, which is partially sluiced in the winter. With the low water level, "it kind of evokes a lunar landscape, or the dam to the Lech. Those have made really great pictures," says Manuel, describing part one of the film project. 
"We're anxious, and we ourselves don't exactly know where it should go," says Mario. After a kitesurfing accident in North Africa, complete with a complicated leg fracture and subsequent compartment syndrome, Mario has to look for a new sport without impact or shock loads – as a surfer, stand up paddling was an easy choice.
SUP as a rehabilitation program
"The first challenge for me was paddling around Lake Constance, that's when I got the adrenaline kick over the distance," explains Mario, and recalls the hard rehab predicted for him by doctors, where life using just one crutch would have already been a success. But Mario fought back, became 2015 German whitewater SUP champion, and proves on Lake Heiterwang that his leg is all systems go. Even jumps with the board from the jetty into ice cold water are no problem.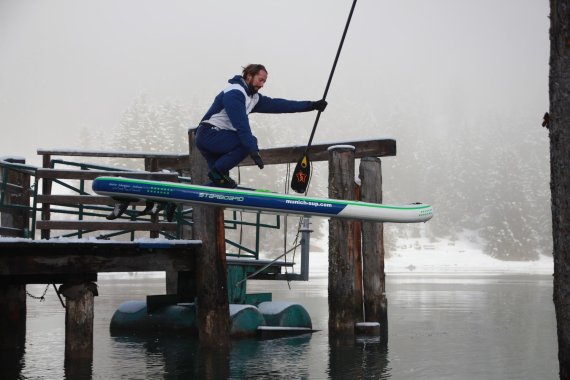 The Stecher twins' top 3 expeditions:
Circumnavigating Lake Garda: two days, distance 175 km
Winning is secondary
To the question of whether the twins just want to make money, both answer almost simultaneously that they want "to first convey the lifestyle and the fun of the sport." Sure, after so much effort, "some revenue would certainly be justified, but for us that's definitely not the priority," confirms Mario Stecher.
"Whitewater SUP is a really small market"
"Whitewater SUP is a really small market, but let's be honest: not a lot of people do ski jumping either, and it's still an insane media magnet. There are so many constructed whitewater routes in the cities for a whitewater SUP event, and the topic is getting more and more interesting. There are falls, there's action – the sort of thing people want to see. That's exactly why Red Bull Crashed Ice works so well," explains Manuel.
It won't be nearly as extravagant with the Stechers as at a Red Bull event, but they do keep dreaming up ever crazier tours. Of course, something is already scheduled for summer 2016: in August, both will begin to circumnavigate Lake Balaton in Hungary (the largest inland lake in Central Europe) - and nonstop, at that.
Read about ISPO.com editor Flo Pertsch's winter SUP self-attempt here.
What equipment do you need for stand up paddling? Find all the information here.