On 8 May at 1 pm, 7,500 participants will hit the road - not just in Munich, but all around the world: In 34 locations and at the same time. The charity event is a global running and wheelchair event, in which 100 percent of the entry fees go to bone marrow research projects. In the first two years, 136,677 participants in more than 40 locations raised over seven million Euro.
The unique feature of Wings for Life World Run is that the runners do not run towards the finish line, but away from it. After the participants start, what is known as the catcher car goes onto the course and gradually overtakes the participants. Therefore it is not the time elapsed that counts, but the kilometers that are run.
The race that was founded by Anita Gerhardter, CEO of the Wings for Life Foundation, is not just attracting hobby runners from around the world, but also celebrities and stars of the international running scene.
In 2014 and 2015 the marathon runner Lemawork Ketema achieved the overall victory both times. The Ethiopian, who has become a naturalized citizen of Austria, ran away the furthest, running 79.9 km with the catcher car in 2014; in the following year the end came after 78.57 kilometers. In Silverstone in Great Britain, Formula 1 driver Mark Webber had the honor; in Munich in 2016 there will be the actor Matthias Schweighöfer, among others.
Florian Neuschwander, who was the German winner in 2015 with 74.5 kilometers, will also hit the road on 8 May at 1 pm in the Olympic Park in Munich.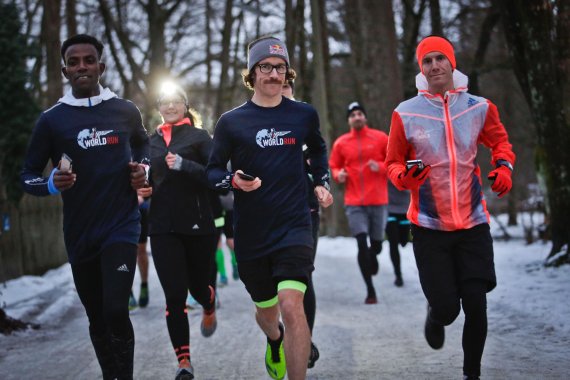 Anyone who has not registered in time and who has therefore missed out on one of the coveted places in Munich now has the opportunity of taking part at any place in the world via the Wings for Life World Run App. In the Wings for Life World Run Selfie Run, the App is registered in the place where the user's starting point is located and then for all official starters at the same time the virtual catcher car is shown on the user's smartphone.