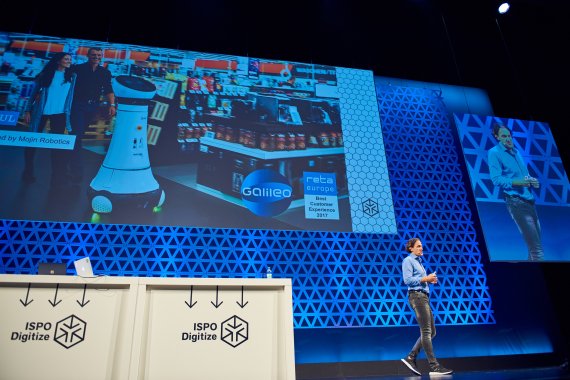 "Innovation isn't part of many firms' DNA. And, in any case, Germany is a country where it's best not to make any mistakes. But I can only call on everyone to allow for mistakes in the digitalization process and to learn from them."
"We, too, were an online dinosaur. And we changed," said Wild. He recommended that all listeners from the sports industry create an independent Innovation department with its own budget in their companies. To ensure that his electronics retail chain doesn't miss out on anything in the race for the technology of the future, they are investing in a wide variety of technologies.
Many of these investments could also be of interest to the sports industry. For example, a cashless Saturn Express store is being tested in Innsbruck, Austria based on the Amazon model, where mobile payments are made via PayPal or other mobile payment systems. The electronics company is also a pioneer in voice shopping, where you can order products with just your voice via Google Assistant. Also playing a role are robots meant to improve the shopping experience for customers.
"We have Paul, the robot. Some people come to our stores just to communicate with him," Wild reports. The innovation expert also used its company stores to experiment with other robots like Pepper, as well as augmented and virtual reality. Wild is especially enthusiastic about his Paula. Paula is a holographic assistant who can guide customers outfitted with data glasses to and explain their desired products.
"We tested Paula in our stores. 70 percent of customers have stated that they would use a virtual assistant of this kind," Wild reported excitedly. As a general success indicator for new technologies, the technology freak stipulated "that they make the shopping experience better and easier for customers." An idea of the startup Moby, which Wild presented, could also be promising according to these specifications. They're planning a rolling world of shopping that can be brought to your doorstep as a customer.
Wild rejected the criticism from a listener in the auditorium that this world full of new technologies was no longer human: "These are all things that make the world easier for people." If his company doesn't try them out, another company will – and his company will become redundant. The speed of the transformation is radical: "Everyone has more computing power with their smartphone in their pocket today than NASA had when they landed on the moon in 1969."