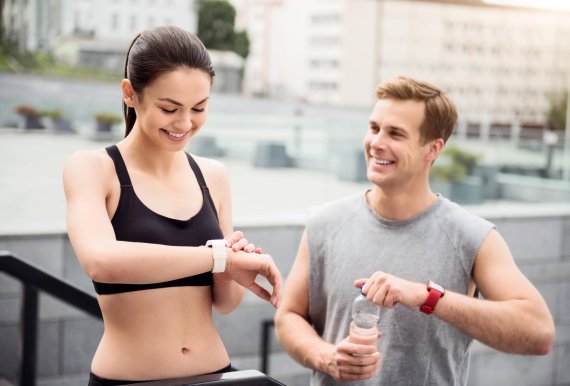 "The days without wearables in our normal, everyday lives really are numbered," says Christian Stammel: The CEO of Wearable Technologies, a platform for innovation and developments in the wearables market, is quite simply considered an expert in the topic of wearables. Stammel explains why you soon won't be wearing your fitness tracker on your wrist and how the little devices can screen the health of athletes in the second part of the interview series with ISPO.COM.
ISPO.COM: Mr. Stammel, wearables have been finding their way into the sports market for years. Will every athlete have a performance measuring device on their arm in 10 years?
Christian Stammel: You can definitely make a forecast, but you can't plan exactly year for year. Sometimes a function will come earlier than you thought, sometimes later. In ten years predictive medicine will be a big topic, supported by data and algorithms in the Cloud. That means, you won't be calling the doctor by necessity anymore, but instead the doctor or the algorithm will get in touch with you if something's not right with your health. Together with the supercomputer Watson by IBM, Under Armour has already made a significant step in this direction with the Under Armour Health Box.
What is Under Armour doing, exactly?
Nike, but also Adidas, had invested a lot in building their own community and platform in recent years (Editor's note: Nike+ and Adidas miCoach). At the same time, several independent apps have appeared that were able to win over millions of athletes. Under Armour purchased the largest portal with more than 100 million users with Mapmyfitness, and added a couple more – Under Armour has now unified more than 150 million users under one roof and, with anonymized data and thanks to the extreme processing power of partner IBM, can still calculate unprecedented correlations for each individual user. If you take a look now at the speed of market development, Under Armour has clearly made use of the advantage and, through a skillful M&A strategy, was even able to climb to become a market leader in digital sports.
How exactly does a digital strategy help brands?
In the future, all brands will need a digital footprint, too, and that's much more than just an app or a website. The expansion of business models in the digital sector is a real challenge, not just for the industry but also for all consumer brands. Under Armour has shown how you can implement a digitalization strategy in a very smart and quick way with its Health Box initiative. No in-house development, but rather intelligent acquisitions or partnerships – in this case with HTC – in order to avoid any problems with the hardware. You have to already be curious about what answers the competition has and how that, for example, can also be developed in other sports and sectors.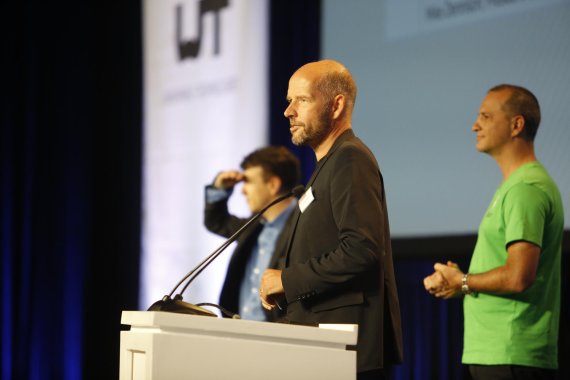 "We'll wear a little device in our ears"
There's also an increasing cross-industry connection like this with textiles and technology. Will intelligent clothing win through?
For more than ten years, we've seen the attempt to put smart textiles like intelligent jackets on the sports and fitness markets en masse. Many companies, like O'Neill or Quiksilver for example, were absolute pioneers there. Back then, the products were too expensive and still not standardized enough. Today there are many standardized interfaces, like Bluetooth, that make it significantly easier to connect technology with the textiles. Essentially, there's one main problem when two completely different industries work together. The consumer electronics sector has completely different commercial structures and margins than the sporting goods or fashion industries. Even if you realize the development of a combined product made up of textile and electronic components, it can be the case that disappointment will arise at the point of sale regarding the too-high sales price or the too-low margins for retail.
There's no getting out of this problem.
If you leave it at a pure combination of electronic components and their integration into the clothing, you really won't find a way out of this issue. Here, we're promoting as modular an approach as possible. That means that the textiles are outfitted with electronic, conductive fibers and can be assembled by simple fastening with the purchase on an electronic unit. This type of connection has already been known for a few years, from the chest strap by Polar, for example.
Are those then advantages for the athletes, or more for retail?
Many of the technologies discussed also offer considerable added value for retail at the point of sale. With Bluetooth Beacon, also known as i-beacon, offers can be transmitted to customers in passing. Inventory and antitheft can also be realized with RFID tags. All solutions that we already knew in the early 2000s, when Metro caused a sensation with its Future Store vision. The hype phase of the early years regarding RFID and NFC technologies is over, but now we're seeing the technology in a very stable status. In addition, manufacturing costs of RFID chips, for example, were significantly reduced by printing electronic circuits.
These are the wearables trends from the 2016 Mobile World Congress
The trend is that pants tell people when they're old and worn out?
So to speak, since we're coming to voice recognition – that is, a human-machine interface via pure speech recognition. You can talk with your GPS in every modern car, or with Siri on your smartphone, but no one does it. I believe it's because we weren't brought up that way, but our children might ask why we're so dumb and painstakingly type everything into our phones. In the future, we'll wear a little device in our ears and use it to control everything in our surroundings. A couple of years ago, there was a very fascinating film out of San Francisco by Spike Jonze, who also produced Jackass. In the film "Her," which also won its director an Oscar, the main character falls in love through his headphones with the voice of his Cloud system. Technically, we're already to that point, but people will still need a bit more time.
"We've created a TÜV test procedure"
Clothing is being networked, smartwatches are booming – then the pure fitness trackers are dying out in sports.
Pure fitness trackers can already do more today than they did three years ago. Especially if you look at the development of the new Fitbit, the direction is going very heavily towards the smartwatch, or more specifically towards the one device strategy. In the future, we'll just carry one device for sensor recording around with us, and the logic and evaluations will be the difference between a reasonably priced and an expensive, and as needed medically standardized, system. So there will definitely still be fitness bands, heart rate watches, and smartwatches in the entry market. These will then be supplemented, or even replaced, by smart patches or intelligent headphones. Depending on how precisely the sensors are set to work, they also have to be easily fixable on the corresponding areas. In the high-end market, therefore, we're currently seeing a clear trend toward sensors that are being used in so-called smart patches.
Apropos accurate sensors: Just how precise is a wearable today?
The constructed technologies are already very precise, and deliver incredible results. We are seeing a big problem in processing the raw data that's analyzed in the apps and software. There are extreme difference in measurement there, and unfortunately the consumer experience naturally also lies buried in all of it. We therefore teamed up with TÜV SÜD to launch our own inspection and test procedure in order to ensure that the sensors in the hardware work flawlessly and, for example, the devices are also waterproof, fall-proof, or even skin-friendly. 
Aside from that, a post-processing of data is missing. The athletes are left all alone with the results.
We like to talk about the trend of "trainables" here. Products that automatically remind the wearer of certain behavioral changes, and thus increase their awareness of necessary changes and improvements. The times of heaps of data, quantified self, are over. The future belongs to products that work subliminally and remind the wearer. A good example is the Israeli start-up "Upright," which was also a finalist in the WT Innovation World Cup , and has developed a small back sensor as a patch that reminds the wearer of their upright posture. The abundance of data isn't what's important, it's the combination with the right context – context awareness. A sufferer of asthma who likes to run has to pay attention to air pollution, but isn't that interested in the permanent information on heart rate. Above all, they need one-time information: Now run under 100 heartbeats, otherwise you could have an asthma attack due to the local and current air pollution.
How does one get there?
Our philosophy is the application of wearable technologies products in an intelligent environment. That means the measurement values of the wearable will be networked with other environmental data, and thus generate true added value for the consumer. Nobody would put away their Apple Watch if it told them they shouldn't go out because the air right then was too polluted. But you can only get this type of information if the environment is also intelligent. The device is only as valuable as it is if the information it's fed with is also available in the Cloud.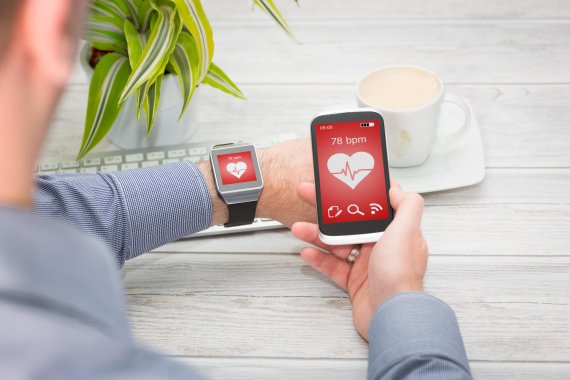 Wearables against sleep disorders
In addition, you should still listen to your own body, also.
Absolutely, many people midjudge sleep analysis, especially. I know a professor who's done a lot of trial and error on the subject. He then always went to sleep at 12 noon, because he had determined that was the optimal time for him to sleep. That can be pretty obstructive for everyday life. (laughs) But of course it can also be good if I get to know my body better with this device, and that way, for example, my migraines go away.
Could those kinds of gimmicks seriously have a breakthrough in our everyday life one day? 
The technologies we've already discussed have long since stopped being gimmicks. The sensors are, with good evaluation, very exact and are already helping many people in their fights against chronic illnesses like insomnia. In easing life with illnesses like diabetes, too, numerous wearable products have already been implemented today.
But wearables also serve those who aren't sick as a prevention system so we won't have to miss anything in the near future. Thus, the topics of sports and health are coalescing more and more, and soon will no longer have this gulf between "cool" sports and "sick" health topics. Under Armour has to be mentioned again here: the first sports company that dared to bring a product with the name "Health" to the market. The days without wearables in our normal, everyday lives really are numbered!
Read the first part of the interview, too: