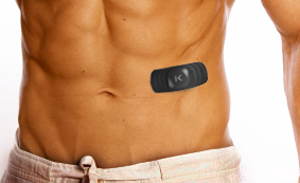 Halo Hydration Monitor H1
Halo Wearable announced the final prototype of a sweat-tracking device that can be worn on the wrist. The final watch will hit the market still this year and is a great product for professional and amateur athletes alike. It looks like a regular watch, but features sensors that monitor users' hydration status. On the backside of the watch there are optical sensors and two electromagnetic pads.

The optical sensors track sodium and potassium levels from sweat and remind users of their hydration on a scale of 100-1 through 3 indexes: green, yellow and red. Green zone means tanks are full. Yellow zone informs tanks need to fuel up soon while red zone means tanks are empty. Besides, H1 also includes a thermistor for measuring skin temperature, humidity and air temperature. 
SMRT Mouth Guard
SMRT Mouth transformed a cheap mouth guard worn to protect teeth into a techy device by embedding sensors in the mouth guard to monitor the athlete's biometric data in real-time. How does it work? SMRT Mouth tracks respiration, circulation, hydration and exertion in real-time to tell athletes if they have reached their limit. SMRT measures osmolality in the sweat which allows the sensor to measure hydration.

The integrated heart rate monitor measures Heart Rate Variability during training and competition. All the collected data is transmitted via Bluetooth to mobile devices for analyzing. In order to increase the accuracy, there are multiple sensors that transmit data in different increments because heart rate changes by second, while hydration level does not.
ECHO Smart Patch

Kenzen introduced a smart patch called ECHO
. The patch can analyse critical biomarkers such as sodium and potassium from a single bead of sweat by combining various sensors, technologies and algorithms. ECHO then provides real time feedback on performance motion and vitality as well as your health under circumstances without the treadmills and blood tests.
ECHO smart patch adheres directly to your body. With more inputs, it provides better and more accurate results throughout multiple sensor signals. Working best with the Kenzen mobile app, its distinguishing feature is that ECHO reveals your current state of performance and health instead of reporting what you've done.
Sweat sensors are leading the way as molecules in sweat mean a lot to athletes' performance and human health. The next generation of wearables is not interested in the body's movement only but rather its molecules. The technology is getting much attention as well as the expectation for being able to learn more about diseases throughout a wearable device. 
Christian Stammel is CEO at WT | Wearable Technologies, a leading innovation and business development platform for wearables, and updating ISPO.com readers about latest trends on digitalization, wearable tech and IoT in sports, fitness and well-being. More information about WT at www.wearable-technologies.comhttp://www.wearable-technologies.com