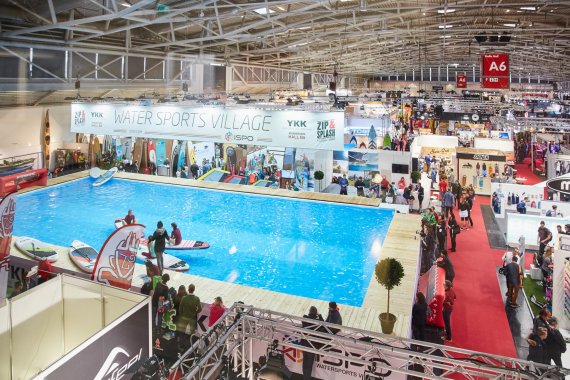 Once again, the Water Sports Village will be a fixed part of ISPO MUNICH. In the action area of the trade fair, in hall A6, awaits a pool measuring 200 square meters. Here, visitors can expect to witness product demonstrations, an active show program, and many more highlights.
Socialize at ISPO MUNICH 2017
One of the highlights of this year's ISPO is the pool party. Thanks to sponsors FINIS, BECO and NRS, the water sports community will have the opportunity of rounding off their day at the trade fair over a drink. Visitors will get the opportunity to meet the community and the network. Also they'll be able to cool off in the pool after a tiring day.
A face-off between the world's best slackliners
A slackline is about as wide as two fingers: that's 25 millimeters. Balancing on the narrow line stretched over the Water Sports Village pool at ISPO MUNICH 2017, the world's three best slackliners will be showing off their skills to the audience. At the end, visitors get to decide who will be crowned the winner: the slackliner who scoops the loudest cheers. 
Freediving: just you and the water
One breath is all Robert Woltmann needs to stay underwater for up to seven minutes. The 38-year-old freediver is one of Germany's best. In the Water Sports Village at ISPO MUNICH 2017, he shows visitors what he is made of. His colleague Peter Durdik uses his know-how to give visitors more insight into people's fascination with freediving. 
You can find the complete program for ISPO MUNICH 2017 in the event overview.