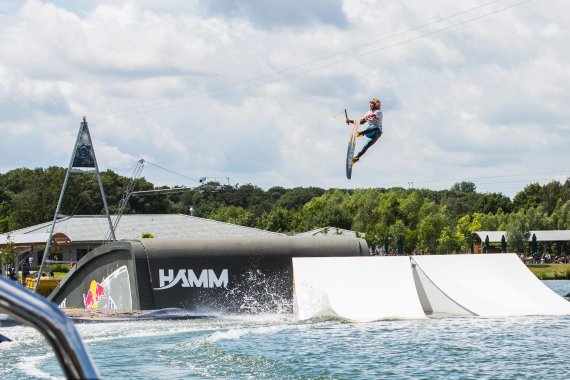 The Wakeboard Big Air will provide the conclusion for the Munich Mash on Sunday, July 3, starting at 2 p.m. This will be the first time the contest takes place at the Mash, where it will be held on the Olympiasee. 16 top athletes will show off their artistic tricks on up to 8-meter high and 25-meter long jumps.
Slopestyle mountain biking, street skateboarding, and big air wakeboarding – the Munich Mash from July 1-3, 2016 in Munich's Olympic Park assembles three of today's most trendy sports. We've given them a trend check. Here comes the wakeboard check:
What's big air wakeboarding all about?

Wakeboarding emerged at the end of 1980s, as a combination of water skiing and surfing. Today you'll no longer just find wakeboarders behind motorboats, but rather mostly in cable parks. Big-Airs, like that at Munich Mash, are nevertheless staged only rarely – the inventor of the still-young freestyle discipline was Red Bull, at Rising High 2013. The riders love it: "The format is cool and the setup, with this big-air kicker, is absolutely unique. You get so much airtime, you really fly through the air," reports Allgäu Alps native Nico von Lerchenfeld in an interview with Puls.
Who are the stars?

In Munich, two-time world champion and local hero Dominik Gührs absolutely wants to win. Nico von Lerchenfeld, runner-up at Rising High 2014, is also someone to be reckoned with. Joining in are top international stars like Daniel "Turtle" Grant (THA) and Brenton Priestley (AUS), who was the first rider to stick a double flip on a mega-ramp. The most popular among fans is Aaron Rathy (CAN), with 20,000 Facebook followers.
Which sponsors are involved?

Energy drink producers Red Bull and Rockstar are supporting freestyle wakeboard athletes and parts of events as well, alongside the wakeboard and wetsuit industry and cable park proprietors like Rixen Cableways. Interesting for sponsors are the young image of the sport, and the summery images that convey high spirits and positive energy.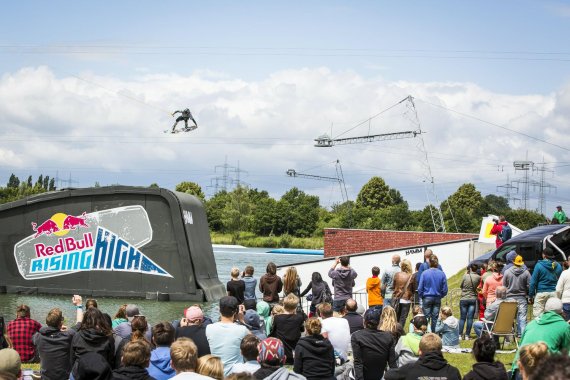 On which channels does wakeboarding occur?

Wakeboarding is only marginally present on TV. Leading in the organization of events is the World Wakeboard Association (WWA); however, the association recognized by the IOC is the International Waterski & Wakeboard Federation (IWWF). In Germany, the scene primarily gathers in its numerous wakeparks.
What potential does big air wakeboarding have?

Big air wakeboarding will remain a small but spectacular aspect of freestyle wakeboarding. Innovative events like the Munich Mash may give new momentum to the sport, which has consolidated itself at a high level.
Read the other parts of the action series on Munich Mash 2016 here:
How the Munich Mash works: www.munich-mash.com