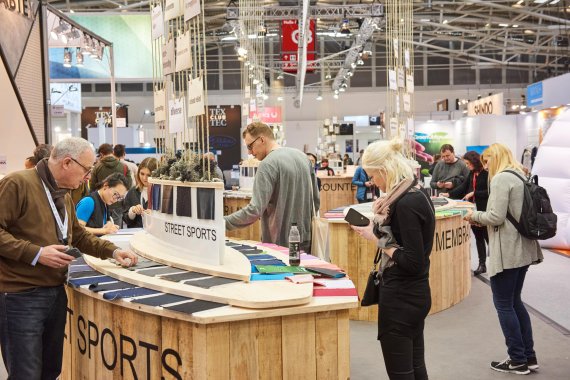 With more than 2,800 visitors attending ISPO TEXTRENDS and the daily conferences as the selected products were revealed in a newly designed forum. Three main themes, outlined by the international jury who selected the products featured: PFC FREE, NATURAL and VISIBILITY
PFC FREE – new eco friendly solutions 
The importance of a cleaner textile process was evident throughout the new developments, especially in the area of PFCs. Greenpeace has been calling on the textile industry to eliminate all hazardous chemicals from its supply chain, highlighting PFCs as one of the priority hazardous chemical groups to eliminate.

The Detox Outdoor campaign put the spotlight on the outdoor apparel sector, for using PFCs in making waterproof membranes and water-repellent coating and they are getting a positive result.
Read here: Sportswear Fabrics Just Got a Whole Lot More Stylish
Gore, a market leader in weatherproofing technologies announced during ISPO MUNICH that it will eliminate PFCs of Environmental Concern from its general outdoor weatherproofing laminates, 85 per cent by the end of 2020 and from its specialized weatherproofing laminates the remaining 15 per cent of products by the end of 2023.

The company will develop new, more environmentally friendly technologies for weatherproof membranes and water repellent coatings for consumer products, researching both fluorine-free and fluorinated options, and publicly document that no hazardous PFCs are released into the environment throughout the product life cycle.
This positive news was already evident in the ISPO TEXTRENDS forum as a wide range of PFC-free products were displayed. Global Merino offered a hybrid blend of merino wool/polyester in a double-sided spacer structure with a PFC free DWR. 3M Scotchguard PFC-free offered higher durability to provide durable dynamic water repellency to a range of synthetic bases.

Nanomembrane's range of commercial PFC-free products also attracted attention. Their plasma DWR PFC-free laminate, with a fiber diameter of less than 150 nm, provided  eco-friendly laminates with thermal regulation, breathability, waterproofing and windproof function to fabrics.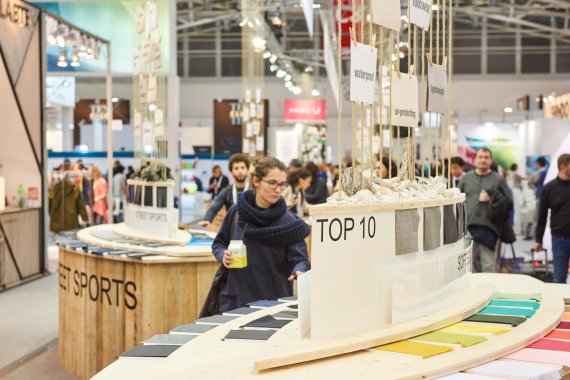 NATURAL: from merino wool to tencel
With sustainability outlined at the ISPO TEXTRENDS conferences as a 'fundamental' rather than a trend, the eco mood is permanently par for the course throughout all sectors of the textile chain. The second key theme was Natural rather than eco, as it was clear during the judging that there is a definite return 100 per cent natural as well as to the continued interest in hybrid blends. On the natural fiber front, wool, silk, cotton, kapok and cashmere featured alongside bio-based developments.
Read here: Cross Industry: Sports and Technology Need to Coalesce
LMA offers a cupro/wool blend of single jersey that offered hypoallergenic properties alongside moisture absorbing, thermal regulation and excellent dye ability without the use of chemicals, giving it a strong sustainable advantage. A blend of merino wool and Tencel offered a cool quick-drying trans-seasonal fabric from Designer Textiles. High functionality featured in a 100 per cent wool double knit from Island Cosmos, offering moisture management, thermal regulation and water repellency through a performance finishing.