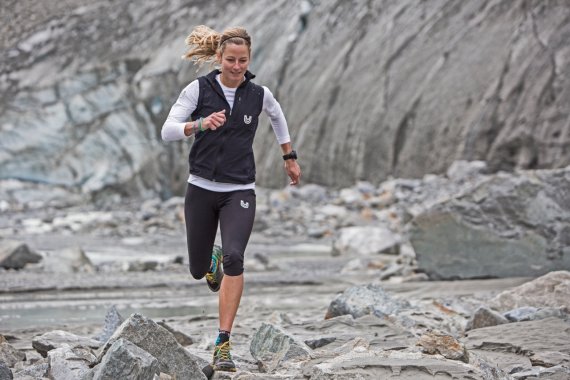 In March 2012, Anne-Marie Flammersfeld was the first woman to win the Racing the Planet Grand Slam – that means: In that year, she ran 250 kilometers across four deserts – the driest, the windiest, the hottest, and the coldest in the world.
In July 2015 she set the female world record at Kilimanjaro: Starting at the Umbwe Gate, she climbed to the summit in 8 hours 32 minutes. The 41 year old sports science graduate and personal trainer lives in St. Moritz, Switzerland.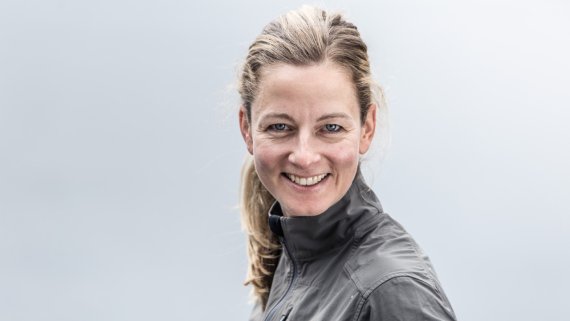 Ms Flammersfeld, you are a passionate ultra runner. What is so special about trail running for you, in comparison with running on the streets or in cities?
Trail running simply offers more variety, more adventure and more possibilities. You can't just catch a bus when you can't run anymore. It has a lot to do with forward planning and assessing your own strengths. Trail running isn't just a case of running the whole time, there are also lots of passageways to go through. You're constantly alternating between uphill and downhill. You have to be flexible!
In recent years, you have won more than a dozen big races, only a few German ultra runners can make that claim. What three tips do you have for beginners to trail running?
Don't have big expectations when it comes to speed. When you're on the trails, you can't expect to reach the same pace as you would on the streets. But the beauty of nature makes it worth the effort!
You have won so many races – from "Racing the Planet" and your Kilimanjaro world record to the Zugspitz Ultratrail: Which trail run or competition has been your greatest experience – and why?
There are so many different courses. In summer they are all beautiful. Because I'm always running in different competitions, every time is beautiful in a different way!
Let's think about manufacturers and retail. What do you want when it comes to specialist trade? And the manufacturers of trail running products?
Please pay more attention to quality. Especially when it comes to shoes. Because in the last few years I've noticed a change. If shoes have crazy advertising, they lose some of their quality. It only takes two or three uses for the sole to wear down and for there to be tears in the material.
What trends and perspectives do you see for the future of trail running?
I hope that trail running will continue to develop and that people will explore woods and mountains even more. Trail running hasn't really become popular in the mountains yet. Often I'm laughed at by bewildered hikers, or they ask me why I'm running so quickly down the mountain!
And why do you do it?
Running up and down along trails, through the undergrowth and over rocks and stones isn't just good for endurance training, it also helps with coordination and lets your brain work properly. If I just ran 40 km straight on asphalt, I'd surely be more drained than after 40 km and a 3000 elevation gain.