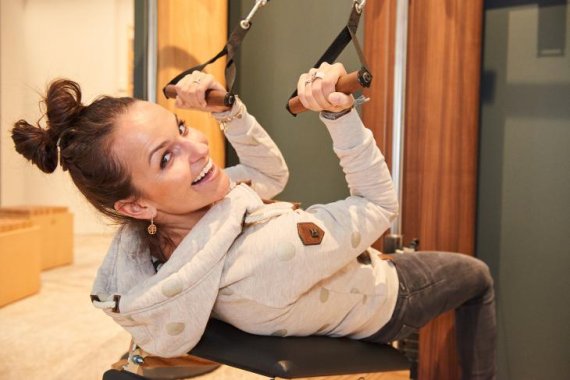 Today is my third day at ISPO Munich 2018 and I feel quite tired in the morning – due to the many kilometers a trend scout clocks up when scouting! I would love a magic carpet to give my aching feet a rest. After hiking eleven kilometers through the Watersports Village and the WOOLstreet, or rather the Snowsports Area yesterday, my enthusiasm for exercise has somewhat dimmed and I really don't feel like moving today. Of course, exactly the opposite happens.
I consult the hall plan (even though I don't really have to anymore) and notice an unexplored corner – what, there's actually an area here I haven't been to yet? Yes, and it's called Health und Fitness / Body & Mind. Running and fitness, well I'm certainly a stout walker so that's for me. As luck would have it, the RUNNER'S WORLD running shoe symposium is happening in Hall A6, which is all about the latest fitness innovations and trends & and the digital future of running. Perfect, I think to myself and head east on the moving walkway on the first floor – it won't be the only one I'll be using today.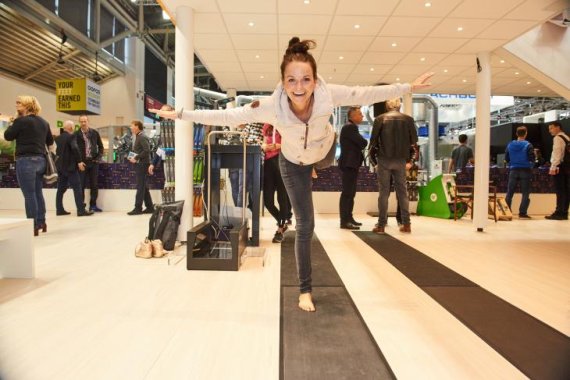 As soon as I enter Hall A5, a huge stand with lots of state-of-the-art technology catches my eye. At first, I don't understand what the grey production line is all about; several people seem to be working on it.
However, as soon as I get closer to it, I realize: They're making running shoes! Right here, inside the hall – and not mass produced ones but customized, personalized ones on the basis of a 3D scan of the feet of visitors and an analysis of the way they walk.
As a passionate runner who always gets blisters and joint problems when running distances of 50 kilometers or more, this is perfect for me. I simply have to own a pair! It doesn't take long: Scan of the right foot, scan of the left foot, walk across a mat a few times, choose the design and color theme, finished.
The data collected in this way is then used to make personalized outer soles and insoles at the "fitstation". I can then collect my customized shoes in a few hours. With a huge grin on my face and revitalized, I am looking forward to my new shoes and have rediscovered my love of sports. Luckily, there are plenty to choose from here.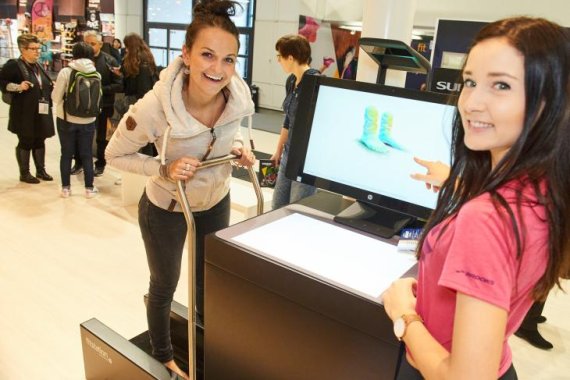 As I cross into Hall A6, I can hear music and look for its source. It sounds like a classic workout soundtrack, but it isn't. To my surprise, I soon find myself jumping up and down to Eric Prydz on a high-speed trampoline, laser show included. Didn't I just say that I don't want to move at all today?
Spontaneous change of mind – high-speed trampolining is great fun and currently one of the latest fitness and aerobics trends. Just like SUP yoga , it works on the core muscles and after a few minutes, my heart is beating like mad and I've worked up a sweat.
Compared to the trainers, I am almost unfit and sluggish, but I soon get into the groove and even manage the odd really cool jump. I am now steaming hot and don't really look photogenic anymore – so why not try out the different treadmills? It doesn't matter anymore, does it; I head towards a treadmill that also has some test shoes and a large screen next to it. I wonder what this is all about?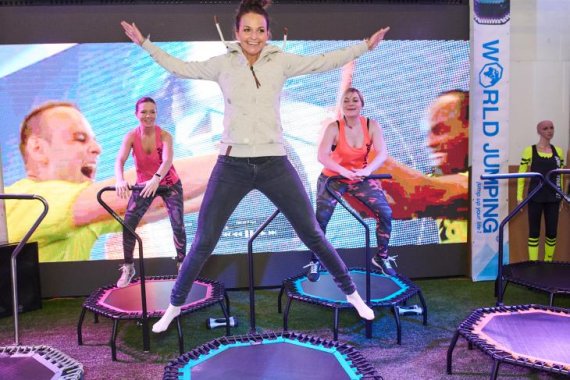 A closer look tells me that this is not just about the treadmill but also about smart insoles that connect to a smartphone app via a sensor and analyze your walking technique. The ISPO Brandnew winner 2016 EVALU, which seems to have managed the leap from newcomer to successful start-up, basically offers a treadmill analysis "on the run", with every step you take, all the time and wherever you are.
I have to try this out! I put the insoles into the test shoes and put them on, then swing myself onto the treadmill. Initially, it's set to 5:30min/km, then the setting changes to 4:30 and then I run faster and faster.
The treadmill keeps on running, and so does my sweat – I should've taken my sweater off. However, a glance at the screen shows me that this test is worth the effort. I learn that I tend to put too much weight on my left leg when walking slowly, that I have a low cadence – which I'd already figured, as I have a lazy streak – and that I have use the middle of my feet well.
I think such an analysis "on the hoof" is super interesting, as it can keep you from getting tired feet on long runs; it encourages you distribute your weight more evenly and keeps you up to date with your running style. On top of that, the app also give you tips on the best way to train – simply cool.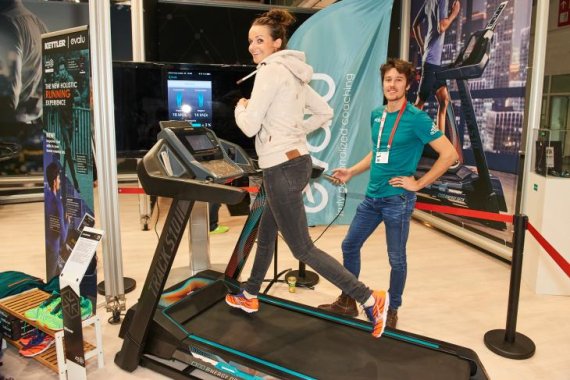 I've done enough running for now and start to look around for other equipment. Something unusual looking catches my eye. A wooden bicycle (I already saw this yesterday), but this one is not designed for on the road cycling but is actually an ergometer for a fitness studio or home use. There's not just bikes but lots of different fitness equipment made of wood. They're trendy, cool and sustainable and totally stand out from the crowd of the otherwise mainly black plastic exercise machines.
Both appeals to me, I am homo erectus as well as a digital native – and give in to my digital habits, grabbing a pair of stylish wireless headphones I noticed in passing. I've still got one question, though: Do trend scouts get paid by the kilometer?
Wooden fitness innovations are one thing; however, stone dumbbells are something else... At first, I think it's just a trick of the eye but no, as soon as I touch them, I realize that these are real stone kettle- and dumbbells that look like something Fred Flintstone would exercise with. Thinking about it, it's not actually a bad idea to reinvent the materials that were originally the basis for weights and physical exertion. But it does seem extreme, this leap from the digital future in the sports area back to the Stone Age – although both developments make sense and appeal to me.